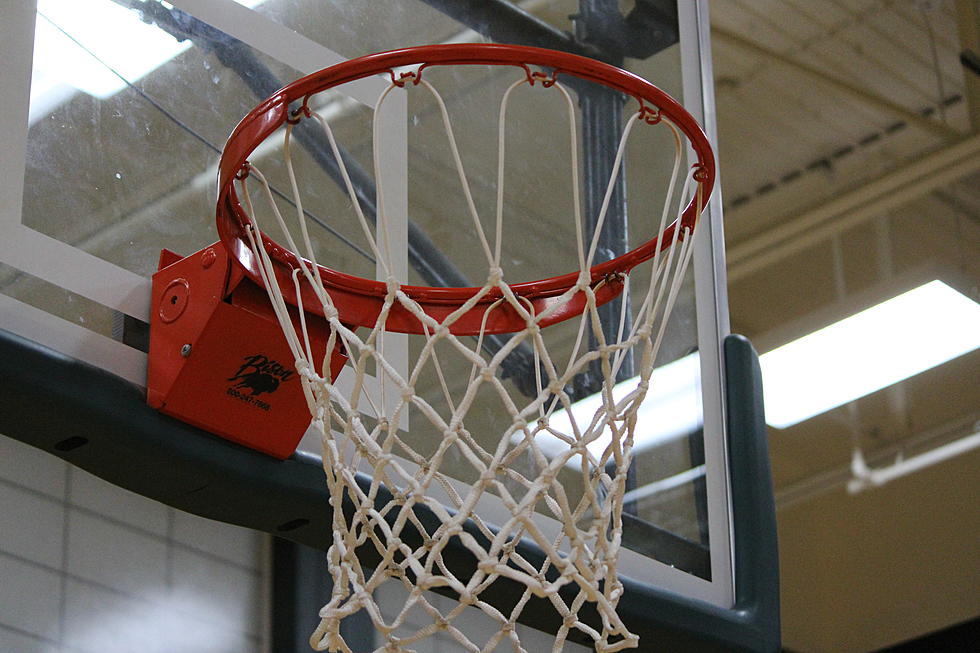 #3 Bangor Girls Beat #6 Deering 64-24 to Advance to AA North Semifinals [STATS]
Photo Chris Popper
The Bangor Girls scored 24 points in the 1st Half, on Thursday, February 16th in their Class AA North Quarterfinals with Deering at Red Barry Gymnasium in Bangor. In the 3rd Quarter they exploded for 25 points and cruised to a 64-24 playoff win.
Bangor led 12-10 in the 1st Quarter and 24-16 at the end of the 1st Half. After the Rams outscored Deering 25-4 in the 3rd Quarter Bangor was comfortably up 49-20.
Miss Maine semifinalist Emmie Streams had 16 points, as did Abbie Quinn for Bangor. Carmen Maddix had 10 points. Cassidy Ireland and Maddix each had 2 3-pointers while Streams and Avery Clark chipped in 1 3-pointer each. Bangor was 12-15 from the free throw line.
Deering was led by Nyabhana Lia with 10 points. Maya Gayle had 8 points. Lia had a 3-pointer. Deering was 7-10 from the free throw line.
Deering's season comes to an end with a 4-15 record.
Bangor, now 16-3 will play the winner of the #2 Cheverus vs. #7 Edward Little quarterfinal in the semifinals at the Cross Insurance Arena in Portland on Wednesday, February 22nd at 2 p.m.
Thanks to Joe Pelletier for the stats
Line Score
| | | | | | |
| --- | --- | --- | --- | --- | --- |
| | 1 | 2 | 3 | 4 | T |
| Deering Girls | 10 | 6 | 4 | 4 | 24 |
| Bangor Girls | 12 | 12 | 25 | 15 | 64 |
Box Score
Deering
| | | | | | |
| --- | --- | --- | --- | --- | --- |
| Name | PTS | 2PM | 3PM | FTM | FTA |
| Shay Rosenthal | 2 | 1 | - | - | 2 |
| Natalie Santiago | 4 | 1 | - | 2 | 2 |
| Payton Legassey | 0 | - | - | - | - |
| Mesert Day | 0 | - | - | - | - |
| Nyabhana Lia | 10 | 3 | 1 | 1 | 2 |
| Maya Gayle | 8 | 2 | - | 4 | 4 |
| Sophie Hill | 0 | - | - | - | - |
| Ariana Sibo | 0 | - | - | - | - |
| Julia Krush | 0 | - | - | - | - |
| Alison Hilton | 0 | - | - | - | - |
| Aaliyah Arzu | 0 | - | - | - | - |
| TEAM | 0 | - | - | - | - |
| TOTALS | 24 | 7 | 1 | 7 | 10 |
Bangor
| | | | | | |
| --- | --- | --- | --- | --- | --- |
| Name | PTS | 2PM | 3PM | FTM | FTA |
| Carmen Maddix | 10 | 2 | 2 | - | - |
| Emmie Streams | 16 | 4 | 1 | 5 | 7 |
| Cassidy Ireland | 6 | - | 2 | - | - |
| Ayzlynn Gifford | 6 | 3 | - | - | - |
| Teagan Atherly | 2 | 1 | - | - | - |
| Avery Clark | 3 | - | 1 | - | - |
| Emily Adams | 1 | - | - | 1 | 2 |
| Dalaney Horr | 0 | - | - | - | - |
| Taylor Coombs | 2 | 1 | - | - | - |
| Lily Rice | 2 | - | - | 2 | 2 |
| Abbie Quinn | 16 | 6 | - | 4 | 4 |
| TEAM | 0 | - | - | - | - |
| TOTALS | 64 | 17 | 6 | 12 | 15 |
More From 92.9 The Ticket