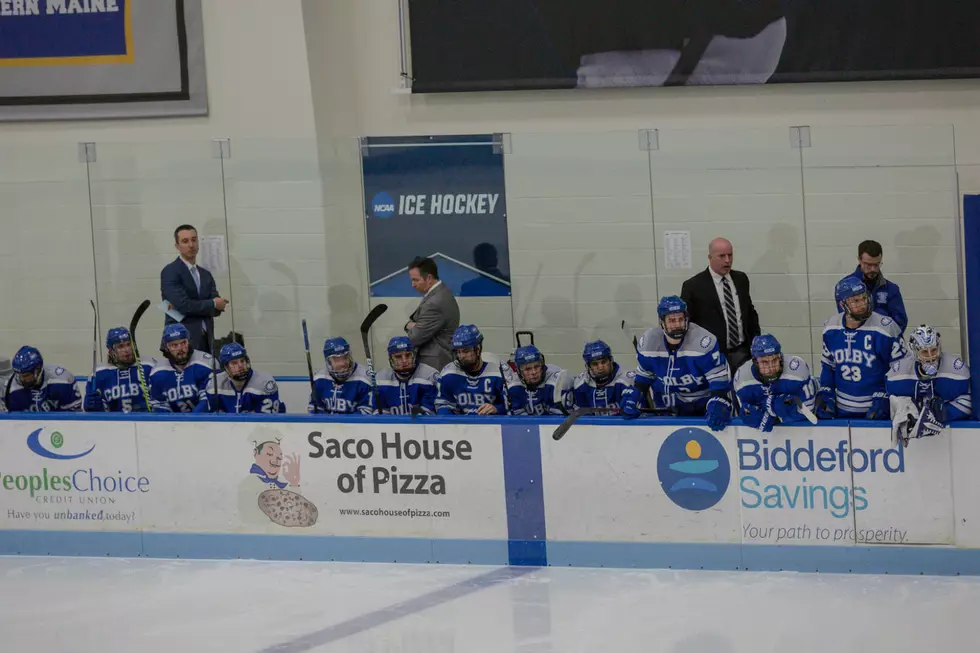 Colby Hockey Hoping For Another Stunning Win In Division III Frozen Four
courtesy of Colby hockey
After a shocking win over SUNY Geneseo in the quarterfinal round of the Division III NCAA tournament, the Colby men's hockey team is hoping to pull off another upset, this time against top-ranked St. Norbert.
The unranked Mules defeated No. 3 Geneseo in dramatic fashion last weekend, scoring the go-ahead goal with just 1.6 seconds remaining in the game.
When Colby gained control of the puck in their own zone with about seven seconds left, head coach Blaise MacDonald was already thinking about what he would say to his players before the start of the expected overtime period.
"Now we take another rush, and I see a shot blocked. And my mind is still on, you know, what to say to the team," MacDonald said in an interview with Sports Radio 92.9 The Ticket. "And then next thing I know, I see Justin Grillo, a freshman, take a shot and the red light goes on. And I'm, I'm stunned."
Colby hopes to continue its Cinderella story with a win over the Green Knights, a frequent visitor to the Frozen Four.
"They're very experienced. They have good size, really good quality depth. Their goaltender's been playing really well, I think giving up 8 goals in their last 11 games."
This is the Mules' first appearance in the NCAA tournament since 1996, and the school's first-ever trip to the Frozen Four. Up until recently, Colby had never won a tournament game.
If the Mules have any shot at advancing to the national championship game they will need another strong performance from senior goalie Sean Lawrence, who stopped 38 of 39 shots against Geneseo. Lawrence, a transfer from Division I Quinnipiac, owns a .941 save percentage, second-best in the nation.
"It's not so much his ability to stop the puck, it's the way he carries himself. It's his presence. It's his positive body language, his competitive spirit."
The game will be played at the site of the 1980 Miracle on Ice, Herb Brooks Arena in Lake Placid, New York. The venue for Friday night's game seems all too appropriate, given Colby's underdog status.
"It just has a feel to it. You know, you walk into that building, and you, you just can't help but reminisce in your mind about what it must have been like."
The game against St. Nobert will be an uphill battle for Colby, but things seem to be falling into place. Having a hot goaltender can sometimes carry you to a championship title, and the Mules certainly have a hot goaltender.
Sometimes, it comes down to getting hot at the right time. Riding a 9-game unbeaten streak, Colby is hot at the right time.
A little luck doesn't hurt either, and the puck seems to be bouncing the right way for the Mules. "Having this kind of success you need to be darn lucky, and we have been."
More From 92.9 The Ticket