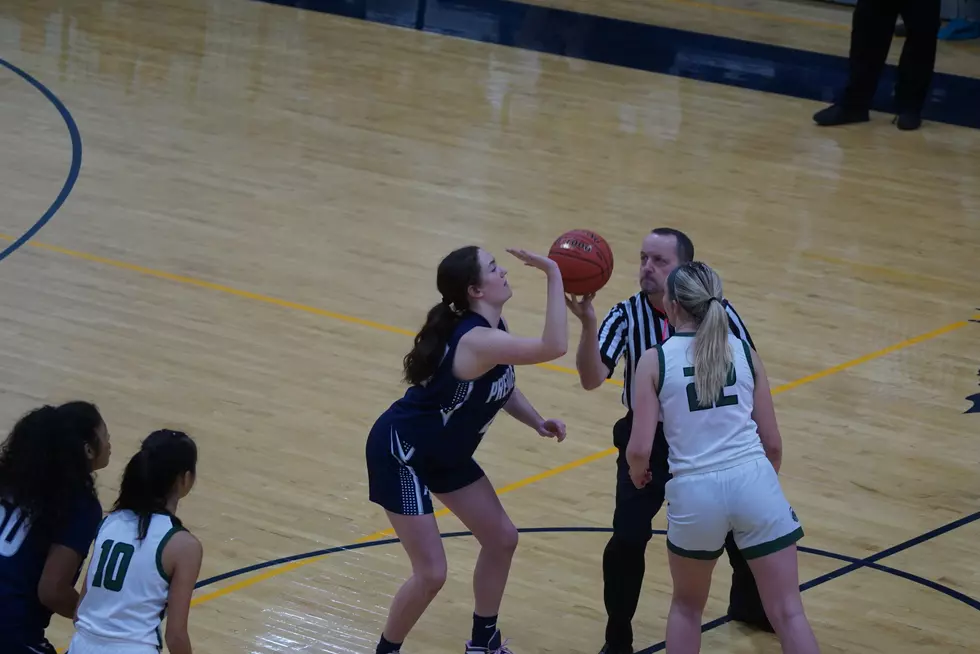 MDI Girls Beat Presque Isle 60-57 [STATS]
Photo Chris Popper
It's been a long time since the MDI Girls have gone 2-0 on their Aroostook County trip, but they completed the sweep with a 60-57 win over the Presque Isle Wildcats, hanging on to win in the last seconds on Saturday, January 28th.
Presque Isle led 10-9 at the end of the 1st Quarter and then MDI led 27-24 when Alexsandra Hanley hit a 3-pointer at the buzzer at the end of the 1st Half. The Wildcats led 46-45 at the end of the 3rd Quarter.
MDI was led by Mollie Gray with 16 points while Sophia Brophy had 13 points, going 7-11 from the free throw line. Lexi Tozier had 11 points. Emma Simard had 9 points with 3 3-pointers. Hanley had a 3-pointer. The Trojans were 10-19 from the free throw line.
Presque Isle was led by Jorja Maynard with 15 points, on the strength of 5 3-pointers. Georganna Curtis and Addison Clairmont each had 10 points with Clairmont draining 2 3-pointers. Anna Jeandreau had 8 points, with 2 3's. The Wildcats were 10-13 from the free throw line.
MDI is now 8-6 while Presque Isle is 7-7. These 2 teams will meet in Bar Harbor on Monday, January 30th at 5:30. You can listen to the game on AM 1370 WDEA with the pregame starting at 5:15. The game will also be broadcast on WDEA Internet Radio, on our free downloadable APP and on any Alexa enabled device
You can nominate someone for the Winter Week 8 High School Athlete of the Week by emailing HERE. Please put High School Athlete of the Week in the subject. Nominations for games January 22-28 need to be received by January 23rd. Then tell us why your nominee is deserving! Let us know specifics! How many goals did she/he score? How many points did she/he score? How fast did they run or throw in the indoor track meet? How fast did they swim in the swim meet? How did they do in the wrestling meet? We also want to know what school they go to! Please send them by Monday night!
Tuesday we will then compile the nominees and it will be your turn to choose the winner! You can then cast your votes, and voting will close Thursday night at 11:59 p.m. We will then announce the winner online and on air on Friday each week!
We are also looking for reports of High School Basketball,  Hockey, Swimming, Indoor Track and Field, and Wrestling results. If you can email them HERE we will write recaps nightly. We need the score, who scored the goal, and any highlights. You can even text the photo of the scoresheets to 207-469-8660.
Line Score
| | | | | | |
| --- | --- | --- | --- | --- | --- |
| | 1 | 2 | 3 | 4 | T |
| MDI Girls | 9 | 18 | 18 | 15 | 60 |
| Presque Isle Girls | 10 | 14 | 22 | 11 | 57 |
Box Score
MDI
| | | | | | |
| --- | --- | --- | --- | --- | --- |
| Name | PTS | 2PM | 3PM | FTM | FTA |
| Mia  Shaw | 2 | 1 | - | - | - |
| Nora Paulsen | 0 | - | - | - | - |
| Kelsea Noyes | 0 | - | - | - | - |
| Mallory Dunbar | 0 | - | - | - | - |
| Lexi Tozier | 11 | 4 | - | 3 | 5 |
| Emma Simard | 9 | - | 3 | - | - |
| Soren Hopkins-Goff | 2 | 1 | - | - | - |
| Mollie Gray | 16 | 8 | - | - | 2 |
| Sophia Brophy | 13 | 3 | - | 7 | 11 |
| Lily Norwood | 0 | - | - | - | - |
| Alexsandra Hanley | 7 | 2 | 1 | - | 1 |
| TEAM | 0 | - | - | - | - |
| TOTALS | 60 | 19 | 4 | 10 | 19 |
Presque Isle
| | | | | | |
| --- | --- | --- | --- | --- | --- |
| Name | PTS | 2PM | 3PM | FTM | FTA |
| Addison Clairmont | 10 | 2 | 2 | - | - |
| Olivia Locke | 0 | - | - | - | - |
| Molly McCluskey | 0 | - | - | - | - |
| Grace O'Connell | 0 | - | - | - | - |
| Karlynn Gilmour | 3 | 1 | - | 1 | 2 |
| Keira Tompkins | 0 | - | - | - | - |
| Jorja Maynard | 15 | - | 5 | - | - |
| Anna Jeandreau | 8 | 1 | 2 | - | - |
| Marion Young | 0 | - | - | - | - |
| Mia Casavant | 4 | 1 | - | 2 | 3 |
| Lexi Morningstar | 0 | - | - | - | - |
| Rossalyn Buck | 7 | - | - | 7 | 8 |
| Georganna Curtis | 10 | 5 | - | - | - |
| TEAM | 0 | - | - | - | - |
| TOTALS | 57 | 10 | 9 | 10 | 13 |
More From 92.9 The Ticket