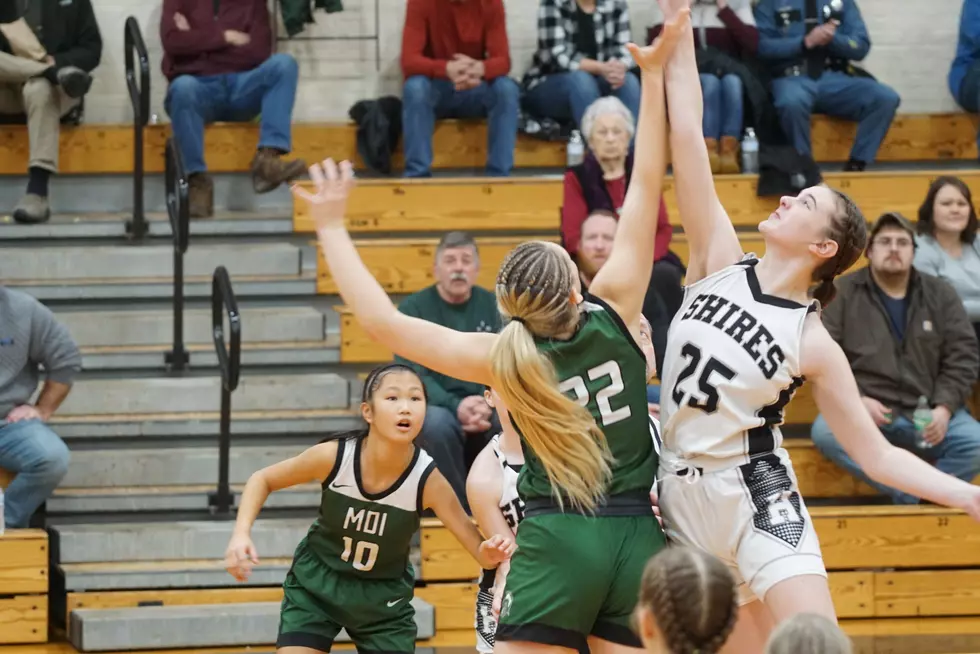 MDI Girls Rally to Beat Houlton 52-50 [STATS]
MDI-Houlton January 14, 2023 Photo Chris Popper
Trailing by 1 with less than 10 seconds left Soren Hopkins-Goff scored her only points of the game, hitting a jump-shot from the left side and then sinking 1-2 free throws to give the MDI Trojans a 52-50 win over Houlton on Saturday, January 14th.
MDI led 8-7 at the end of 1st Quarter and 24-19 at the end of the 1st Half. Houlton outscored MDI 20-9 to take a 39-33 lead at the end of the 3rd Quarter.
MDI was led by Lexi Tozier with 15 points. Mollie Gray had 11 points with a 3-pointer. The Trojans were 11-17 from the free throw line.
Houlton was led by Gabby Gentle with 17 points including a 3-pointer. Amelia Callnan had 11 points with a 3-pointer. Drew Warman had a 3-pointer. Houlton was 19-32 from the free throw line.
MDI is now 5-4 and will play at home against Old Town on Wednesday, January 18th at 7 p.m. That game will be broadcast on AM 1370 WDEA, on WDEA Internet Radio, on our free downloadable APP and on any Alexa enabled device, with the pregame starting at 6:45.
Houlton is 3-6 and will travel to play Bucksport on Monday, January 16th at 2 p.m.
You can nominate someone for the Winter Week 6 High School Athlete of the Week by emailing HERE. Please put High School Athlete of the Week in the subject. Nominations for games January 8-14 need to be received by January 16th. Then tell us why your nominee is deserving! Let us know specifics! How many goals did she/he score? How many points did she/he score? How fast did they run or throw in the indoor track meet? How fast did they swim in the swim meet? How did they do in the wrestling meet? We also want to know what school they go to! Please send them by Monday night!
Tuesday we will then compile the nominees and it will be your turn to choose the winner! You can then cast your votes, and voting will close Thursday night at 11:59 p.m. We will then announce the winner online and on air on Friday each week!
We are also looking for reports of High School Basketball,  Hockey, Swimming, Indoor Track and Field, and Wrestling results. If you can email them HERE we will write recaps nightly.
Line Score
| | | | | | |
| --- | --- | --- | --- | --- | --- |
| | 1 | 2 | 3 | 4 | T |
| MDI Girls | 8 | 16 | 9 | 19 | 52 |
| Houlton Girls | 7 | 12 | 20 | 11 | 50 |
Box Score
MDI
| | | | | | |
| --- | --- | --- | --- | --- | --- |
| Name | PTS | 2PM | 3PM | FTM | FTA |
| Mia  Shaw | 8 | 4 | - | - | - |
| Nora Paulsen | 0 | - | - | - | - |
| Kelsea Noyes | 0 | - | - | - | - |
| Mallory Dunbar | 2 | 1 | - | - | - |
| Lexi Tozier | 15 | 6 | - | 3 | 7 |
| Emma Simard | 0 | - | - | - | - |
| Soren Hopkins-Goff | 3 | 1 | - | 1 | 2 |
| Mollie Gray | 11 | 3 | 1 | 2 | 2 |
| Sophia Brophy | 7 | 2 | - | 3 | 4 |
| Lily Norwood | 0 | - | - | - | - |
| Alexsandra Hanley | 6 | 2 | - | 2 | 2 |
| TEAM | 0 | - | - | - | - |
| TOTALS | 52 | 19 | 1 | 11 | 17 |
Houlton
| | | | | | |
| --- | --- | --- | --- | --- | --- |
| Name | PTS | 2PM | 3PM | FTM | FTA |
| Macy Cram | 0 | - | - | - | - |
| Amelia Callnan | 11 | 1 | 1 | 6 | 8 |
| Leah Swallow | 0 | - | - | - | - |
| Mylee Sylvia | 0 | - | - | - | - |
| Gabby Gentle | 17 | 3 | 1 | 8 | 13 |
| Drew Warman | 8 | 2 | 1 | 1 | 2 |
| Danni Espenscheid | 2 | 1 | - | - | 2 |
| Emma Swallow | 6 | 1 | - | 4 | 4 |
| Kaitlyn Kenney | 0 | - | - | - | - |
| Lily Brewer | 2 | 1 | - | - | - |
| Camille Callnan | 2 | 1 | - | - | 1 |
| Payton Collins | 0 | - | - | - | - |
| Tori Ervin | 2 | 1 | - | - | 2 |
| TEAM | 0 | - | - | - | - |
| TOTALS | 50 | 11 | 3 | 19 | 32 |
More From 92.9 The Ticket