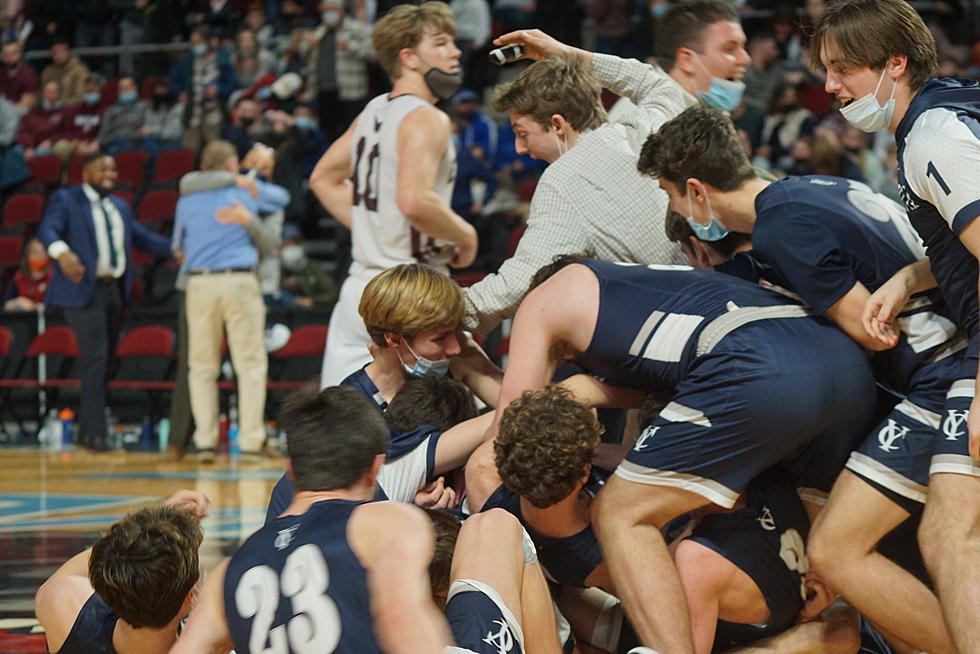 Yarmouth Beats Ellsworth 59-52 in OT for State Class B Boy's Championship [STATS/PHOTOS]
Yarmouth Celebrating Gold Ball Victory Over Ellsworth March 4, 2022 Photo Chris Popper
The Ellsworth Eagles Boy's Basketball Team's dream of a perfect season and the first Gold Ball since 1966 came to a heartbreaking end on Friday night, March 4th at the Cross Insurance Center when they lost to Yarmouth 59-52 in overtime.
The Eagles were 4.5 seconds away from winning the Gold Ball and a 23-0 unbeaten season when Steve Walsh from Yarmouth hit a 3 pointer deep from the left baseline to tie the score. The Eagles were then outscored 15-8 in overtime.
Ellsworth led 16-13 at the end of the 1st Quarter. Yarmouth got into early foul trouble, and Ellsworth was shooting 1 and 1's with 1:42 left in the 1st Quarter. Ellsworth went 7-8 from the free throw line in the 1st Quarter.
The Eagles led 29-21 at the end of the 1st Half, but the Clippers weren't as aggressive defensively, and Ellsworth was 1-3 from the foul line as Yarmouth stopped fouling.
Ellsworth was up 35-27 at the end of the 3rd Quarter.
After Yarmouth took a brief lead late in the 4th Quarter Brett Bragdon hit a pair of free throws with 58.5 seconds left and again with 19.5 seconds to put Ellsworth back in the lead, until Walsh's 3-pointer tied the game.
In overtime Peter Psyhogeos had 10 points, going 8-8 from the free throw line, as Ellsworth was forced to foul. Matt Waeldner had 5 points in OT for the Clippers. For Ellsworth Chance Mercier had 7 points in overtime, including 2 3-pointers, but the deficit was too big.
For Ellsworth Chance Mercier had 17 points while Hunter Curtis had 15 points. Gage Hardy ended with 9 points. The Eagles were 15-21 from the free throw line an had 3 3-pointers, 2 by Chance Mercier and 1 by Eamon MacDonald.
For Yarmouth, Peter Psyhogeos had a game-high 27 points while Matt Waeldner had 16 points. The Clippers were 12-14 from the free throw line and had 5 3-pointers. Psyhogeos had 2 3-pointers, Steve Walks 2 3's and Matt Waeldner 1 3-pointer
Yarmouth ends the season with the Gold Ball and a 20-3 record.
Ellsworth's season comes to an end with a 22-1 record and the runner-up plaque.
Thanks to Walter Churchill for the photos.
Line Score
| | | | | | | |
| --- | --- | --- | --- | --- | --- | --- |
| | 1 | 2 | 3 | 4 | OT1 | T |
| Yarmouth Boys | 13 | 8 | 6 | 17 | 15 | 59 |
| Ellsworth Boys | 16 | 13 | 6 | 9 | 8 | 52 |
Box Score
Yarmouth
| | | | | | | | |
| --- | --- | --- | --- | --- | --- | --- | --- |
| # | Name | PTS | FGM | 2PM | 3PM | FTM | FTA |
| 2 | Matthew Gautreau | 0 | 0 | 0 | 0 | 0 | 0 |
| 3 | Matt Waeldner | 16 | 7 | 6 | 1 | 1 | 2 |
| 10 | Evan Hamm | 4 | 2 | 2 | 0 | 0 | 0 |
| 11 | Steve Walsh | 6 | 2 | 0 | 2 | 0 | 0 |
| 12 | Aiden Kamm | 2 | 1 | 1 | 0 | 0 | 0 |
| 13 | Liam Hickey | 0 | 0 | 0 | 0 | 0 | 0 |
| 15 | Peter Psyhogeos | 27 | 7 | 5 | 2 | 11 | 12 |
| 20 | Jack Janczuk | 0 | 0 | 0 | 0 | 0 | 0 |
| 21 | Justin Dawes | 0 | 0 | 0 | 0 | 0 | 0 |
| 22 | Sutter Auger | 0 | 0 | 0 | 0 | 0 | 0 |
| 23 | Cole Snyder | 2 | 1 | 1 | 0 | 0 | 0 |
| 24 | Quin O'Meara | 2 | 1 | 1 | 0 | 0 | 0 |
| 25 | Nate Hagerdorn | 0 | 0 | 0 | 0 | 0 | 0 |
| 31 | Jack Mclosh | 0 | 0 | 0 | 0 | 0 | 0 |
| 32 | Spencer LaBrecque | 0 | 0 | 0 | 0 | 0 | 0 |
| | TOTALS | 59 | 21 | 16 | 5 | 12 | 14 |
Ellsworth
| | | | | | | | |
| --- | --- | --- | --- | --- | --- | --- | --- |
| # | Name | PTS | FGM | 2PM | 3PM | FTM | FTA |
| 3 | Chance Mercier | 17 | 5 | 3 | 2 | 5 | 9 |
| 4 | Miles Palmer | 0 | 0 | 0 | 0 | 0 | 0 |
| 5 | Logan McGowan | 0 | 0 | 0 | 0 | 0 | 0 |
| 10 | Hunter Curtis | 15 | 6 | 6 | 0 | 3 | 4 |
| 11 | Brett Bragdon | 4 | 0 | 0 | 0 | 4 | 4 |
| 12 | Gage Hardy | 9 | 3 | 3 | 0 | 3 | 4 |
| 14 | Brody Mercier | 0 | 0 | 0 | 0 | 0 | 0 |
| 15 | Eamon MacDonald | 3 | 1 | 0 | 1 | 0 | 0 |
| 20 | Peter Keblinsky | 2 | 1 | 1 | 0 | 0 | 0 |
| 21 | Cruz Coffin | 0 | 0 | 0 | 0 | 0 | 0 |
| 22 | Michael Palmer | 2 | 1 | 1 | 0 | 0 | 0 |
| 23 | Kaleb Connors | 0 | 0 | 0 | 0 | 0 | 0 |
| 30 | Michael Harris | 0 | 0 | 0 | 0 | 0 | 0 |
| 32 | Ethan LeClerc | 0 | 0 | 0 | 0 | 0 | 0 |
| 33 | Keegan Omlor | 0 | 0 | 0 | 0 | 0 | 0 |
| | TOTALS | 52 | 17 | 14 | 3 | 15 | 21 |
Ellsworth-Yarmouth State Class B Championship
The Ellsworth Eagles took on the Yarmouth Clippers in the State Gold Ball Game on Friday, March 4th at the Cross Insurance Center in Bangor
More From 92.9 The Ticket