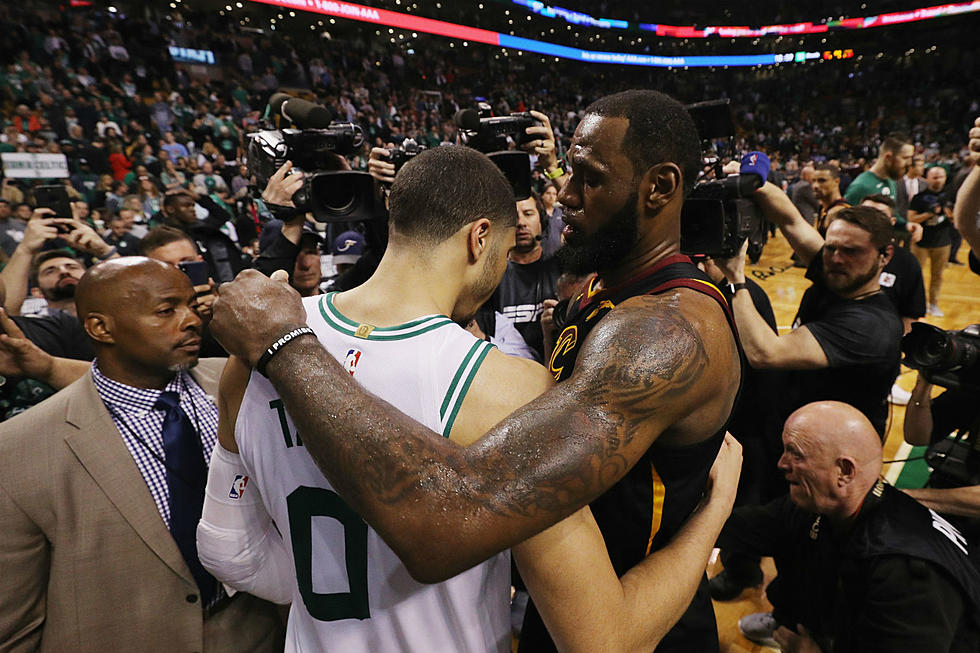 LeBron James Creates Stir By Following Jayson Tatum On Instagram
Maddie Meyer, Getty Images
LeBron James sent Celtics fans into a frenzy Thursday morning by following young C's star Jayson Tatum on Instagram. LeBron is a known fan of Tatum, calling him a "very, very, very good player" in the midst of the Eastern Conference Finals last may.
LeBron has until Friday to decide whether or not to opt out of his contract with the Cavaliers and enter unrestricted free agency.
Opting in and staying in Cleveland or teaming up with either Paul George or Kawhi Leonard and signing with Lakers are more likely options, as the Celtics are considered a longshot to sign LeBron.
The 33-year-old James said during the playoffs last spring that he was impressed by the way Tatum handled an expanded role after the Celtics lost Gordon Hayward and Kyrie Irving to injuries, according to Gary Washburn of the Boston Globe.
"I think his composure (is impressive), he plays above his age. I think the unfortunate events of the injuries that they've had have allowed him to, I believe, get better faster than I believe they expected here. Because it's given him an opportunity to make fail plays or make mistakes and learn from them and still be on the floor. His talent, his composure, where he comes from has allowed him to be successful so he's a very, very, very good player already and he definitely at this pace can become a great player."
Before Celtics fans get too excited, it is worth noting that LeBron also follows 2018-19 NBA Rookie of the Year Ben Simmons, and Philadelphia is considered another potential landing spot for the league's best player.
More From 92.9 The Ticket