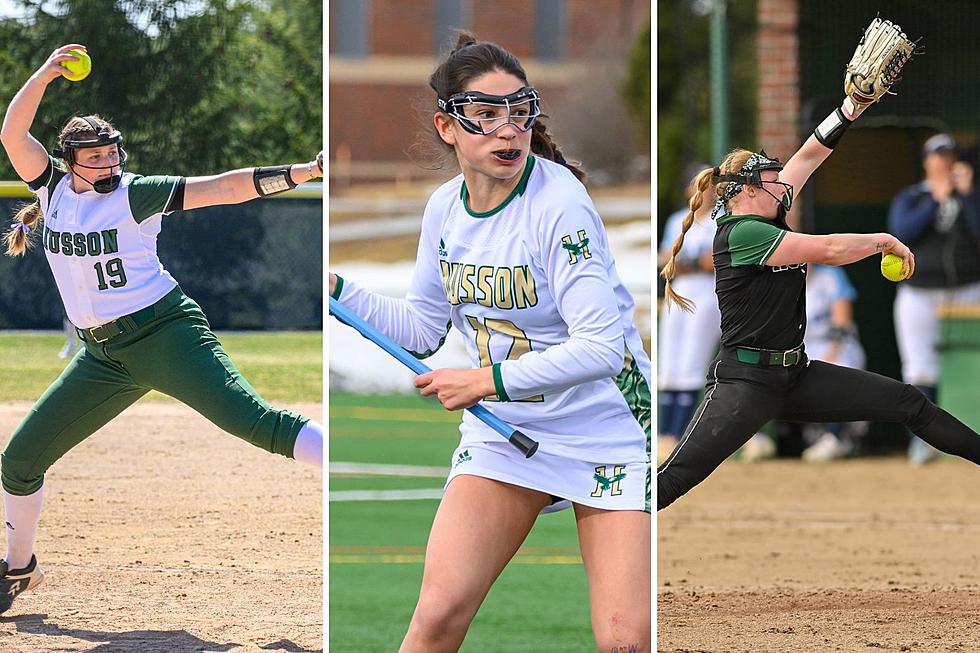 Trio of Local Ladies Honored by North Atlantic Conference
Eric Ogden Photos
Pitchers McKenna Smith, Danielle Masterson and Lacrosse player, Laela Martinez, from Old Town, Hampden and Bangor respectively were honored on Monday by the North Atlantic Conference for their achievements this past week.
Laela Martinez from Bangor, was selected as the Women's Lacrosse Rookie of the Week. She recorded a four-goal, one-assist performance against Maine Maritime Academy to help the Eagles upset the Mariners, 19-14, on the road. Martinez tallied 4 goals on just 4 shot attempts while recording 2ground balls, 2 caused turnovers and 4 draw controls.
McKenna Smith from Old Town, was selected as the Pitcher of the Week. She  finished 4-0 on the week, allowing just 2 earned runs in 24.1 innings of work. Smith scattered 12 hits and struck out 41 batters, including 2 double-digit strikeout performances against UMaine-Presque Isle and Thomas College. Additionally, Smith racked up 15 strikeouts against Presque Isle, 16 against Thomas and earned 2 wins in the circle against Bowdoin College to help the Eagles extend their winning streak to 18 games. Offensively, Smith had  four hits on the week with two RBI's and one run scored.
Danielle Masterson from Hampden was selected as the Rookie Pitcher of the Week. She finished 1-0 on the week over 10.2 innings pitched, recording 12 strikeouts while allowing 12 hits. Masterson's top performance of the week came in the form of a complete-game shutout victory over Thomas College, where she matched a career-high with 10 strikeouts and allowed just five hits.
More From 92.9 The Ticket