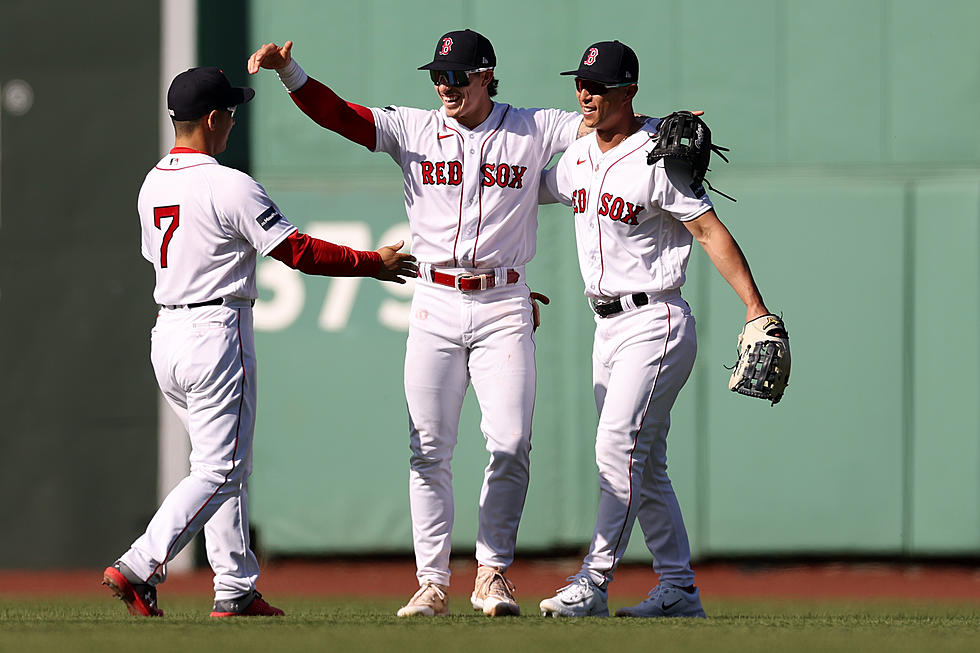 Getty Images
Through 41 games, the 2023 Boston Red Sox have been a pleasant surprise and won more games than they've lost. For many, that was the bar this year.
22-19, 5th in AL East (8.5gb Tampa Bay); 0.5gb Yankees for 3rd AL Wild Card
5-5 in last 10, lost 3-straight, 13-10 at home, 9-9 on road
A's: (7)
- Alex Verdugo (.299/5/18, 13 2B, 32 R): Barely hanging onto an A, starting to do what Alex Verdugo does, which is a good couple of weeks followed by not much of anything for the next 3-4. 3 walk-off hits keep him in the A region for now.
- Masataka Yoshida (.298/6/24, 7 2B's, 23 R): He was the hottest hitter on the planet for 16 games, has cooled off a bit but that's to be expected after such a torrid run. You take his start 10 times out of 10.
- Jarren Duran (.345/2/16, 12 2B's, 14 R): Just 4 for his last 23 since 5/4, but another guy whose impact cannot be denied. Totally different player than what anyone expected through 25 games.
- Adam Duvall (.455/4/14, 5 2B's, 11 R): It was only 8 games, but what an 8 games it was. He was the Sox offense the first week of the season.
- Josh Winckowski (2-0/2.55/19, 24.2ip, 15g, 1sv, 5 H): Had a stinker on Friday but that's to be expected when you're rolled out as one of the most-used bullpen arms in the game. Good until then.
- John Schreiber (1-0/2.16/20, 16.2ip, 17g, 6 H): Picking up where he left off last year as one of the team's most valuable late-game arms.
- Chris Martin (0-1/1.64/8, 11ip, 11g, 7 H): Back from injury, Martin has been another nice late-game piece, leading the team with 7 holds which he's picked up in just 11 apps. So, doing his job.
B's: (5)
- Rafael Devers (.255/11/37, 10 2B's, 23 R): You'd like the average to be a little higher but you can't fault the power, as Devers is tied for the AL lead in HR and RBI. Defense has been excellent too. Now, to just learn how to run the bases.
- Connor Wong (.238/4/11, 6 2B's, 13 R): His offense has been a pleasant surprise, especially of late, but it's his D behind the plate that earns Wong a B so far, as he ranks among the game's elite in defensive metrics.
- Enmanuel Valdez (.292/2/7, 3 2B, 5 R): A solid first 16 games for the big-league career of Valdez. And, the defense is enough of a non-issue after a rocky start that the bat makes up for it.
- Kutter Crawford (1-1/3.51/24, 25.2ip, 7g, 2gs): Crawford was doing yeoman's work early in the year eating up innings and looking good while doing so out of the 'pen. On the shelf at the moment with a hammy.
- Brennan Bernardino (1-0/3.27/8, 11ip, 10g): I think the day after he made his Sox debut I said he "wasn't long for the majors." Well, here he is getting a B, so congrats.
C's: (8)
- Justin Turner (.265/3/14, 9 2B's, 23 R): He's been fine for an elderly DH who can't really play the field. Tied for second on the team in hits.
- Christian Arroyo (.257/1/11, 5 2B's, 12 R): Right as he was starting to heat up, he landed on the IL. The story of Christian Arroyo.
- Reese McGuire (.292/0/8, 4 2B's, 5 R): The bat has fallen off (0 for last 10, .250 in May) and the defense is meh. That's why he's losing as many AB's to Wong as he is.
- Rob Refsnyder (.258/1/14, 3 2B's, 8 R): A solid bench piece, very good hitter against lefties. Tied for 5th on the team in RBI.
- Chris Sale (3-2/5.40/54, 43.2ip, 8gs, 4qs): He appears to be rounding into shape, especially after the 8-inning outing on Saturday.
- Tanner Houck (3-2/5.26/33, 37.2ip, 7gs, 1qs): He was good for a bit, now he's not. That seems to average out to a C.
- Kenley Jansen (1-2/4.26/17, 12.2ip, 14g, 9sv): He got his 400th career save and doesn't appear capable to get another since. Back-to-back blown saves costing the Sox 2 wins not a great look. He's blown 25% of save opps so far.
- Brayan Bello (2-1/5.01/24, 23.1ip, 5gs, 1qs): Bad in his first two starts but solid in his last 3. Hopefully they leave him in the rotation and let him get settled.
D's: (2)
- Kike Hernandez (.234/3/14, 7 2B's, 21 R): He better start hitting because defensively he's the worst SS in the league (league-high 9 errors at the position).
- Raimel Tapia (.240/1/7, 3 2B's, 10 R): Hasn't had a chance to make a real impact with solid hitting across the outfield. He has been OK when called upon.
F's: (4)
- Corey Kluber (2-5/6.41/33, 39.1ip, 8gs, 1qs): Doesn't appear to have much left at this point.
- Nick Pivetta (2-3/6.23/36, 34.2ip, 7gs, 1qs): Actively pitching his way out of the rotation.
- Ryan Brasier (1-0/7.29/18, 21ip, 1sv, 1 H): Finally sucked bad enough to get kicked off the team.
- Richard Bleier (1-0/5.19/10, 17.1ip, 2 H): The next pitcher to get kicked off the team. Not sure he's pitched meaningful innings this season.
Incomplete: (5)
- Yu Chang (.136/3/8, 5 R): On IL since late April.
- Bobby Dalbec (.182/0/0, 2-11): In Worcester.
- Pablo Reyes (.500/0/0, 3-6, 1 2B, 1 R): Chance to earn a role with the team's desperation at middle infield).
- Garrett Whitlock (1-2/6.19/11, 16ip, 3gs, 1qs) Currently on IL.
- James Paxton (0-0/3.60/9, 5ip, 1gs): A very promising debut two years in the making on FRI night.
More From 92.9 The Ticket