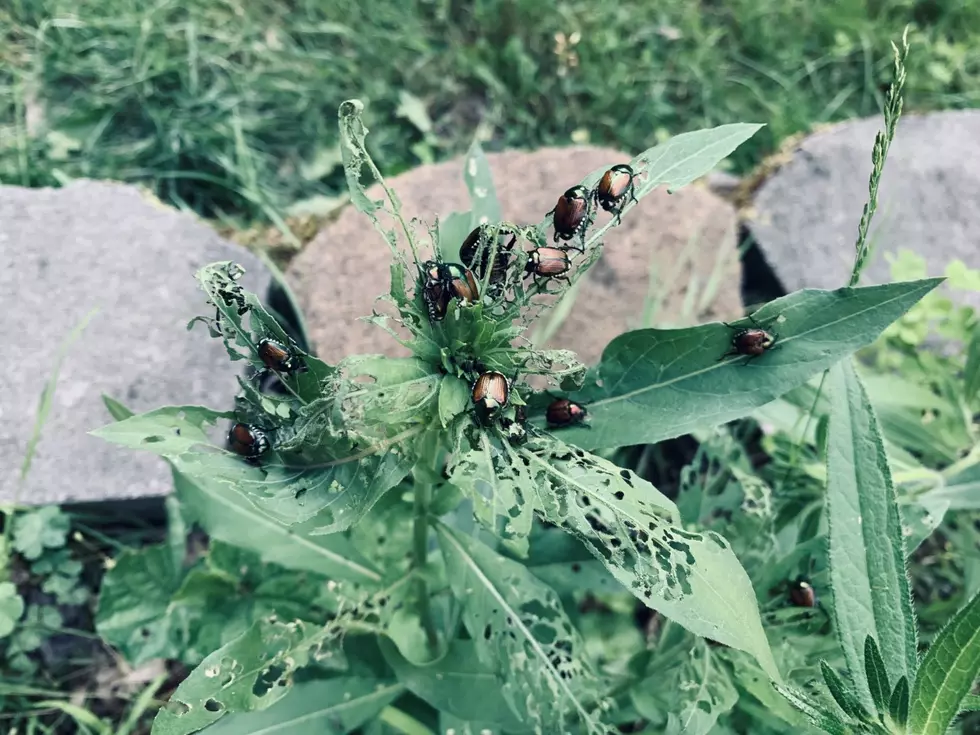 Would You Like Some Advice On Murdering Those Stupid Japanese Beetles?
Photo J Stew
These stupid Japanese beetles are wrecking my yard.
Let's be clear... I am no gardener. The only green thumb I have is from when I touch up the trim around the windows at camp. But my wife, she's great with all that stuff. So it really makes me want to shake my fist in the air when I see stupid insects undoing all the gardening she's been doing.
Right now, the main culprit of all that's going wrong with our flower/plant beds, is the frikkin' Japanese Beetles. They're small beetles, about 2/3 the size of a dime, with a green shell/wings. At a glance, they don't even look like they're doing anything. It's like they just sit in silent contemplation, as they destroy everything green in my yard.
However, you can wage a little war against these little monsters.
We've decided to go on the offensive when it comes to getting rid of the beetles in our yard. There are a couple easy things you can do. Last year, we were doing it the old fashioned way, by flicking them off the leaves of plants in the yard, and into a jar filled with soapy water. They die almost instantly. Just make sure to empty the jar the next day. If they sit for a couple days, they start to smell baaaaaaaaad.
You can also buy some of these special traps, designed for trapping the beetles and killing them. We got a bunch these ones on Amazon for under $20, I believe. It has some kind of little bait disc that lures them in, and then they perish inside the bag that hangs from the trap. These two methods have worked ok for us. There are plenty of other ideas on the web too, but seem to just be variations of what I've laid out here.
At any rate, left to their own devices, they'll chew you out of yard and home. It's ridiculous. If you want them gone, you'll also have to wage your own battle of the beetles. Good luck, Yard Warrior. You'll need it.
All these stories are far more entertaining that Japanese Beetles...
15 Wacky New England Animal Stories from 2023
These Adorable Maine and NH Dogs Will Make You Want to Boop the Snoot
Check out some of Northern New England's cutest pups!
24 Legendary Bands that Have Never Performed in Maine
Here is a list of 25 bands and performers who never played a show in Maine. It includes some of the most legendary groups to ever play.
Info from
setlist.fm
was used to compile this list.
More From 92.9 The Ticket