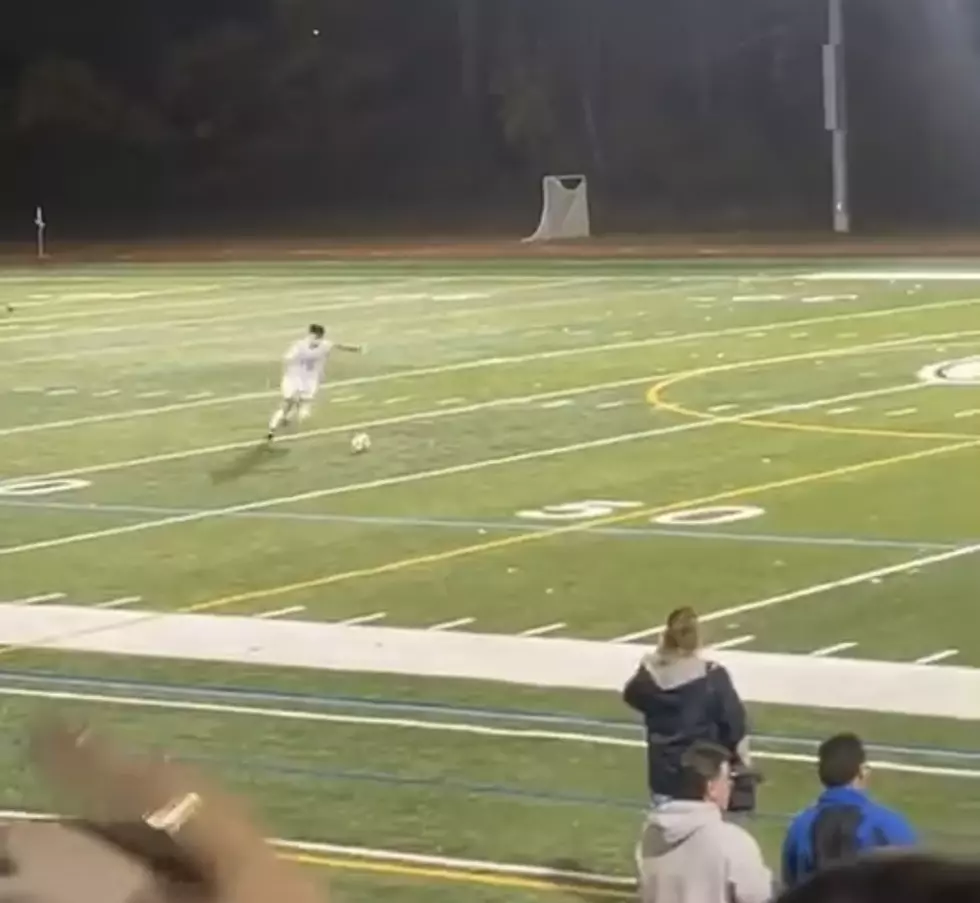 SEE IT: Massachusetts High School Soccer Player Scores Incredible 65-Yard Goal
Photo Credit: Twitter/Leominster Athletics
Well, this is one way to get Americans to watch more soccer.
For the past two years, the Apple+ comedy "Ted Lasso," starring Jason Sudeikis (nephew of "Cheers" star and Boston icon George Wendt) has piqued our country's curiosity about "the beautiful game." Yet, the game itself is often met with complaints that it is "too boring" and "not enough happens.
But if you were watching a high school game in Massachusetts this week, chances are you've grown a bit more invested in the other type of football.
It was a moment reminiscent of Adam Vinatieri's last minute field goals, Doug Flutie's Hail Mary for Boston College, or Steph Curry toppling the Celtics with 3-pointers in the NBA Finals.
With his team trailing by a goal and time about to expire, Leominster High's Leo Giglio sent the same into overtime with this amazing kick…
It measured at 65-yards, and Leominster would go on to win the game and advance in the postseason. Giglio told WBZ that he hoped the kick would be high enough for a teammate to deflect, with hopes of scoring closer to the goal.
Instead, the ball sailed over everyone and would up sending Leominster passed Framingham and onto the next round against Franklin.
The clip has now gone viral, and it makes you think what more of rare moments such as these could do to enhance the sport's popularity in New England and the U.S.
With baseball slogging along despite suggestions to fix it, the NFL on the verge of losing all-time superstar Tom Brady to retirement (we think), and the NBA (thanks to former Celtic Kyrie Irving) the subject of controversy, why not move every penalty kick back and just see what happens?
Who doesn't love the excitement and tension of seeing the ball soar through the air with everything on the line?
After all, all you've gotta do is BELIEVE...
Lewiston Art Teacher Creates Custom Cleats for Pro-Athletes
Eamon White has proven that hard work and determination can make your dreams come true, he has used his talent to create incredible top shelf cleats for pro-athletes.
UNH Men's Soccer Team Flies to Oregon onboard New England Patriots Plane
When UNH Athletics had trouble arranging a charter flight to Oregon for the men's soccer team for the NCAA Tournament they turned to the New England Patriots for a lift.
More From 92.9 The Ticket