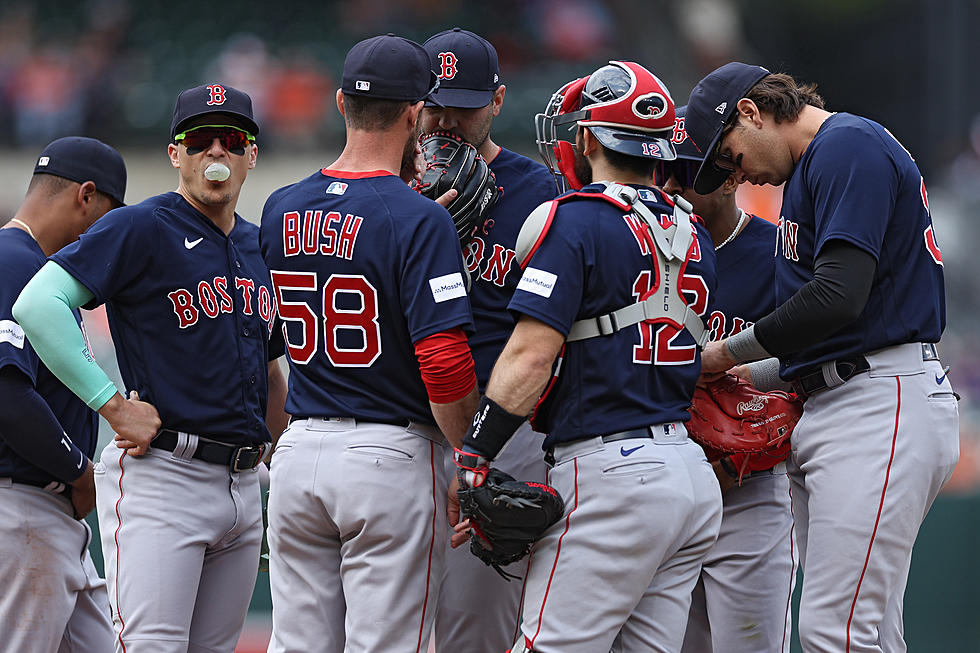 Urías Goes 4 for 4 to Carry Surging Orioles Past Red Sox 6-2
Photo by Patrick Smith/Getty Images
On a day in which their starting pitcher relied heavily on guile and the offense produced only one extra-base hit, the Baltimore Orioles still found a way to beat the Boston Red Sox.
Using three run-scoring flies, a pair of sacrifice bunts and 10 well-timed singles, the Orioles rolled to a 6-2 victory Wednesday to secure their fifth straight series win.
Baltimore took a 4-1 lead with a three-run fourth that featured, in order, three singles, a bunt, an infield hit and a sacrifice fly by Adley Rutschman.
"The fourth inning was just really good hitting, executing, running the bases well," manager Brandon Hyde said.
Baltimore's lone extra-base hit was an eighth-inning double by Ryan McKenna. And yet, without benefit of a home run, the Orioles pounced on previously unbeaten Tanner Houck and Boston's relief corps.
"We're doing the little things really well. We need to," Hyde said. "We're not going to be first in offense and we're not going to lead the league in homers. We need to run the bases well, be able to move runners, be able to score runners from third. We did that well today."
Ramón Urías went 4 for 4 and scored three runs, and Anthony Santander had two RBIs — both on sacrifice flies.
Batting eighth, Urías set a career high for hits and raise his batting average 46 points to .292. He scored in the fourth, fifth and eighth innings.
Tyler Wells (1-1) gave up two runs and four hits over 5 2/3 innings for Baltimore. The right-hander retired 10 straight at one point and matched his career high of seven strikeouts.
"I didn't think I had my best stuff, didn't have my best location. It was a grind out there, for sure," Wells said.
Hyde noted, "I think he willed his way the whole way."
Félix Bautista, the third Orioles reliever, worked the ninth to seal Baltimore's 10th win in 12 games.
Masataka Yoshida homered for the Red Sox, who had won four straight series before dropping two of three in Baltimore. Boston previously took two of three in Milwaukee.
"It was a good road trip," manager Alex Cora said. "That's a pretty good team in Milwaukee and this is a good team. Now we go home and keep playing good baseball."
Houck (3-1) allowed three earned runs and seven hits in five innings. Boston was 4-0 in his four previous starts this season.
"He threw a lot of strikes," Cora said. "He gave us five good innings. Their bottom part of their lineup did an outstanding job of getting on base and scoring."
Baltimore's pivotal fourth inning featured RBI singles by Urías and Cedric Mullins and a sacrifice fly by Adley Rutschman.
After Justin Turner chased Wells with an RBI single in the sixth, Santander's second sacrifice fly made it 5-2.
SEE YOU IN SEPTEMBER
Boston and Baltimore have already played two three-game series this season, with each team winning twice at home. The AL East rivals don't meet again until September.
FINALLY, A DAY OF REST
The Red Sox get a day off Thursday after playing 19 games over 19 consecutive days. They went 10-9 during that stretch, including 0-4 against Tampa Bay.
"I think we did an outstanding job. Heath-wise we got hit, but that's part of it," Cora said. "We played good baseball. Pretty good, pretty solid."
TRAINER'S ROOM
Red Sox: 2B Christian Arroyo wasn't in the starting lineup after aggravating a right hamstring injury Tuesday night. He struck out in the seventh as a pinch hitter. ... LHP James Paxton (right hamstring strain) will likely throw Sunday in a rehab assignment. "He's getting close (to returning)," Cora said. ... Reliever Chris Martin (right shoulder inflammation) is scheduled to throw Thursday on a rehab assignment. "Hopefully he will be with us over the weekend," Cora said. "He's a strike-throwing machine with great stuff."
Orioles: OF Austin Hays, who bruised his right hand on a failed bunt attempt Tuesday night, was not in the lineup. "It's pretty sore. Hopefully, just a few days," Hyde said.
UP NEXT
Red Sox: After a welcome day off Thursday, the Red Sox send Nick Pivetta (1-1, 4.58 ERA) to the mound to face visiting Cleveland.
Orioles: RH Kyle Gibson (4-0, 3.60) starts Thursday night in the opener of a four-game series against host Detroit. Baltimore swept three games from the Tigers last week.
More From 92.9 The Ticket