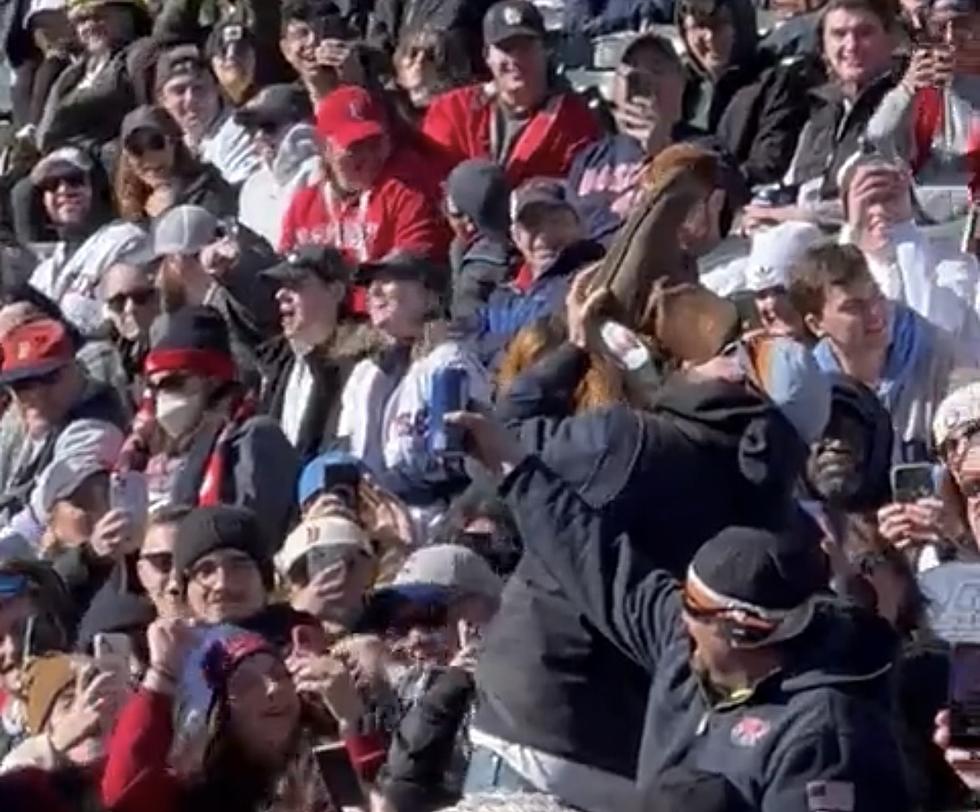 An Ode to the Man Drinking Out of a Boot in the Bleachers at Red Sox Opening Day
Pete Blackburn via Twitter
Dear Man in the Bleachers at Red Sox Opening Day Drinking Sam Adams Out of an L.L. Bean Boot,
I hereby congratulate you. For today, you surpass President Kennedy, Presidents Adams, and Ernie Bochs Sr. and Jr. to become the Official Man of New England.
Do I know for sure that you were drinking Sam Adams? I do not. But can I safely assume? I think I can.
Was I able to firmly establish said boot was in fact from L.L. Bean? I was not. Can I comfortably presume? You better L.L. Believe it.
For many years, a red seat marked the spot where Ted Williams hit the longest home run in Fenway Park's 111-year history. But you – you deserve a seat of your own.
Why stop at just a seat? I motion that you be given your own statue outside the ballpark. Complete with a fountain emanating from inside a bronzed boot.
In just the span of a few seconds, you somehow embodied nearly every human being in New England, all at once. You'll never top this moment.
My apologies – I shouldn't say "never." There are still a few ways you could out-New England yourself. You could always…
Eat some Wahlburgers out of a CVS Bag at a Boston Pops concert
Use a snow shovel to Eat Ben & Jerry's with Bernie Sanders at a Phish show
Dip your lobster in some Dunkins at a Stephen King Signing
Race Jay Leno Around a Rotary in a Duck Boat
Use Playland Arcade Tokens on a Scratch-Off Ticket to Pay for Your Fireworks
30 Celebrities That are Red Sox Fans
There are many celebrities that are a part of the Red Sox Nation! Some have season tickets while you may see some at only a couple of games every year.
Beloved Red Sox Announcers of the World Series Years
We still love these legendary voices.
More From 92.9 The Ticket