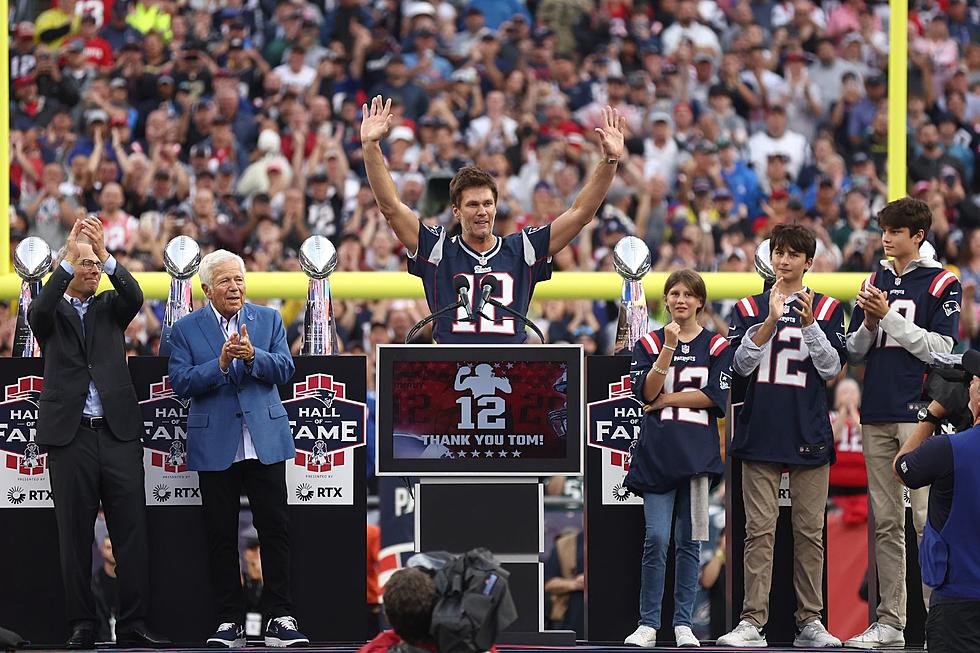 Even in Retirement, Tom Brady Is Still Winning Championship Rings
Credit: Maddie Meyer / Getty
They call him the G.O.A.T. for a reason, right?
It's no secret that 'Tom Brady' can also be used synonymously with the words 'win,' 'winning,' and 'winner'; the guy wins at seemingly everything he does.
Not only did he win six Super Bowl championships with our New England Patriots, but even when he left and went to Tampa Bay to play for the Buccaneers, he still managed to win—immediately, too. The guy is crazy.
Tom retired in 2021, unretired a couple of weeks later, and then officially retired from football on February 1st, 2023. He couldn't stay away from the sport for too long, though. During the Patriots' home opener, Tom Brady was showered with honors. He kicked off a new tradition by ringing the new lighthouse bell at Gillette Stadium. Then, he delivered a heartfelt speech, reminiscing about his illustrious time as a Patriot. To top it off, the Patriots Hall of Fame announced the date for his induction.
However, while he may be finished winning championships as a player, he is far from finished collecting jewelry post-retirement.
The retired quarterback, who secured seven Super Bowl titles in his prolific 23-season NFL career, celebrated the Las Vegas Aces' second consecutive championship after they beat the New York Liberty in Game 4 of the WNBA Finals on Wednesday night.
Why is Tom celebrating? Well, the G.O.A.T. is a minority owner of the Las Vegas Aces, securing another championship ring. His hands have to be getting heavy, right? Brady also has an agreement in place to become a minority owner of the Raiders, though NFL owners have yet to approve the deal.
Congrats to the Las Vegas Aces and, more importantly, Tom Brady for another, well-earned championship.
22 Maine Sports Bars & Pubs to Enjoy a Patriots Game
We asked, and you answered. Here are some of the best places to catch the Patriots and the rest of the NFL on football weekends. This list was compiled from crowdsourcing on our social media.
Gallery Credit: Chris Sedenka
20 Celebrities Who Love the New England Patriots As Much As You
Patriots Nation is strong with or without Tom Brady and these celebrities count themselves among the those who love New England's football team.
Gallery Credit: Nancy Hall
More From 92.9 The Ticket