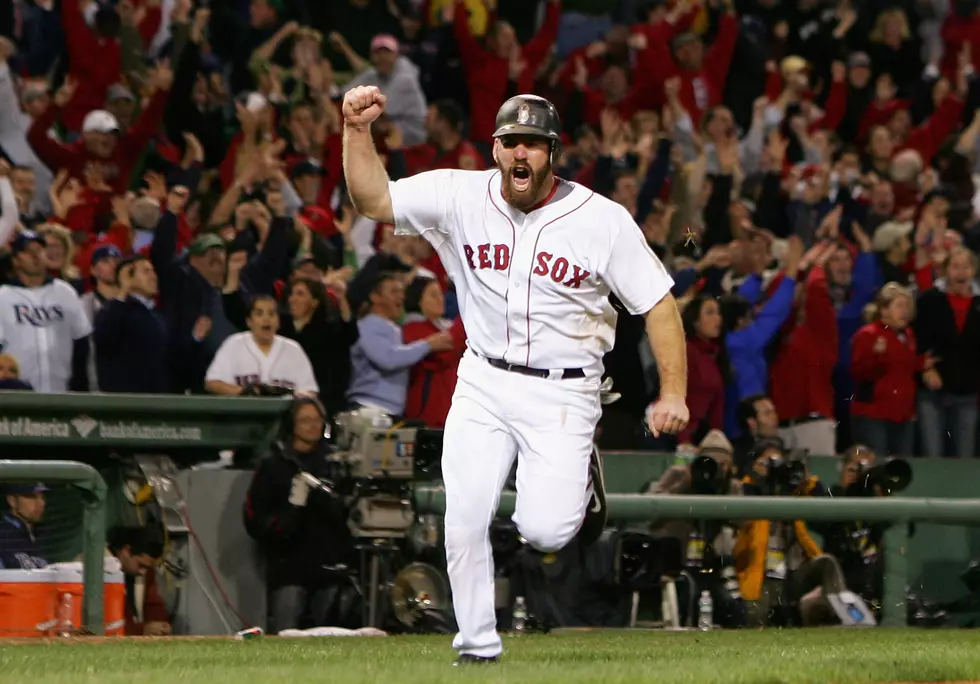 Kevin Youkilis Will Replace Dennis Eckersley in Boston Red Sox TV Booth
Getty Images
On the day the Patriots 2023 opponents would typically grab New England sports fans' attention, another team had an announcement of its own.
After the retirement and departure of Red Sox legend Dennis Eckersley, former All-Star Kevin Youkilis has been chosen to be The Eck's full-time replacement on NESN broadcasts, according to MassLive.
Youkilis debuted with the Sox in 2004, winning a ring on the team that broke the franchise's 86-year championship drought. Youkilis eventually became a starter and won another title as the starting first baseman in 2007.
Known as the "Greek God of Walks" for his high on-base percentage, Youkilis was referenced and featured in the book Moneyball as well as the 2011 film adaptation. Youk was an All-Star three times during his career with the Sox, and won a Gold Glove in 2007.
Youkilis made several appearances in the Red Sox broadcast booth last season. Even more notable, perhaps, is that Youkilis also purchased an award-winning brewery, earning him the post-playing career of "the Greek God of Hops."
Many in Red Sox Nation were surprised and saddened by Eckersley's departure over the summer, which came amidst a difficult season that saw the team sink in the standings.
While Eckersley and the late Jerry Remy were beloved by fans, Youkilis adds a unique perspective as someone who played more recently, and with the likes of David Ortiz, Pedro Martinez, and Manny Ramirez.
As for the rotating third seat in the booth, perhaps the team could take a look at some other, less-talked-about names who have fared well while filling in.
And maybe Youkilis could help facilitate a dream scenario for Patriots fans, as he is the brother-in-law of one Tom Brady.
Beloved Red Sox Announcers of the World Series Years
We still love these legendary voices.
30 Celebrities That are Red Sox Fans
There are many celebrities that are a part of the Red Sox Nation! Some have season tickets while you may see some at only a couple of games every year.
More From 92.9 The Ticket