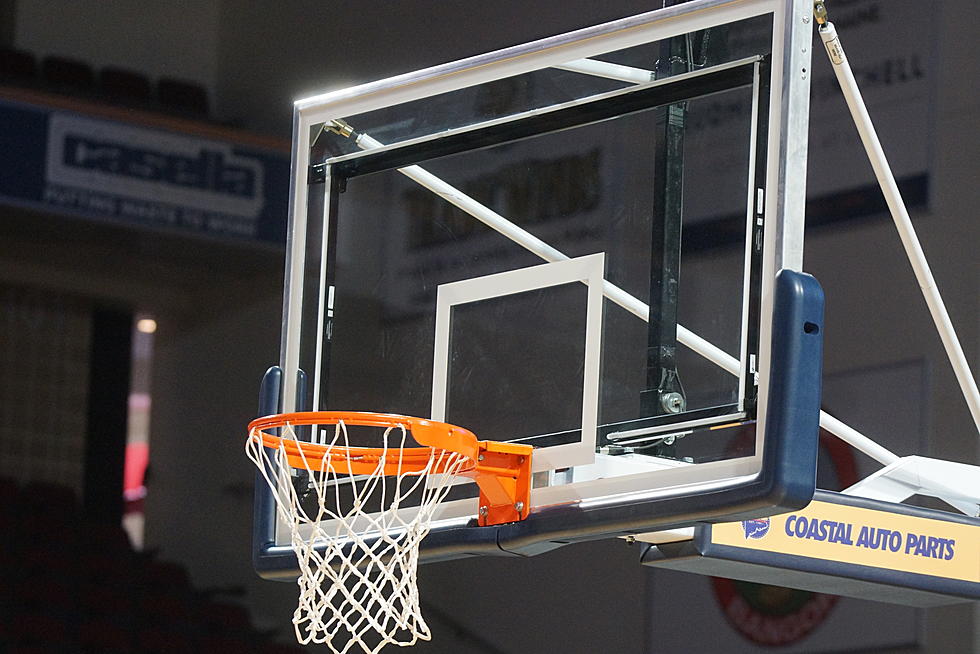 Brewer Rains Down 14 3's and Beats Cony 83-36 to Advance to Regional Finals [STATS]
Photo Chris Popper
The Brewer Boys rained downed 14 3-pointers, setting a Class A Boys Tourney record for 3-pointers in a game, and beat Cony 83-36 at the Augusta Civic Center, to advance to the Class A Regional Finals, where they will play Skowhegan on Friday night, February 24th.
The previous boys record for 3-pointers in a Class A Tourney game was 12 in 2011 by the Hampden Academy Broncos. Other 3-point records are AA- Oxford Hills 12 (2011), Class B - Maranacook 12 (2008); Class C - Woodland 11 (1996) and Class D Washburn 20 (2011).
The record for Class A Boys 3-pointers in a Tourney is 30 by the Oceanside Mariners in 2016. Brewer is at 19 going into the Regional Finals.
Brewer led 27-10 at the end of the 1st Quarter and 46-21 at the end of the 1st Half. The Witches were up 62-30 at the end of the 3rd Quarter.
Brewere was led by Evan Nadeau with 20 points including 5 3-pointers. Brock Flagg had 16 points with 4 3-pointers and Brady Saunders had 15 points with 3 3-pointers. Owen Fullerton and Steven Young each had a 3-pointer. Brewer was 3-4 from the free throw line. Brewer had nearly as many 3-pointers (14) as they did 2-pointers (19).
Cony was led by Parker Sargent with 10 points and a 3-pointer. Killian Arnold and Anthony Noftell each had a 3-pointer. The Rams were 5-7 from the free throw line.
Brewer is now 19-1. Their lone loss came to Skowhegan 49-48 on February 3rd. Brewer had beaten Skowhegan in the 1st game of the season 60-37 on December 9.
The Regional Finals on Friday will be broadcast on 92.9 The Ticket. You can also listen online, on our free downloadable APP and on any Alexa enabled device.
Line Score
| | | | | | |
| --- | --- | --- | --- | --- | --- |
| | 1 | 2 | 3 | 4 | T |
| Cony Boys | 10 | 11 | 9 | 6 | 36 |
| Brewer Boys | 27 | 19 | 16 | 21 | 83 |
Box Score
Cony
| | | | | | |
| --- | --- | --- | --- | --- | --- |
| Name | PTS | 2PM | 3PM | FTM | FTA |
| Killian Arnold | 3 | - | 1 | - | - |
| Anthony Noftell | 3 | - | 1 | - | - |
| Kam Dovin | 6 | 3 | - | - | - |
| Alex Fournier | 0 | - | - | - | - |
| Parker Morin | 2 | 1 | - | - | - |
| Matt Boston | 0 | - | - | - | - |
| Brady Hopkins | 2 | 1 | - | - | - |
| Jeff Bickford | 0 | - | - | - | - |
| Dominick Napolitano | 6 | 3 | - | - | - |
| Rocco Napolitano | 0 | - | - | - | - |
| Eli Claibu  Parrsien | 2 | - | - | 2 | 2 |
| Alex Kinsey | 0 | - | - | - | - |
| Parker Sargent | 10 | 2 | 1 | 3 | 5 |
| Jordan Benedict | 2 | 1 | - | - | - |
| TEAM | 0 | - | - | - | - |
| TOTALS | 36 | 11 | 3 | 5 | 7 |
Brewer
| | | | | | |
| --- | --- | --- | --- | --- | --- |
| Name | PTS | 2PM | 3PM | FTM | FTA |
| Evan Nadeau | 20 | 2 | 5 | 1 | 1 |
| Braden Carr | 0 | - | - | - | - |
| Charlie Brydes | 2 | 1 | - | - | - |
| Cayen Philbrick | 2 | 1 | - | - | - |
| Brady Saunders | 15 | 2 | 3 | 2 | 2 |
| Aiden Davis | 0 | - | - | - | - |
| Owen Fullerton | 7 | 2 | 1 | - | - |
| Cole Harriman | 0 | - | - | - | - |
| Ryder Goodwin | 8 | 4 | - | - | - |
| Brock Flagg | 16 | 2 | 4 | - | 1 |
| Cameron Hughes | 4 | 2 | - | - | - |
| Jake Perry | 0 | - | - | - | - |
| Titus Philbrook | 4 | 2 | - | - | - |
| Steven Young | 5 | 1 | 1 | - | - |
| TEAM | 0 | - | - | - | - |
| TOTALS | 83 | 19 | 14 | 3 | 4 |
More From 92.9 The Ticket