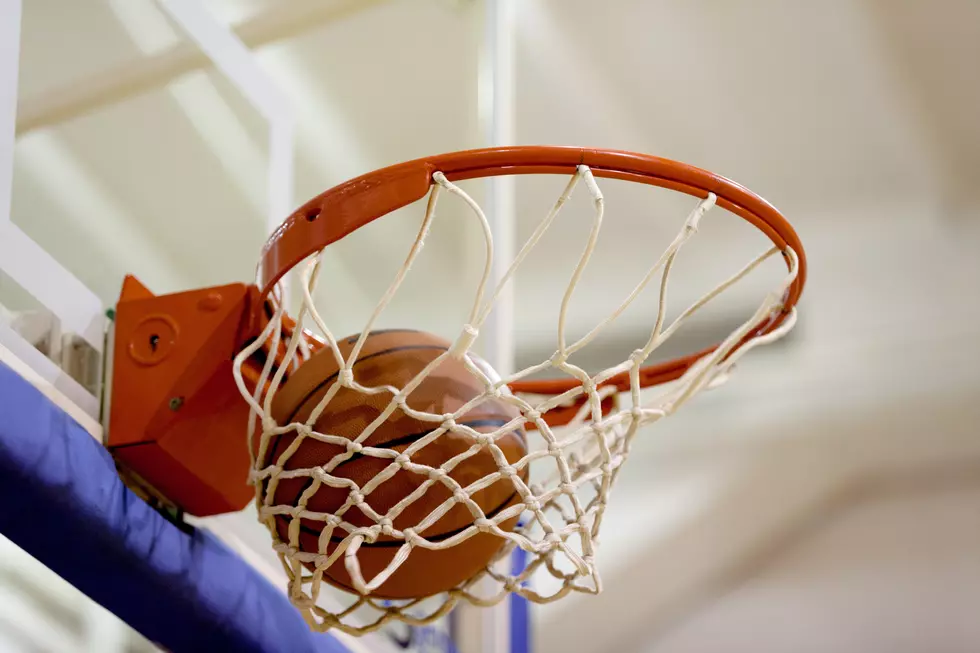 John Bapst Girls Beat Orono 52-17 [STATS]
Getty Images/iStockphoto
The John Bapst Crusaders Girls Basketball Team traveled up to Orono, coming home with the 52-17 win, on Wednesday, January 25th.
John Bapst led 19-2 at the end of the 1st Quarter and 25-12 at the end of the 1st Half. The Crusaders added to their lead in the 3rd Quarter, outscoring Orono 18-3 to take a 43-15 lead.
John Bapst was led by Claire Gaetani who had a game-high 29 points including 4 3-pointers. Lillian Higgins had 11 points. The Crusaders were 8-12 from the free throw line.
Kate Higgins had 4 points to lead the Red Riots. Mary Hillary Whitmore, Jillian Serverance, and Andrea Crocker all had 3-pointers for Orono. They were 0-2 from the free throw line.
John Bapst is now 7-7. They travel to Bucksport to play the Golden Bucks on Saturday, January 28th at 5 p.m.
Orono remains winless at 0-14. They travel up to Houlton to play the Shiretowners on Tuesday, January 31st at 7 p.m.
Thanks to Bob Beatham for the stats.
You can vote for the Week 7 High School Athlete of the Week as many times as you wish before Thursday, January 26th at 11:59 pm. HERE
You can nominate someone for the Winter Week 8 High School Athlete of the Week by emailing HERE. Please put High School Athlete of the Week in the subject. Nominations for games January 22-28 need to be received by January 23rd. Then tell us why your nominee is deserving! Let us know specifics! How many goals did she/he score? How many points did she/he score? How fast did they run or throw in the indoor track meet? How fast did they swim in the swim meet? How did they do in the wrestling meet? We also want to know what school they go to! Please send them by Monday night!
Tuesday we will then compile the nominees and it will be your turn to choose the winner! You can then cast your votes, and voting will close Thursday night at 11:59 p.m. We will then announce the winner online and on air on Friday each week!
We are also looking for reports of High School Basketball,  Hockey, Swimming, Indoor Track and Field, and Wrestling results. If you can email them HERE we will write recaps nightly. We need the score, who scored the goal, and any highlights. You can even text the photo of the scoresheets to 207-469-8660
Line Score
| | | | | | |
| --- | --- | --- | --- | --- | --- |
| | 1 | 2 | 3 | 4 | T |
| John Bapst  Girls | 19 | 6 | 18 | 9 | 52 |
| Orono Girls | 2 | 10 | 3 | 2 | 17 |
Box Score
John Bapst
| | | | | | |
| --- | --- | --- | --- | --- | --- |
| Name | PTS | 2PM | 3PM | FTM | FTA |
| Jenna Perkins | 0 | - | - | - | - |
| Oona Sacararidiz | 0 | - | - | - | - |
| Emma Lowell | 2 | 1 | - | - | - |
| Jayden Schoppee | 0 | - | - | - | - |
| Lauren Hogan | 0 | - | - | - | - |
| Lillian Higgins | 11 | 4 | - | 3 | 3 |
| Jane Wu | 0 | - | - | - | - |
| Kaylee Horr | 4 | 1 | - | 2 | 4 |
| Claire Gaetani | 29 | 7 | 4 | 3 | 4 |
| Ariana Cross | 0 | - | - | - | - |
| Anna Smth | 0 | - | - | - | 1 |
| Sophia Ward | 6 | 3 | - | - | - |
| Brynn Schroder | 0 | - | - | - | - |
| TEAM | 0 | - | - | - | - |
| TOTALS | 52 | 16 | 4 | 8 | 12 |
Orono
| | | | | | |
| --- | --- | --- | --- | --- | --- |
| Name | PTS | 2PM | 3PM | FTM | FTA |
| Sophie Neville | 0 | - | - | - | - |
| Emma LaBelle | 0 | - | - | - | 2 |
| Brooke Wentworth | 0 | - | - | - | - |
| Carmen Miller | 2 | 1 | - | - | - |
| Mary Hillary Whitmore | 3 | - | 1 | - | - |
| Andrea Crocker | 3 | - | 1 | - | - |
| Ali Wilson | 0 | - | - | - | - |
| Olivia Bragdon | 0 | - | - | - | - |
| Jillian Severance | 3 | - | 1 | - | - |
| Kristyn Brown | 2 | 1 | - | - | - |
| Dakota Shorey | 0 | - | - | - | - |
| Kate Higgins | 4 | 2 | - | - | - |
| TEAM | 0 | - | - | - | - |
| TOTALS | 17 | 4 | 3 | - | 2 |
More From 92.9 The Ticket