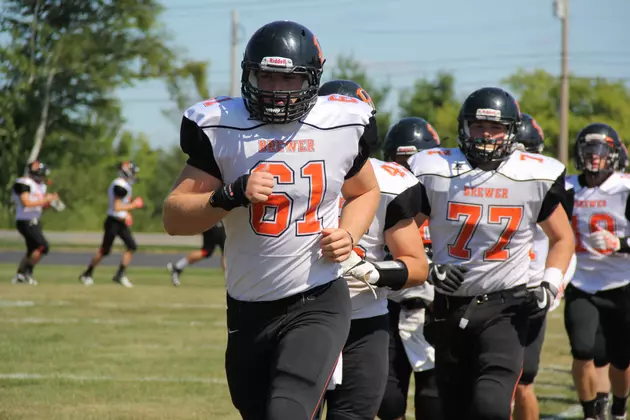 Lufkin, Lucy Named Gaziano Semi-Finalists
Austin Lufkin (61) warms up before game // Sports Radio 92.9 The Ticket Photo
The semi-finalists for the 2016 Frank J. Gaziano Memorial Offensive and Defensive Lineman Awards were announced on Monday.  Brewer's Austin Lufkin and Orono's Mark Lucy were among the nominees selected to represent the final 15 semifinalists.
Lucy was given the nod on the offensive line as he protected Orono quarterback Jackson Coutts as the center, and helped the Red Riots to a berth in the Class D North Region semi-final.  Lufkin, who played on both sides of the line, was recognized for his defensive accomplishments with the Witches, as Brewer made it to the Class B North Finals this past season.
"Each of the semi-finalists has proven to be dedicated to their sport, academics and their communities," said Jeff Kane, the son-in-law of Graziano and the president of National Distributors, Inc, in a Monday afternoon press release. "The selection committee will now begin a very comprehensive evaluation process to learn more about each these fine young men to learn more about what makes each one of them unique and most deserving of the award and scholarship. All of the semi-finalists and their families should be very proud of what they have accomplished and the future ahead for these young men."
One lineman from each the offensive and defensive side of the ball will be honored with a trophy and a $5,000 scholarship, while four runners-up will also receive $1,000.  The winners will be announced at a luncheon on January 28th at the Augusta Civic Center.
Gaziano Lineman Award Semi-finalists: 
Nicholas Bartholomew, Thornton Academy
John Fallon III, Falmouth
Parker Gammon, Bonny Eagle
Nathaniel Jordan, Cape Elizabeth
Mitchell Del Frate, Oceanside
Nicholas Giaquinto, Portland
Jacob Jordan, Cape Elizabeth
Raffaele Salamone, Deering
More From 92.9 The Ticket