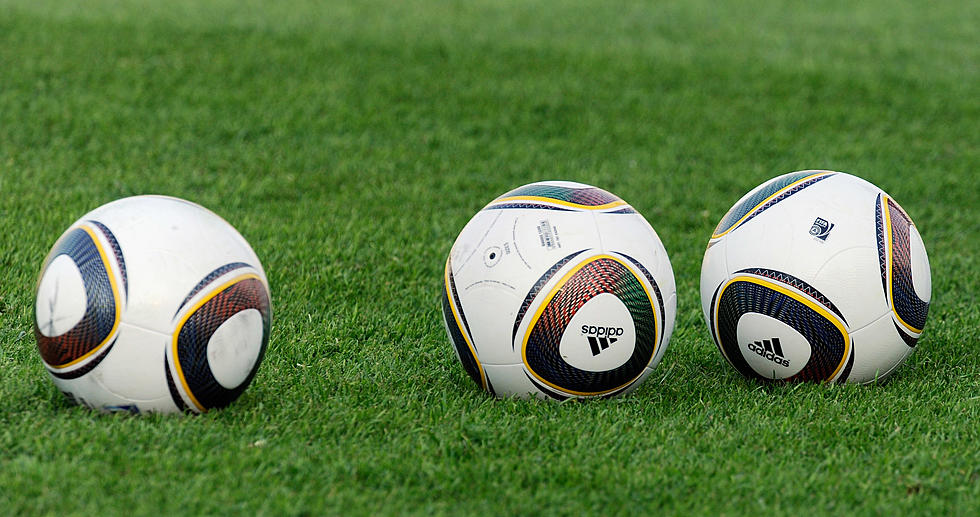 Maine High School Girls' and Boys' Soccer Scores – Thursday September 7
Getty Images
Here are the Maine High School Girls' and Boys' Soccer Scores for games played on Thursday, September 7th.

Girls' Soccer
Bangor 3 Camden Hills 0
Bangor Christian 3 Sumner 2
Brewer Messalonskee postponed because of lightning
Cape Elizabeth 4 Greely 1
Central 3 GSA 1
Hermon 9 MDI 1
Lee Academy 2 Katahdin 1
Madison 10 Dirigo 0
Medomak Valley 8 Nokomis 0
North Yarmouth Academy 3 Lake Region 2
Old Town 2 Caribou 0
Penquis Valley 8 Searsport 0
Pine Tree Academy 2 Valley 0
PCHS 2 Greenville 2
Presque Isle Fort Kent
Waterville 4 Lawrence 1
Wells 1 Poland 0
Boys Soccer
Biddeford 3 Sanford 1
Bonny Eagle 5 Massabesic 1
Brewer 4 Messalonskee 0
Bucksport 1 Orono 1
Cape Elizabeth 2 Greely 1
Cheverus 3 Thornton Academy 0
Deering 4 Westbrook 3
Falmouth 1 South Porland 0
Isleboro Buckfield
John Bapst 8 MDI 1
Marshwood 1 Kennebunk 1
Mount Blue Mount Abram
North Yarmouth Academy 3 Lake Region 0
Pine Tree Academy 1 Valley 0
Portland 4 Noble 0
Washington Academy 7 Calais 2
Waterville 11 Lawrence 0
Wells Poland
Windham 4 Gorham 1
Woodland 3 Jonesport-Beals 2
Yarmouth 3 York 0
We would like to post High School Soccer, Golf, Field Hockey, Volleyball and Football Scores. If coaches or managers can email the golf results and soccer scores including goal scorers and goalkeepers to chris.popper@townsquaremedia.com we will write stories on the WDEA website for Downeast Maine schools and on the 92.9 The Ticket website for all Maine High Schools.
You can nominate a Maine High School Athlete for their accomplishments during the week September 4 - 9 HERE by Sunday, September 10th. We will then put together the list, on Monday, and then you'll then be able to vote on the nominees September 11 - 14 (11:59 p.m.) with the Fall  Week 2 Winner being announced on Friday, September 15th. You can vote ONCE per day, per device
Please let us know in the email why you are nominating someone. Try to be specific with goals, yardage, times etc..
More From 92.9 The Ticket