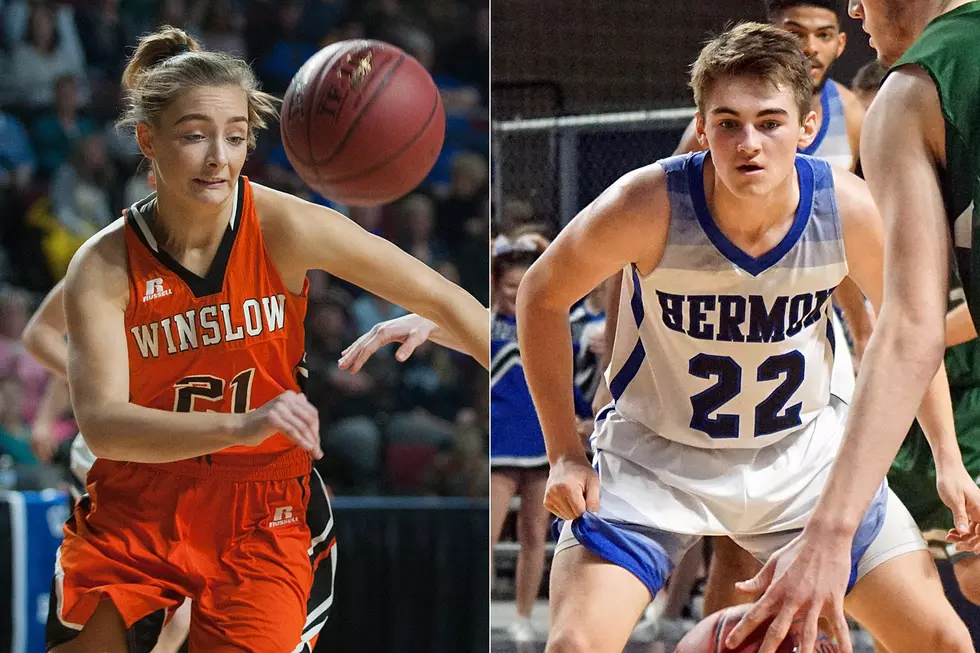 Tourney 2018 Preview: Class B State Championships
Townsquare Media Bangor
Two more gold balls will be handed out Friday night as the Cross Insurance Center in Bangor hosts the girls and boys Class B state championship games.
The girls from Winslow will take on Lake Region at 7:05 p.m.
The Raiders entered the tournament as the 6 seed with a record of 13-5. Lake Region (Naples) had an identical record in the regular season and entered the tournament as the south's No. 4 seed.
Winslow is seeking its first state title since 2005, while the Lakers last won a state championship in 2014.
Winslow is known as a deep, athletic team that plays solid defense. The Raiders have held their opponent to under 40 points in 16 of its 22 games this season. Winslow in the regional final held Miss. Maine Basketball finalist Emily Wheaton to just 16 points after she scored at least 30 points in each of her two prior tournament games.
Wells and Hermon will compete after the girls matchup in the Class B boys title game.
Hermon is trying to put the finishing touches on what has been a perfect season, as the top-seeded Hawks enter the contest with a 21-0 record.
Hermon, equipped with two Mr. Maine Basketball nominees in Keenan Marseille and Jacob Godfrey, has been an offensive powerhouse this season as all but two of their wins have come by 10 or more points.
Wells, the No. 1 seed out of the south, has been involved in a number of close games this season as 10 of their 18 regular season games were decided by seven points or less.
This is Wells' second consecutive appearance in the Class B title game. The Warriors suffered a 20-point loss in last season's state championship round. Wells has not won a state title since winning in back-to-back seasons in 1983 and 1984.
You can hear live coverage of both games on Sports Radio 92.9 The Ticket.
More From 92.9 The Ticket