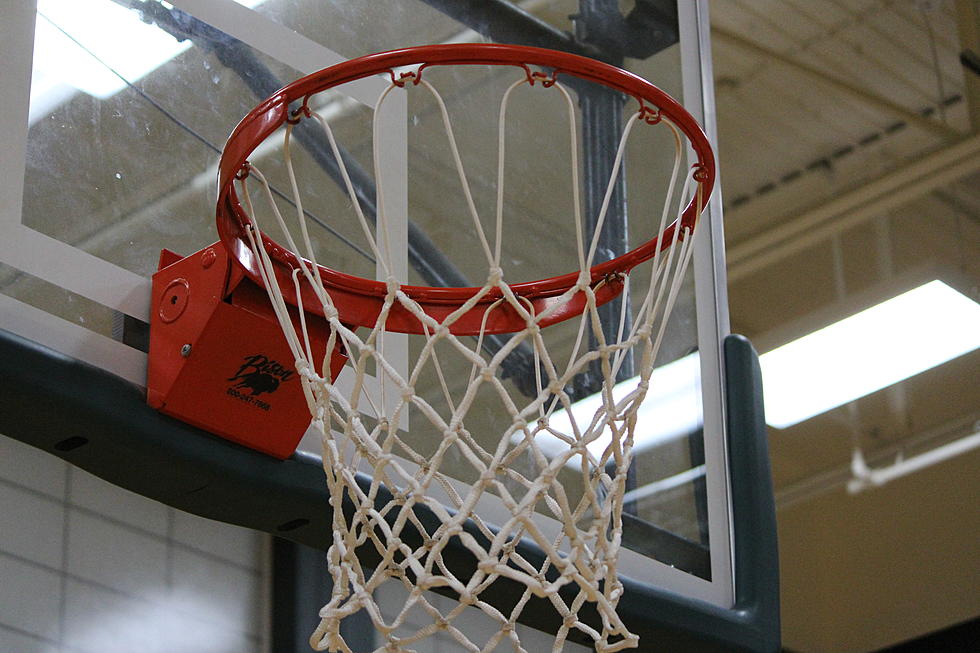 Brewer Boys Defeat Lawrence in 1st Game of Home-and-Home Series 72-61 [STATS]
Photo Chris Popper
The Brewer Boys Basketball Team remained undefeated, beating the Lawrence Bulldogs 72-61 on the road on Friday night, January 27th. The 2 teams will play again in Brewer on Monday, January 30th at 6:30 p.m.
Lawrence took an early lead, leading 24-18 in a high-scoring 1st Quarter. Brewer cut the lead to 1 point, trailing 33-32 at the end of the 1st Half. The Witches then took a 1-point lead at the end of the 3rd Quarter, leading 46-45.
Brewer had 4 players in double figures. Brock Flagg had a game-high 10 points with a 3-pointer. Brady Saunders finished with 16 points with a 3-pointer. Ryder Goodwin had 15 points and Cameron Hughes had 11 points. Evan Nadeau had a 3-pointer. The Witches were 13-19 from the free throw line.
Lawrence was led by Conner Nutting who had 18 points, including 3 3-pointers. Michael Hamlin had 14 points with 2 3-pointers and Dan Zawistowki had 3 3-pointers for 9 points. The Bulldogs were 8-11 from the free throw line.
Brewer is now 13-0 and Lawrence is 8-5
You can nominate someone for the Winter Week 8 High School Athlete of the Week by emailing HERE. Please put High School Athlete of the Week in the subject. Nominations for games January 22-28 need to be received by January 23rd. Then tell us why your nominee is deserving! Let us know specifics! How many goals did she/he score? How many points did she/he score? How fast did they run or throw in the indoor track meet? How fast did they swim in the swim meet? How did they do in the wrestling meet? We also want to know what school they go to! Please send them by Monday night!
Tuesday we will then compile the nominees and it will be your turn to choose the winner! You can then cast your votes, and voting will close Thursday night at 11:59 p.m. We will then announce the winner online and on air on Friday each week!
We are also looking for reports of High School Basketball,  Hockey, Swimming, Indoor Track and Field, and Wrestling results. If you can email them HERE we will write recaps nightly. We need the score, who scored the goal, and any highlights. You can even text the photo of the scoresheets to 207-469-8660
Line Score
| | | | | | |
| --- | --- | --- | --- | --- | --- |
| | 1 | 2 | 3 | 4 | T |
| Brewer Boys | 18 | 14 | 14 | 26 | 72 |
| Lawrence Boys | 24 | 9 | 12 | 16 | 61 |
Box Score
Brewer
| | | | | | |
| --- | --- | --- | --- | --- | --- |
| Name | PTS | 2PM | 3PM | FTM | FTA |
| Evan Nadeau | 7 | 1 | 1 | 2 | 2 |
| Braden Carr | 4 | 1 | - | 2 | 2 |
| Charlie Brydes | 0 | - | - | - | - |
| Cayen Philbrick | 0 | - | - | - | - |
| Brady Saunders | 16 | 5 | 1 | 3 | 5 |
| Aiden Davis | 0 | - | - | - | - |
| Owen Fullerton | 0 | - | - | - | - |
| Cole Harriman | 0 | - | - | - | - |
| Ryder Goodwin | 15 | 6 | - | 3 | 3 |
| Brock Flagg | 19 | 7 | 1 | 2 | 4 |
| Cameron Hughes | 11 | 5 | - | 1 | 3 |
| Jake Perry | 0 | - | - | - | - |
| Titus Philbrook | 0 | - | - | - | - |
| Steven Young | 0 | - | - | - | - |
| TEAM | 0 | - | - | - | - |
| TOTALS | 72 | 25 | 3 | 13 | 19 |
Lawrence
| | | | | | |
| --- | --- | --- | --- | --- | --- |
| Name | PTS | 2PM | 3PM | FTM | FTA |
| Cole Quirion | 0 | - | - | - | - |
| Caleb Luckern | 0 | - | - | - | - |
| Dane Zawistowski | 9 | - | 3 | - | - |
| Lucas Proctor | 0 | - | - | - | - |
| Conner Nutting | 18 | 1 | 4 | 4 | 6 |
| Parker Higgins | 8 | 4 | - | - | - |
| Cohen Lawrence | 0 | - | - | - | - |
| Brandon Watson | 0 | - | - | - | - |
| Lucas Campbell | 2 | 1 | - | - | - |
| Michael Hamlin | 14 | 3 | 2 | 2 | 2 |
| Hunter Lee | 4 | 2 | - | - | - |
| Gavin Lunt | 6 | 2 | - | 2 | 3 |
| TEAM | 0 | - | - | - | - |
| TOTALS | 61 | 13 | 9 | 8 | 11 |
More From 92.9 The Ticket