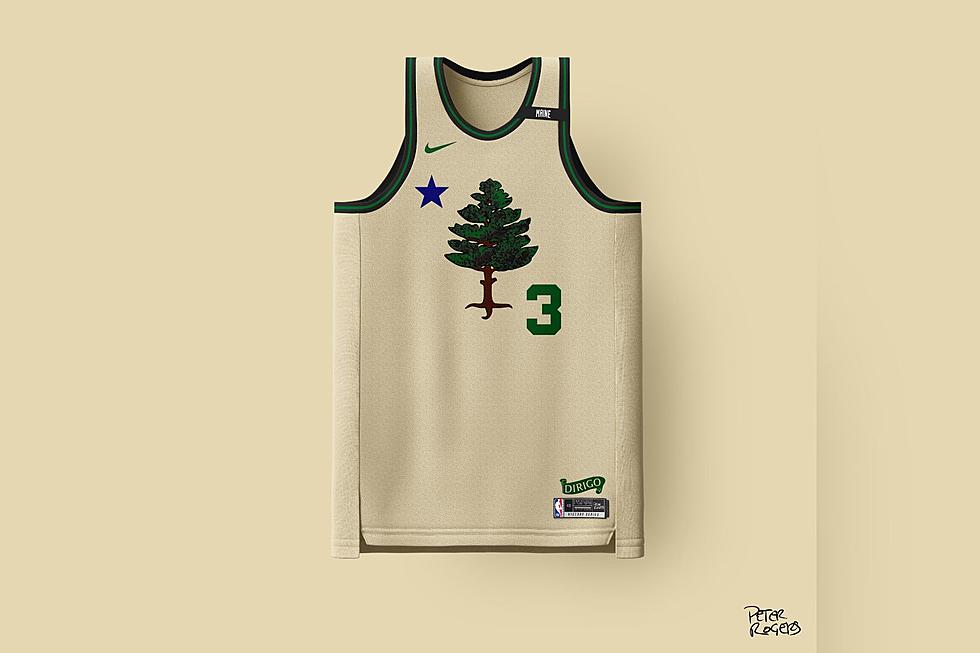 Check Out This Artist's Lewiston, Maine-Inspired Boston Celtics Jersey
Credit: @petemrogers on X/Twitter
It has been a challenging time for residents of the Pine Tree State, but the impact of the events in Lewiston has resonated across the entire nation, particularly in New England.
Pete Rogers, a diehard Celtics fan and a talented graphic designer embarked on an ambitious project last season. He decided to create a fresh and distinctive Celtics jersey for his social media profiles after each victory.
Considering that the Celtics secured an impressive 68 wins throughout the regular season and playoffs last year, Rogers was certainly kept busy.
This quickly evolved into something more significant for Pete Rogers.
By teaming up with the jersey-printing platform Wade and Williamson, Rogers transformed his jersey concepts from mere digital images to tangible, wearable products. Following a successful season, Rogers and Wade and Williamson established an exclusive destination for all Pete Rogers jerseys and upcoming releases. You can explore their collection at shopbanner18.com.
Following the Celtics' victory over the Washington Wizards on Monday night, Rogers unveiled a Boston Celtics jersey inspired by the state of Maine, aptly named "Dirigo." The Latin phrase "Dirigo" translates to "I direct" or "I lead," which is the official motto of Maine.
When questioned about the inspiration behind this design, Rogers explained that he drew inspiration from the old Maine state flag as a gesture of solidarity with the people of Maine.
Rogers made this jersey available for a limited time on the shopbanner18 website, accompanied by the following description: 
Introducing The 'Dirigo' Jersey, designed for win number 3 of the 2023-24 season and inspired by the old Maine state flag to show solidarity with the people of Maine and those directly impacted by the horrible shooting. 

As the first victory jersey to be dropped during the 2023-24 season, we wanted to do something special and will also be donating a portion of the proceeds to the Lewiston-Auburn Response Fund.
Would love to see the Maine Celtics play a game or two in these bad boys.
Let's hope for a lengthy season for the Boston Celtics, one that culminates with banner 18 proudly displayed in the TD Garden rafters. Here's to many more exceptional designs by Pete Rogers!
The 13 Most Hated Boston Celtics of All Time
Boston's most celebrated franchise has also produced a number of players New Englanders still despise.
Gallery Credit: Jon Rineman
7 Super Summer Scenes That Will Make You Miss Maine's Warm Months
Getting through the coming Maine winter will be a little easier with these images of summer fun.
Gallery Credit: Cindy Campbell
15 Ways to Avoid Falling Victim to Crimes of Opportunity
Protecting your valuables is often a matter of being aware of potential risks. These tips could help save you from what police call crimes of opportunity.
Gallery Credit: Cindy Campbell
More From 92.9 The Ticket