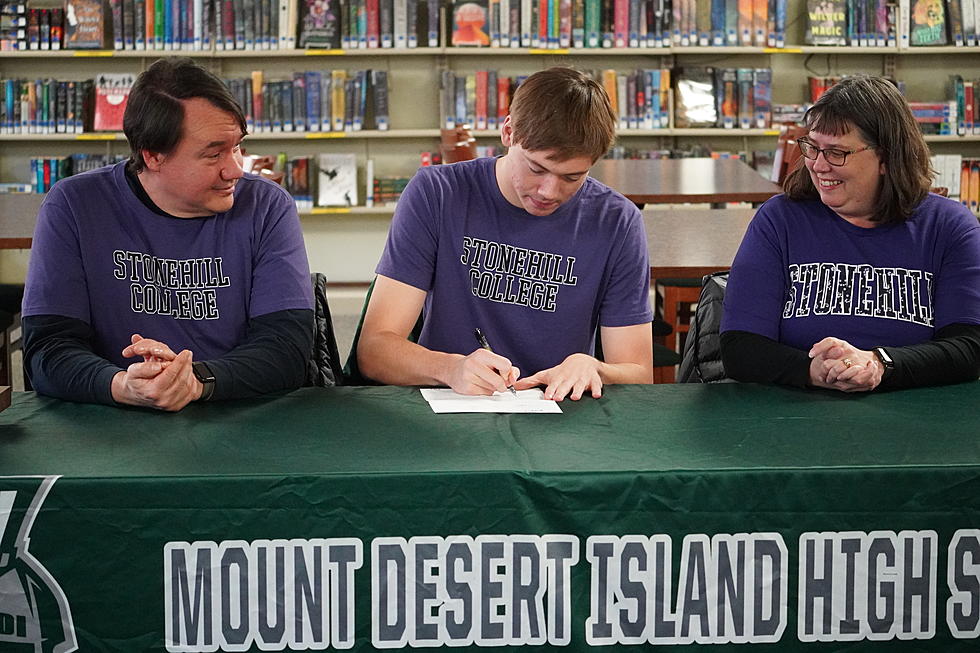 MDI's Miles Burr Signs National Letter of Intent to Run for Stonehill College
Miles Burr signing his National Letter of Intent November 13, 2023 Photo Chris Popper
Congratulations to MDI High School's Miles Burr who signed his National Letter of Intent to run for Division 1 Stonehill College in Massachusetts, on Monday, November 13th.
MDI Athletic Director Bunky Dow  listed the following records and honors that Miles holds.
He was the Penobscot Valley Conference and State Champion in 2022 and 2023 for Indoor Track in both the 55 meter and 200 meters. His time in the 200 meters is a State Record!
He was the Penobscot Valley Conference and State Champion in Outdoor Track in 2022 and 2023 in both the 100 meter and 200 meter races. He was named the PVC Performer of the Meet for Outdoor Track in both 2022 and 2023.
He was an All-State selection in both Indoor and Outdoor Track his junior year and was the Outdoor Track Athlete of the Year in his junior year.
He owns the facility record at UMaine for high school and collegiate athletes in the 200 meter dash.
At last year's New England Outdoor Championships at Cameron Stadium in Bangor, Miles finished 2nd in the 100, 200 and 400 Meter dashes.
He holds the State record in Class B for the 100, 200 and 400 meter dashes.
In the fall of 2023, Miles played on the Varsity Boy's Soccer Team and was selected to the PVC 1st Team and the All-Regional Class B Team, along with earning a spot on the All-Academic Team.
According to Bunky Dow, "In all the years I have been involved with the high school (1974 through today) Miles is the best all-around track athlete that I have seen!"
More From 92.9 The Ticket