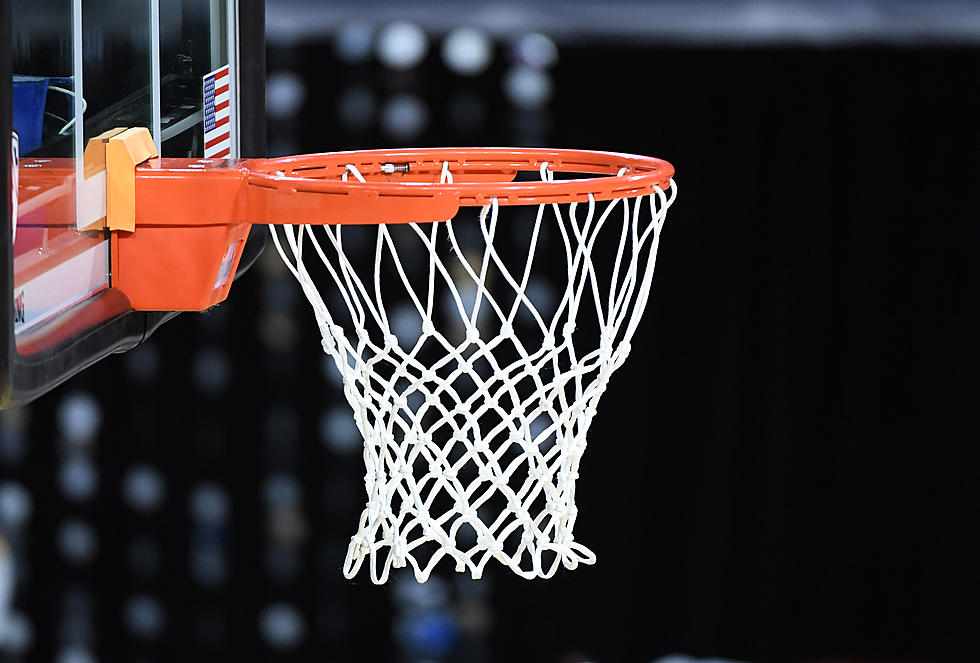 Lawrence Girls Double-up Brewer 66-33 [STATS]
Photo by Ethan Miller/Getty Images
The Lawrence Girls Basketball Team doubled-up Brewer 66-33 at Brewer on Friday night, January 27th in Brewer.
Lawrence led 13-7 at the end of the 1st Quarter and 36-14 at the end of the 1st Half. The Bulldogs were up 45-18 at the end of the 3rd Quarter.
Lawrence had 12 players scoring with Alisabeth Dumont leading the way with 18 points, including 4 3-pointers. Madalyn Provost, Alicen Higgins, Hope Bouchard and Mackenzie Nadeau each drained a 3-pointer. The Bulldogs were 8-14 from the free throw line.
Brewer was led by Allie Flagg and Jillian Ford each of whom had 9 points. Fold and Flagg each had a 3-pointer. Brewer was 3-8 from the free throw line.
Lawrence is now 11-2 and will host Brewer on Monday, January 28th.
Brewer is 4-8 and plays host to Nokomis on Saturday evening, January 28th at 5 p.m.
Thanks to Jordan Goodrich for the stats.
You can nominate someone for the Winter Week 8 High School Athlete of the Week by emailing HERE. Please put High School Athlete of the Week in the subject. Nominations for games January 22-28 need to be received by January 23rd. Then tell us why your nominee is deserving! Let us know specifics! How many goals did she/he score? How many points did she/he score? How fast did they run or throw in the indoor track meet? How fast did they swim in the swim meet? How did they do in the wrestling meet? We also want to know what school they go to! Please send them by Monday night!
Tuesday we will then compile the nominees and it will be your turn to choose the winner! You can then cast your votes, and voting will close Thursday night at 11:59 p.m. We will then announce the winner online and on air on Friday each week!
We are also looking for reports of High School Basketball,  Hockey, Swimming, Indoor Track and Field, and Wrestling results. If you can email them HERE we will write recaps nightly. We need the score, who scored the goal, and any highlights. You can even text the photo of the scoresheets to 207-469-8660
Line Score
| | | | | | |
| --- | --- | --- | --- | --- | --- |
| | 1 | 2 | 3 | 4 | T |
| Lawrence Girls | 13 | 23 | 19 | 11 | 66 |
| Brewer Girls | 7 | 7 | 4 | 15 | 33 |
Box Score
Lawrence
| | | | | | |
| --- | --- | --- | --- | --- | --- |
| Name | PTS | 2PM | 3PM | FTM | FTA |
| Madalyn Provost | 9 | 3 | 1 | - | - |
| Alicen Higgins | 3 | - | 1 | - | - |
| Taylor Pellerin | 1 | - | - | 1 | 2 |
| Kaylee Elkins | 5 | 2 | - | 1 | 2 |
| Mackenzie Nadeau | 5 | 1 | 1 | - | - |
| Ella Minihan | 0 | - | - | - | - |
| Ashley Shores | 2 | - | - | 2 | 4 |
| Elizabeth Crommett | 2 | 1 | - | - | - |
| Lily Gray | 6 | 3 | - | - | - |
| Nadia Morrison | 1 | - | - | 1 | 2 |
| Alisabeth Dumont | 18 | 3 | 4 | - | - |
| Hope Bouchard | 9 | 2 | 1 | 2 | 2 |
| Bri Poulin | 5 | 2 | - | 1 | 2 |
| TEAM | 0 | - | - | - | - |
| TOTALS | 66 | 17 | 8 | 8 | 14 |
Brewer
| | | | | | |
| --- | --- | --- | --- | --- | --- |
| Name | PTS | 2PM | 3PM | FTM | FTA |
| Makayla Dore | 2 | 1 | - | - | - |
| Gabrielle Roberts | 0 | - | - | - | - |
| Allie Flagg | 9 | 3 | 1 | - | - |
| Jillian Ford | 9 | 3 | 1 | - | 2 |
| Kaylee Dore | 0 | - | - | - | - |
| Kathleen Brydges | 0 | - | - | - | - |
| Reece McKenney | 0 | - | - | - | - |
| Mariah Roberts | 2 | 1 | - | - | - |
| Aeri Nichols | 0 | - | - | - | - |
| Olivia Melvin | 2 | - | - | 2 | 2 |
| Jenna McQuarrie | 5 | 2 | - | 1 | 2 |
| Grace LaBree | 4 | 2 | - | - | 2 |
| TEAM | 0 | - | - | - | - |
| TOTALS | 33 | 12 | 2 | 3 | 8 |
More From 92.9 The Ticket