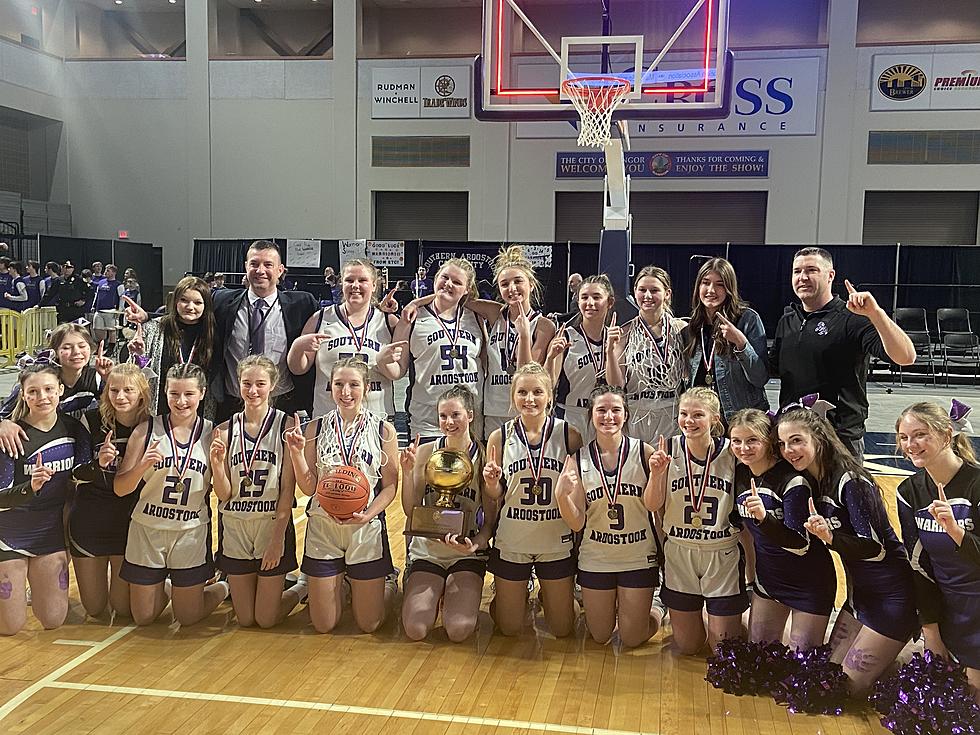 Queens of Class D – Southern Aroostook Beats Seacoast Christian 68-30 [STATS & PHOTOS]
Southern Aroostook-Seacoast Christian March 6, 2023 Photo Chris Popper
The Southern Aroostook Girls Basketball Team won their 4th Gold Ball in 5 season on Monday night, March 6th, beating Seacoast Christian 68-30 at the Cross Insurance Center in Bangor. The score was 11-9 in the 1st Quarter before Southern Aroostook went on a 30-0 run to put the game away.
The score was 19-9 at the end of the 1st Quarter, and 43-13 at the end of the 1st Half. The Warriors were up 57-20 at the end of the 3rd Quarter.
Seacoast Christian only has 7 players on their team, and dressed only 6 with 1 injured.
The Warriors were led by Madison Russell with 19 points while Cami Shields had 17 points. Ally Shields finished with 11 points. Emmalee Landry, Ally Shields and Cami Shields each had a 3-pointer. The Warriors were 1-5 from the free throw line.
Seacoast Christian was led by Breckyn Winship with 16 points including 2 3-pointers. Ellie Leech had 10 points. Seacoast Christian was 6-11 from the free throw line.
Seacoast Christian's season comes to an end with a 12-10 record.
Southern Aroostook's season ends with a Gold Ball and a 19-3 record.
Line Score
| | | | | | |
| --- | --- | --- | --- | --- | --- |
| | 1 | 2 | 3 | 4 | T |
| Seacoast Christian Girls | 9 | 4 | 7 | 10 | 30 |
| Southern Aroostook Girls | 19 | 24 | 14 | 11 | 68 |
Box Score
Seacoast Christian
| | | | | | |
| --- | --- | --- | --- | --- | --- |
| Name | PTS | 2PM | 3PM | FTM | FTA |
| Ellie Odess | 2 | 1 | - | - | - |
| Apryl Akerberg | 0 | - | - | - | - |
| Ellie Leech | 10 | 2 | - | 6 | 8 |
| Bri Cluff | 0 | - | - | - | 2 |
| Breckyn Winship | 16 | 5 | 2 | - | 1 |
| Adaline Luther | 2 | 1 | - | - | - |
| Keira Hart | 0 | - | - | - | - |
| TEAM | 0 | - | - | - | - |
| TOTALS | 30 | 9 | 2 | 6 | 11 |
Southern Aroostook
| | | | | | |
| --- | --- | --- | --- | --- | --- |
| Name | PTS | 2PM | 3PM | FTM | FTA |
| Hannah McGary | 0 | - | - | - | - |
| Olivia Ellingwood | 0 | - | - | - | - |
| Emmalee Landry | 7 | 2 | 1 | - | 3 |
| Ally Shields | 11 | 4 | 1 | - | - |
| Madison Russell | 19 | 8 | 1 | - | 1 |
| Emma Stubbs | 0 | - | - | - | - |
| Lexi Rackliff | 0 | - | - | - | - |
| Jazmyn Ellingwood | 4 | 2 | - | - | - |
| Alexa Hersey | 0 | - | - | - | - |
| Madison Shields | 2 | 1 | - | - | - |
| Cami Shields | 17 | 8 | - | 1 | 1 |
| Callie  Russell | 4 | 2 | - | - | - |
| Libby Anderson | 4 | 2 | - | - | - |
| TEAM | 0 | - | - | - | - |
| TOTALS | 68 | 29 | 3 | 1 | 5 |
Check out the photos from the game
Southern Aroostook - Seacoast Christian Class D Championship
The Southern Aroostook Warriors took on Seacoast Christian on Monday, March 6th in the Class D State Championship
More From 92.9 The Ticket