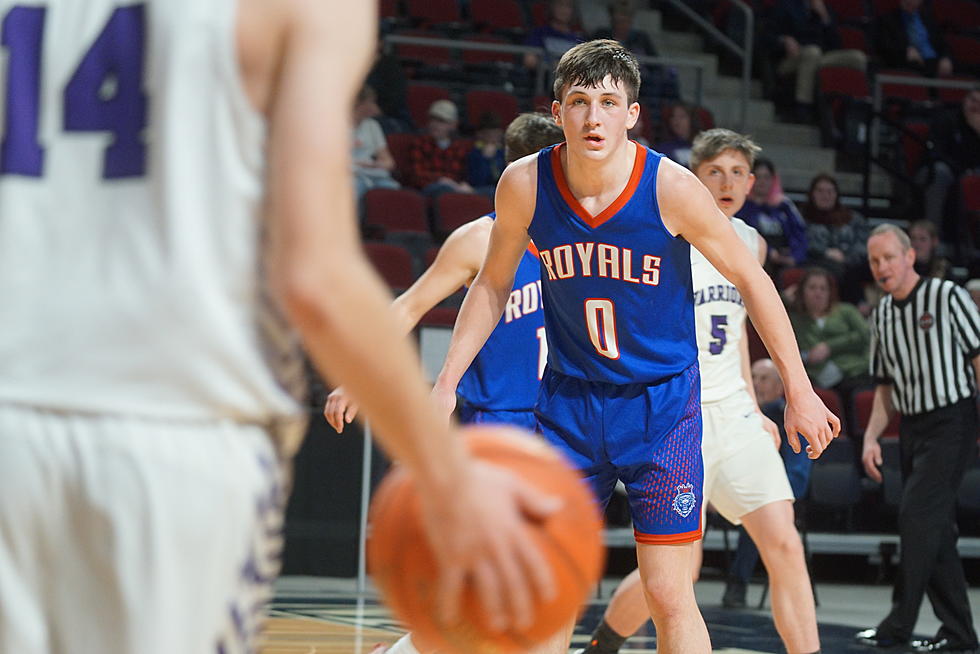 #1 Southern Aroostook Boys Remain Undefeated – Beat #8 Jonesport-Beals 64-24 [STATS & PHOTOS]
Damon Beal #0 Jonesport-Beals Photo Chris Popper
The #1 Southern Aroostook Warriors Boys Basketball Team remained undefeated, beating the #8 Jonesport-Beals Royals, 64-24 in the final Class D Boys Quarterfinal, on Monday, February 20th.
Southern Aroostook led 15-6 at the end of the 1st Quarter and 23-13 at the end of the 1st Half. In the 3rd Quarter, the Warriors outscored Jonesport-Beals 22-4 to lead 45-17.
Southern Aroostook was led by Camden Porter with 16 points including 2 3-pointers. Dylan Burpee had 15 points with 2 3-pointers. Ethan Collier had 2 3-pointers and Trafton Russon and Graham Siltz each had a 3-pointer. Siltz had 12 points. The Warriors were 10-14 from the free throw line.
Jonesport-Beals was led by Damon Beal with 13 points. Beal scored his 100th point on a field goal in the 3rd Quarter. Brevan Kenney had 8 points. The Royals were 8-11 from the free throw line.
Jonesport-Beals' season comes to an end with a 9-11 record.
Southern Aroostook improved to 19-0. They will now take on #4 Bangor Christian on Thursday, February 23rd in the 2nd Class D Semifinal, at 11:30 a.m.
Line Score
| | | | | | |
| --- | --- | --- | --- | --- | --- |
| | 1 | 2 | 3 | 4 | T |
| Jonesport-Beals Boys | 6 | 7 | 4 | 7 | 24 |
| Southern Aroostook Boys | 15 | 8 | 22 | 19 | 64 |
Box Score
Jonesport-Beals
| | | | | | |
| --- | --- | --- | --- | --- | --- |
| Name | PTS | 2PM | 3PM | FTM | FTA |
| Damon Beal | 13 | 5 | - | 3 | 6 |
| Eli Peabody | 0 | - | - | - | - |
| Kaden Beal | 0 | - | - | - | - |
| Brevan Kenney | 8 | 2 | - | 4 | 4 |
| William Guptill | 0 | - | - | - | - |
| Josh Warnock | 0 | - | - | - | - |
| James Brasted | 0 | - | - | - | - |
| Ethan Faulkingham | 0 | - | - | - | - |
| Garrett Libby | 3 | 1 | - | 1 | 1 |
| Owen Alley | 0 | - | - | - | - |
| Nathaniel Johnson | 0 | - | - | - | - |
| Nathaniel Carver | 0 | - | - | - | - |
| Nathan Faulkingham | 0 | - | - | - | - |
| TEAM | 0 | - | - | - | - |
| TOTALS | 24 | 8 | - | 8 | 11 |
Southern Aroostook
| | | | | | |
| --- | --- | --- | --- | --- | --- |
| Name | PTS | 2PM | 3PM | FTM | FTA |
| Drake Weston | 0 | - | - | - | - |
| Dillan Bishop | 0 | - | - | - | - |
| Andrew Chambers | 0 | - | - | - | - |
| Ethan Collier | 8 | 1 | 2 | - | - |
| Dylan Burpee | 15 | 3 | 2 | 3 | 4 |
| Ryder Russell | 0 | - | - | - | - |
| Lincoln Hardy | 2 | 1 | - | - | - |
| Camden Porter | 16 | 5 | 2 | - | 1 |
| Trafton Russell | 9 | 1 | 1 | 4 | 6 |
| Richard Chambers | 2 | 1 | - | - | - |
| Graham Siltz | 12 | 3 | 1 | 3 | 3 |
| Brennan Burpee | 0 | - | - | - | - |
| Andrew Lewis | 0 | - | - | - | - |
| TEAM | 0 | - | - | - | - |
| TOTALS | 64 | 15 | 8 | 10 | 14 |
More From 92.9 The Ticket