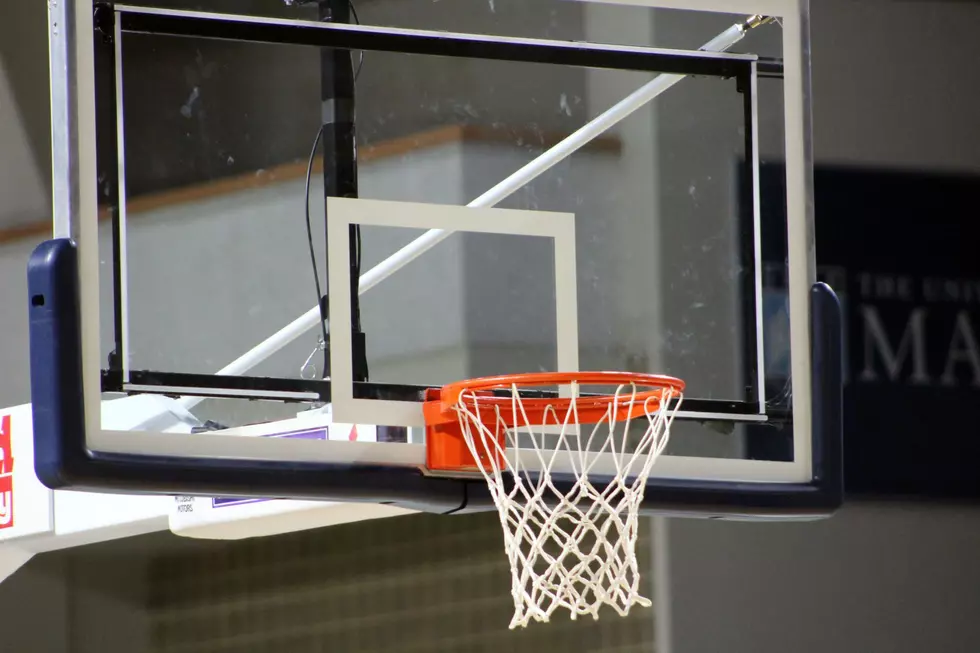 #11 Sumner Boys Fall to #6 Lee Academy 56-46 [STATS]
Photo Chris Popper
The #11 Sumner Boys Basketball Team's season on the road came to an end on Wednesday night, February 15th when they fell to the Lee Academy Pandas 56-46 in Lee in a Class C Boys Prelim.
Lee led 14-12 at the end of the 1st Quarter and 24-22 at the end of the 1st Half. Lee Academy expanded their lead in the 3rd Quarter to 7 points, 44-37 outscoring Sumner 20-15 in the Quarter.
Sumner was led by Billy Wray with 18 points including 3 3-pointers. Jacob Bagley had 9 points, including 2 3-pointers. Nolan Christiansen and Angel Valencia each had a 3-pointer. Sumner was 3-7 from the free throw line.
Lee Academy was led by Nick Allard with 12 points, with Jackson Sabattus having 11 points and Andrew Scott 10 points. Andrew Glidden had 2 3-pointers, while Eli Knowles, Sabattus and Zac Holt each had 1 3-pointer. The Pandas were 9-14 from the free throw line.
Sumner concludes their season at 12-7.
Lee Academy advances to the Quarterfinals at the Cross Insurance Center in Bangor, to play #3 Dexter on Monday night, February 20th at 7 p.m.
Line Score
| | | | | | |
| --- | --- | --- | --- | --- | --- |
| | 1 | 2 | 3 | 4 | T |
| Sumner Boys | 12 | 10 | 15 | 9 | 46 |
| Lee Boys | 14 | 10 | 20 | 12 | 56 |
Box Score
Sumner
| | | | | | |
| --- | --- | --- | --- | --- | --- |
| Name | PTS | 2PM | 3PM | FTM | FTA |
| Dylan Piper | 0 | - | - | - | - |
| Jacob Bagley | 9 | 1 | 2 | 1 | 3 |
| Billy Wray | 18 | 4 | 3 | 1 | 2 |
| Nolan Christiansen | 5 | 1 | 1 | - | - |
| Ethan Chase | 4 | 2 | - | - | - |
| Logan Crowley | 0 | - | - | - | - |
| Ian Gatcomb | 0 | - | - | - | - |
| Aiden Griffin | 0 | - | - | - | - |
| Angel Valencia | 3 | - | 1 | - | - |
| Bryson Parritt | 0 | - | - | - | - |
| Matt Carney | 0 | - | - | - | - |
| Isaiah Rivers | 7 | 3 | - | 1 | 2 |
| Copelin Temple | 0 | - | - | - | - |
| Hector Orozco-Delgado | 0 | - | - | - | - |
| TEAM | 0 | - | - | - | - |
| TOTALS | 46 | 11 | 7 | 3 | 7 |
Lee Academy
| | | | | | |
| --- | --- | --- | --- | --- | --- |
| Name | PTS | 2PM | 3PM | FTM | FTA |
| Jeff Trinh | 0 | - | - | - | - |
| Ethan Linscott | 2 | 1 | - | - | - |
| Eli Knowles | 5 | 1 | 1 | - | - |
| Nick Allard | 12 | 5 | - | 2 | 2 |
| Andrew Scott | 10 | 3 | - | 4 | 5 |
| Finn Knowles | 5 | 1 | - | 3 | 6 |
| Jackson Sabattus | 11 | 4 | 1 | - | 1 |
| Brayden Tozier | 0 | - | - | - | - |
| Zac Holt | 3 | - | 1 | - | - |
| Adam Knowles | 0 | - | - | - | - |
| Andrew Glidden | 8 | 1 | 2 | - | - |
| Caden Pullen | 0 | - | - | - | - |
| Trevor Bean | 0 | - | - | - | - |
| Elijah Burrill | 0 | - | - | - | - |
| Austin Beach | 0 | - | - | - | - |
| TEAM | 0 | - | - | - | - |
| TOTALS | 56 | 16 | 5 | 9 | 14 |
More From 92.9 The Ticket