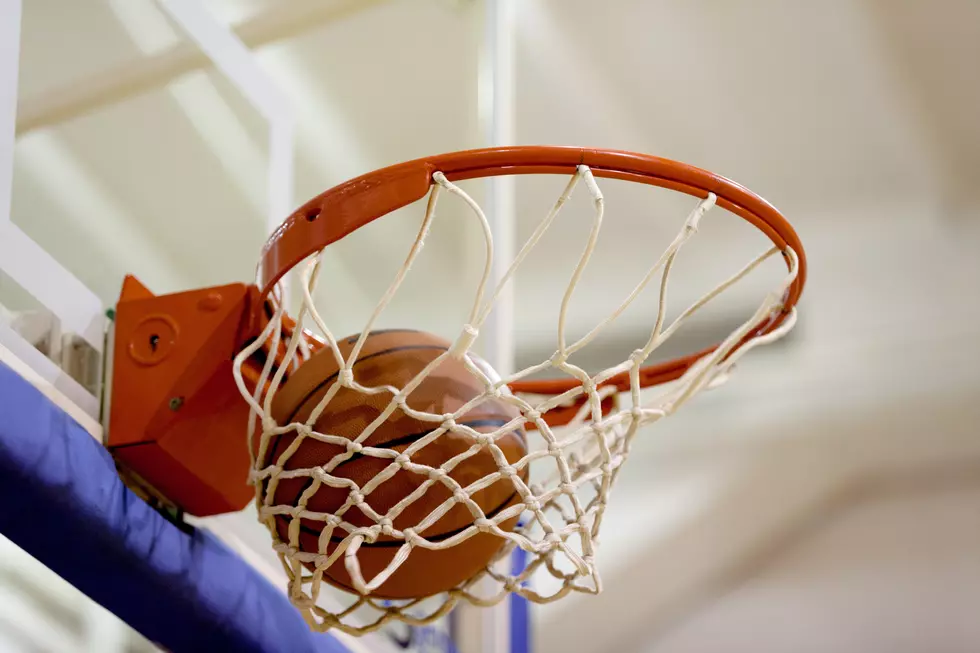 Mattanawcook Boys Down Sumner 55-53 on Last Second Shot [STATS]
Getty Images/iStockphoto
The Mattanawcook Academy Boys Basketball Team upset Sumner Tuesday night, February 7th, beating the Tigers 55-53 on a last second shot.
Sumner raced out to a 20-9 lead at the end of the 1st Quarter, but then the Lynx outscored Sumner 22-10 in the 2nd Quarter to take a 31-30 at the end of the 1st Half. Sumner regained the lead in the 3rd Quarter, after outscoring Mattanawcook Academy 20-13 to make it 50-44.
Sumner was led by Ethan Chase and Isaiah Rivers each of whom finished with 13 points. The Tigers sank 7 3-pointers in the game, 3 by Angel Valencia and 1 each by Chase, Jacob Bagley and Logan Crowley. Sumner was 0-5 from the free throw line.
Mattanawcook Academy was led by Erik Fitch with a game-high 17 points. Avery Jordan had 13 points while James Trott finished with 11 points. Andrew Oliver had 2 3-pointers, while Jordan and Fitch each chipped in 1 3-pointer. The Lynx were 5-6 from the free throw line.
Mattanawcook Academy concludes the regular season with a 3-15 record.
Sumner is 11-6 with 1 game remaining, tonight, February 8th at Deer Isle-Stonighton at 7 p.m.
Line Score
| | | | | | |
| --- | --- | --- | --- | --- | --- |
| | 1 | 2 | 3 | 4 | T |
| Sumner Boys | 20 | 10 | 20 | 3 | 53 |
| Mattanawcook Academy Boys | 9 | 22 | 13 | 11 | 55 |
Box Score
Sumner
| | | | | | | |
| --- | --- | --- | --- | --- | --- | --- |
| Name | PTS | 2PM | 3PM | FTM | FTA | FT% |
| Dylan Piper | 0 | - | - | - | - | - |
| Jacob Bagley | 5 | 1 | 1 | - | 2 | 0 |
| Billy Wray | 0 | - | - | - | - | - |
| Nolan Christiansen | 4 | 2 | - | - | - | - |
| Ethan Chase | 13 | 5 | 1 | - | - | - |
| Logan Crowley | 5 | 1 | 1 | - | - | - |
| Ian Gatcomb | 0 | - | - | - | - | - |
| Aiden Griffin | 2 | 1 | - | - | - | - |
| Angel Valencia | 9 | - | 3 | - | - | - |
| Bryson Parritt | 2 | 1 | - | - | - | - |
| Matt Carney | 0 | - | - | - | - | - |
| Isaiah Rivers | 13 | 5 | 1 | - | 2 | 0 |
| Copelin Temple | 0 | - | - | - | - | - |
| Hector Orozco-Delgado | 0 | - | - | - | - | - |
| TEAM | 0 | - | - | - | - | - |
| TOTALS | 53 | 16 | 7 | - | 4 | 0 |
Mattanawcook Academy
| | | | | | |
| --- | --- | --- | --- | --- | --- |
| Name | PTS | 2PM | 3PM | FTM | FTA |
| Justyn Colorado | 0 | - | - | - | - |
| Matt Heeren | 0 | - | - | - | - |
| James Trott | 11 | 4 | - | 3 | 3 |
| Avery Jordan | 13 | 5 | 1 | - | - |
| Joe Vicaire | 0 | - | - | - | - |
| Ethan Cyr | 0 | - | - | - | - |
| Landon Arthers | 0 | - | - | - | - |
| Andrew Oliver | 8 | 1 | 2 | - | - |
| Kolby LaFountain | 0 | - | - | - | - |
| Fred Mason | 0 | - | - | - | - |
| Carson Munson | 6 | 3 | - | - | - |
| Erik Fitch | 17 | 6 | 1 | 2 | 3 |
| Davey Susen | 0 | - | - | - | - |
| TEAM | 0 | - | - | - | - |
| TOTALS | 55 | 19 | 4 | 5 | 6 |
More From 92.9 The Ticket