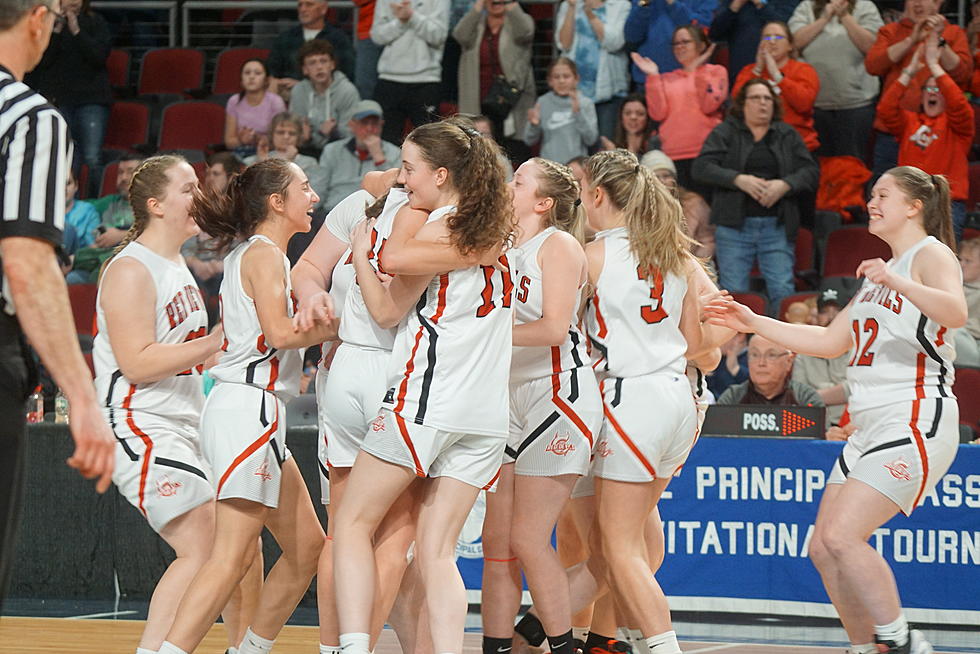 #4 Central Beats #5 Mattanawcook Academy Girls on Last Second Free Throw 44-43 [STATS & PHOTOS]
Mattanawcook Academy - Central Girls Quarterfinal Photo Chris Popper
The #4 Central Girls and #5 Mattanwcook Academy Lynx split their regular season series. On Tuesday, February 21st the Girls Class C Quarterfinal was decided until the final play, when Chloe Daigle went 1-2 from the free throw line to give Central a 44-43 victory.
The game was tied 43-43 with 37 seconds left, after Meghan House hit a field goal for the Lynx. With 3.8 seconds left, Daigle was fouled, and made the 1st free throw, before missing the 2nd. It was her only point of the game, but a huge one as it gave the Red Devils the win!
Central led 10-9 at the end of the 1st Quarter, and the 2 teams were tied 19-19 at the end of the 1st Half.  After Central went on a 16-9 run in the 3rd Quarter, Central was on top 35-28.
Central was led by Izzy Allen with 21 points including 4 3-pointers. Mary Allen had 9 points with a 3-pointer. Central was 11-17 from the free throw line.
Mattanawcook Academy was led by Kaitlyn Thornton with 11 points. Lauren House and Megan House each had 10 points. Lauren House had a 3-pointer. The Lynx were 10-20 from the free throw line.
Mattanawcook Academy's season comes to an end with a 14-6 record.
Central, now 17-3 will play in the Class C Semifinal now on Friday, February 24th at 3:30 p.m. again the winner of the Dexter-For Kent quarterfinal.
Line Score
| | | | | | |
| --- | --- | --- | --- | --- | --- |
| | 1 | 2 | 3 | 4 | T |
| Mattanawcook Academy Girls | 9 | 10 | 9 | 15 | 43 |
| Central Girls | 10 | 9 | 16 | 9 | 44 |
Box Score
Mattanawcook Academy
| | | | | | |
| --- | --- | --- | --- | --- | --- |
| Name | PTS | 2PM | 3PM | FTM | FTA |
| Julianna Cloukey | 0 | - | - | - | - |
| Sophie Blomsma | 0 | - | - | - | - |
| Navenah De La Cruz | 0 | - | - | - | - |
| Kiara Jenkins | 0 | - | - | - | - |
| Lauren House | 10 | 3 | 1 | 1 | 3 |
| JayLyn Crosby | 0 | - | - | - | - |
| Megan House | 10 | 5 | - | - | 2 |
| Jennie Whitten | 0 | - | - | - | - |
| Chloe Wotton | 0 | - | - | - | 2 |
| Maya Gammon | 0 | - | - | - | - |
| Lily Wotton | 3 | - | - | 3 | 5 |
| Kaitlyn Thornton | 11 | 4 | - | 3 | 4 |
| Molly Graham | 0 | - | - | - | - |
| Addison Cyr | 9 | 3 | - | 3 | 4 |
| TEAM | 0 | - | - | - | - |
| TOTALS | 43 | 15 | 1 | 10 | 20 |
Central 
| | | | | | |
| --- | --- | --- | --- | --- | --- |
| Name | PTS | 2PM | 3PM | FTM | FTA |
| Mary Allen | 9 | 2 | 1 | 2 | 3 |
| Kaitlin McCorrison | 0 | - | - | - | - |
| Bayleigh Irish | 0 | - | - | - | - |
| Sidney Gray | 0 | - | - | - | - |
| Izzy Allen | 21 | 3 | 4 | 3 | 4 |
| Emilee Shaw | 0 | - | - | - | - |
| Chloe Daigle | 1 | - | - | 1 | 2 |
| Madison Pinkham | 0 | - | - | - | - |
| Alexis Whitty | 8 | 3 | - | 2 | 3 |
| Rylee Speed | 5 | 1 | - | 3 | 5 |
| TEAM | 0 | - | - | - | - |
| TOTALS | 44 | 9 | 5 | 11 | 17 |
More From 92.9 The Ticket