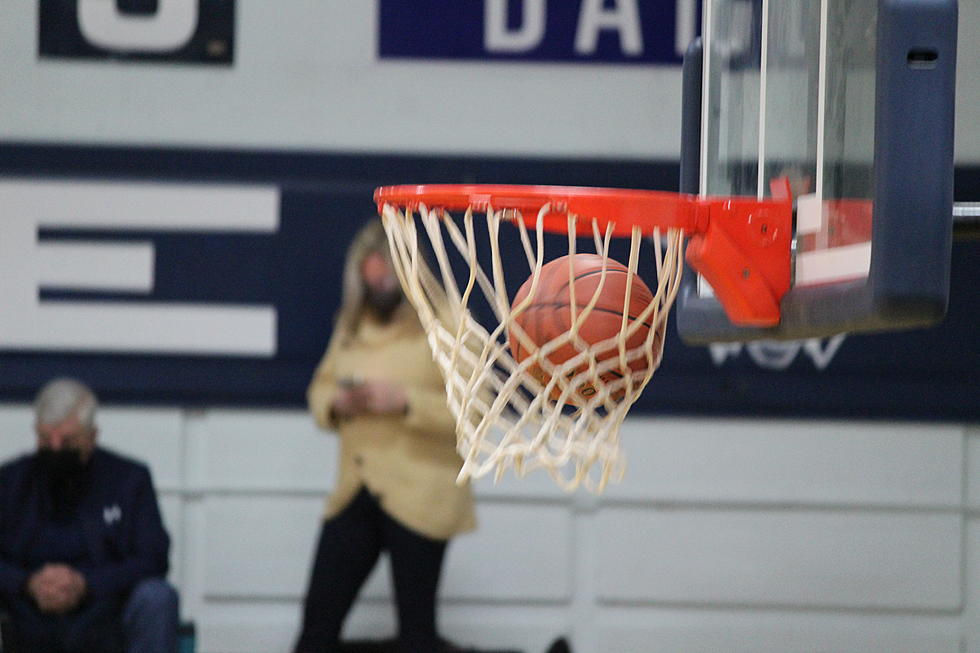 #7 Presque Isle Beats #10 Bucksport as Cummings Scores 38 [STATS]
Photo Chris Popper
Malachi Cummings had a game-high 38 points and the #7 Presque Isle Wildcats defeated #10 Bucksport in Presque Isle on Wednesday, February 15th in a Class B Boys Prelim game.
Presque Isle led 12-10 at the end of the 1st Quarter and led 26-23 at the end of the 1st Half. The Wildcats led 44-37 at the end of the 3rd Quarter. In the 4th Quarter Bucksport drained 6 3-pointers while Presque Isle went 14-20 from the free throw line.
Cummings had 38 points for the Wildcats, scoring all of Presque Isle's 18 points in the 3rd Quarter. Cummings had 6 3-pointers, with Wyatt Young having 2 3's and Brayden Castonquay and Brent Greenlaw each hitting 1 3-pointer. Presque Isle was 18-27 from the free throw line with Cummings going 8-11.
Bucksport was led by Caden Blackwood and Evan Donnell with 16 points each. Donnell had 4 3-pointers and Blackwood had 2 3's. Collin McDougal, Gunny Cyr and Kamryn Webber each had a 3-pointer. Bucksport didn't attempt a free throw.
Bucksport's season comes to an end with a 8-11 record.
The 11-8 Wildcats will now play #2 Winslow in the Class B North Quarterfinals on Friday, February 17th at 8:30 p.m. at the Cross Insurance Center.
Thanks to Jeff Clockedile for the stats.
Line Score
| | | | | | |
| --- | --- | --- | --- | --- | --- |
| | 1 | 2 | 3 | 4 | T |
| Bucksport Boys | 10 | 13 | 14 | 24 | 61 |
| Presque Isle Boys | 12 | 14 | 18 | 22 | 66 |
Box Score
Bucksport
| | | | | | |
| --- | --- | --- | --- | --- | --- |
| Name | PTS | 2PM | 3PM | FTM | FTA |
| Evan Donnell | 16 | 2 | 4 | - | - |
| Caden Blackwood | 16 | 5 | 2 | - | - |
| Kamryn Webber | 9 | 3 | 1 | - | - |
| Jason Terrill | 4 | 2 | - | - | - |
| Collin McDougal | 5 | 1 | 1 | - | - |
| Gunny Cyr | 5 | 1 | 1 | - | - |
| Eli Bennett | 0 | - | - | - | - |
| Trent Goss | 0 | - | - | - | - |
| Connor Epprecht | 0 | - | - | - | - |
| Daynen Stewart | 0 | - | - | - | - |
| Jake Williams | 6 | 3 | - | - | - |
| TEAM | 0 | - | - | - | - |
| TOTALS | 61 | 17 | 9 | - | - |
Presque Isle
| | | | | | |
| --- | --- | --- | --- | --- | --- |
| Name | PTS | 2PM | 3PM | FTM | FTA |
| Brent Greenlaw | 9 | 1 | 1 | 4 | 4 |
| Wyatt Young | 6 | - | 2 | - | - |
| Jasiah Wilson | 0 | - | - | - | - |
| Dawson Beaulieu | 0 | - | - | - | - |
| Brayden Castonguay | 6 | - | 1 | 3 | 6 |
| Benjamin Turner | 0 | - | - | - | - |
| Jack Boone | 0 | - | - | - | - |
| Malachi Cummings | 38 | 6 | 6 | 8 | 11 |
| Eli Mosher | 0 | - | - | - | - |
| Jack Buck | 5 | 1 | - | 3 | 6 |
| Michael Langley | 0 | - | - | - | - |
| Jack Hallett | 2 | 1 | - | - | - |
| TEAM | 0 | - | - | - | - |
| TOTALS | 66 | 9 | 10 | 18 | 27 |
More From 92.9 The Ticket