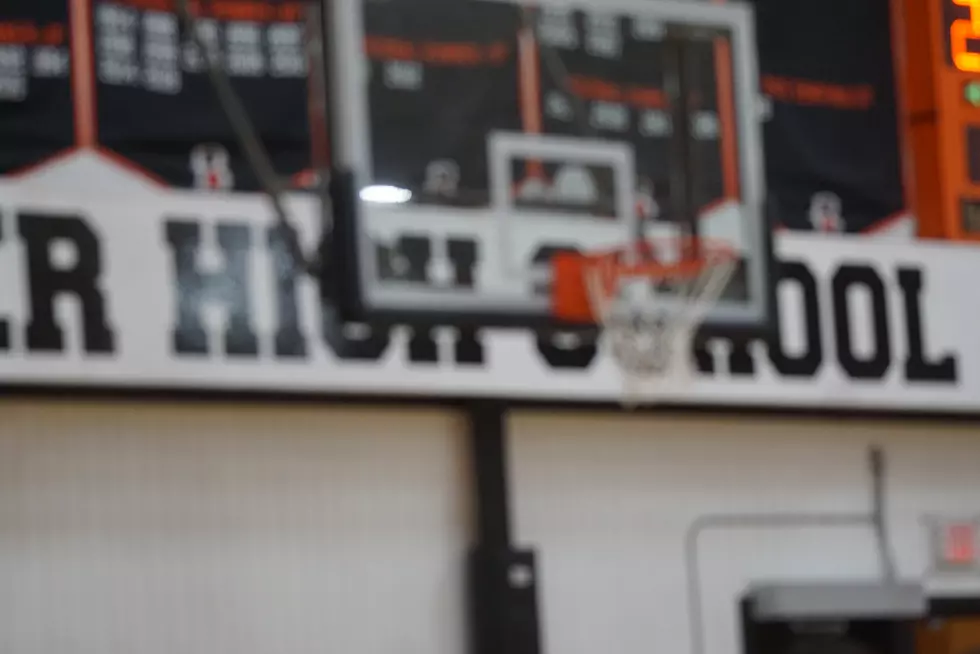 Brewer Boys Beat Messalonskee 81-45 [STATS]
Photo Chris Popper
The Brewer Boys Basketball Team defeated Messalonskee 81-45 in Brewer on Tuesday December 13th.
Brewer led 23-8 at the end of the 1st Quarter, and 37-18 at the end of the 1st Half. Brewer exploded for 27 points in the 3rd Quarter to lead 64-35
Brewer was led by Brady Saunders who finished with 25 points. Steven Young had 13 points and Brock Flagg finished with 12 points. The Witches were 9-15 from the free throw line. Brewer drained 8 3-pointers. Saunders had 5 3-pointers. Evan Nadeau, Ryder Goodwin and Steven Young each had a 3-pointer.
Messalonskee was led by Daniel Parent with 9 points while Merrick Smith had 7 points. The Eagles were 3-10 from the free throw line. They had 6 3-pointers. Daniel Parent, Jacob Moody, Merrick Smith, Jacob Love, Ty Bernier and Ryan Parent each had 1 3-pointer.
Brewer is now 2-0. The Witches play host to Nokomis on Friday, December 16th at 7 p.m.
Messalonskee, now 0-2 plays at Skowhegan on Friday, December 16th at 7 p.m.
Thanks to Coach Tyler Smith for the stats
We are looking for reports from all high school basketball games, wrestling matches and swim meets this winter. Please either email results (copies of book) to chris.popper@townsquaremedia.com or text them to 207-469-8660.
You can nominate someone for the 92.9 The Ticket High School Athlete of the Week. Please email chris.popper@townsquaremedia.com by Monday night December 19th for Week 2's nominees. You can vote in the Week 1 Athlete of the Week Poll HERE. Voting ends Thursday, December 15th at 11:59 p.m.
Box Score 
Messalonskee
| | | | | | |
| --- | --- | --- | --- | --- | --- |
| Name | PTS | 2PM | 3PM | FTM | FTA |
| Ty Bernier | 6 | 1 | 1 | 1 | 5 |
| Daniel Parent | 9 | 3 | 1 | - | 1 |
| Walter Fegel | 0 | - | - | - | - |
| Drake Brunelle | 4 | 2 | - | - | - |
| Jacob Moody | 5 | 1 | 1 | - | - |
| Sam Dube | 2 | 1 | - | - | - |
| Cash Bizier | 2 | 1 | - | - | - |
| Merrick Smith | 7 | 1 | 1 | 2 | 4 |
| Parker Reynolds | 0 | - | - | - | - |
| Jacob Love | 5 | 1 | 1 | - | - |
| Ryan Parent | 3 | - | 1 | - | - |
| Nick Dexter | 2 | 1 | - | - | - |
| TEAM | 0 | - | - | - | - |
| TOTALS | 45 | 12 | 6 | 3 | 10 |
Brewer
| | | | | | |
| --- | --- | --- | --- | --- | --- |
| Name | PTS | 2PM | 3PM | FTM | FTA |
| Evan Nadeau | 7 | 1 | 1 | 2 | 2 |
| Braden Carr | 3 | 1 | - | 1 | 2 |
| Charlie Brydes | 0 | - | - | - | - |
| Cayen Philbrick | 4 | 2 | - | - | - |
| Brady Saunders | 25 | 5 | 5 | - | 1 |
| Aiden Davis | 6 | 3 | - | - | - |
| Owen Fullerton | 0 | - | - | - | - |
| Cole Harriman | 2 | 1 | - | - | - |
| Ryder Goodwin | 9 | 2 | 1 | 2 | 2 |
| Brock Flagg | 12 | 6 | - | - | 2 |
| Cameron Hughes | 0 | - | - | - | 2 |
| Jake Perry | 0 | - | - | - | - |
| Titus Philbrook | 0 | - | - | - | - |
| Steven Young | 13 | 3 | 1 | 4 | 4 |
| TEAM | 0 | - | - | - | - |
| TOTALS | 81 | 24 | 8 | 9 | 15 |
More From 92.9 The Ticket