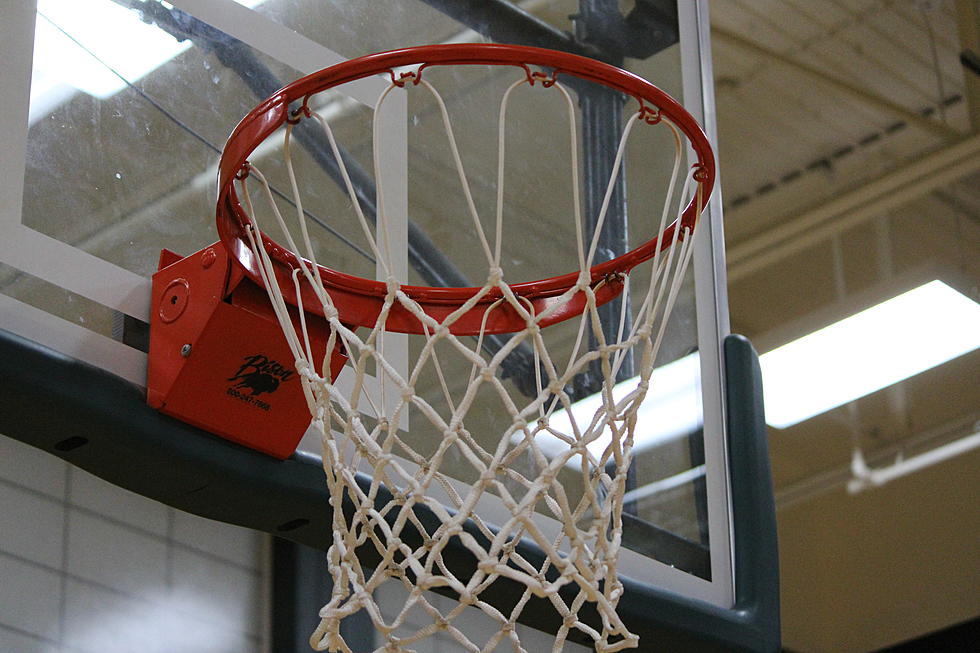 Brewer Boys Remain Undefeated – Beat Nokomis 78-51 [STATS]
Photo Chris Popper
The Brewer Boys Basketball Team remained undefeated, pouring in 7 3-pointers to beat the Nokomis Warriors 78-51 in Brewer on Thursday, January 12th.
Brewer jumped out to a 20-9 lead at the end of the 1st Quarter and led 35-21 at the end of the 1st Half. The Witches outscored Nokomis 19-12 in the 3rd Quarter to make the score 54-33.
Brewer had 3 players in double figures. Brady Saunders had a game-high 27 points with 4 3-pointers. Brock Flagg had 15 points with 1 3-pointer and Ryder Goodwin had 11 points. Evan Nadeau tossed in 2 3-pointers. The Witches were 7-10 from the free throw line.
Nokomis was led by Alex Grant and Madden White with 13 points each. Grant had 3 3-pointers while White had 2 3's. Grady Hartsgrove had 10 points. The Warriotr were 4-4 from the free throw line.
Brewer, now 9-0 will host Lawrence on Monday, January 16th at 2 p.m.
Nokomis is now 6-2. They will host Camden Hills on Friday, January 13th at 6:30 p.m.
Thanks to Coach Tyler Smith for the stats.
You can nominate someone for the Winter Week 6 High School Athlete of the Week by emailing HERE. Please put High School Athlete of the Week in the subject. Nominations for games January 8-14 need to be received by January 16th. Then tell us why your nominee is deserving! Let us know specifics! How many goals did she/he score? How many points did she/he score? How fast did they run or throw in the indoor track meet? How fast did they swim in the swim meet? How did they do in the wrestling meet? We also want to know what school they go to! Please send them by Monday night!
Tuesday we will then compile the nominees and it will be your turn to choose the winner! You can then cast your votes, and voting will close Thursday night at 11:59 p.m. We will then announce the winner online and on air on Friday each week!
We are also looking for reports of High School Basketball,  Hockey, Swimming, Indoor Track and Field, and Wrestling results. If you can email them HERE we will write recaps nightly
Line Score
| | | | | | |
| --- | --- | --- | --- | --- | --- |
| | 1 | 2 | 3 | 4 | T |
| Nokomis Boys | 9 | 12 | 12 | 18 | 51 |
| Brewer Boys | 20 | 15 | 19 | 24 | 78 |
Box Score
Nokomis
| | | | | | |
| --- | --- | --- | --- | --- | --- |
| Name | PTS | 2PM | 3PM | FTM | FTA |
| Oweb Sides | 0 | - | - | - | - |
| Alex Grant | 13 | 2 | 3 | - | - |
| Jeff Carr | 0 | - | - | - | - |
| Dawson Townsend | 2 | 1 | - | - | - |
| Owen Buck | 0 | - | - | - | - |
| Grady Hartsgrove | 10 | 5 | - | - | - |
| SJ Welch | 0 | - | - | - | - |
| Connor Sides | 9 | 3 | - | 3 | 3 |
| Seth Bowden | 2 | 1 | - | - | - |
| Jake Newmyer | 2 | 1 | - | - | - |
| Logan Washburn | 0 | - | - | - | - |
| Madden White | 13 | 3 | 2 | 1 | 1 |
| TEAM | - | - | - | - | - |
| TOTALS | 51 | 16 | 5 | 4 | 4 |
| | 51 | 16 | 5 | 4 | 4 |
Brewer
| | | | | | |
| --- | --- | --- | --- | --- | --- |
| Name | PTS | 2PM | 3PM | FTM | FTA |
| Evan Nadeau | 6 | - | 2 | - | - |
| Braden Carr | 4 | 2 | - | - | - |
| Charlie Brydes | 2 | - | - | 2 | 2 |
| Cayen Philbrick | 0 | - | - | - | - |
| Brady Saunders | 27 | 7 | 4 | 1 | 1 |
| Aiden Davis | 2 | 1 | - | - | - |
| Owen Fullerton | 2 | 1 | - | - | - |
| Cole Harriman | 0 | - | - | - | - |
| Ryder Goodwin | 11 | 5 | - | 1 | 4 |
| Brock Flagg | 15 | 5 | 1 | 2 | 2 |
| Cameron Hughes | 5 | 2 | - | 1 | 1 |
| Jake Perry | 0 | - | - | - | - |
| Titus Philbrook | 0 | - | - | - | - |
| Steven Young | 4 | 2 | - | - | - |
| TEAM | 0 | - | - | - | - |
| TOTALS | 78 | 25 | 7 | 7 | 10 |
More From 92.9 The Ticket