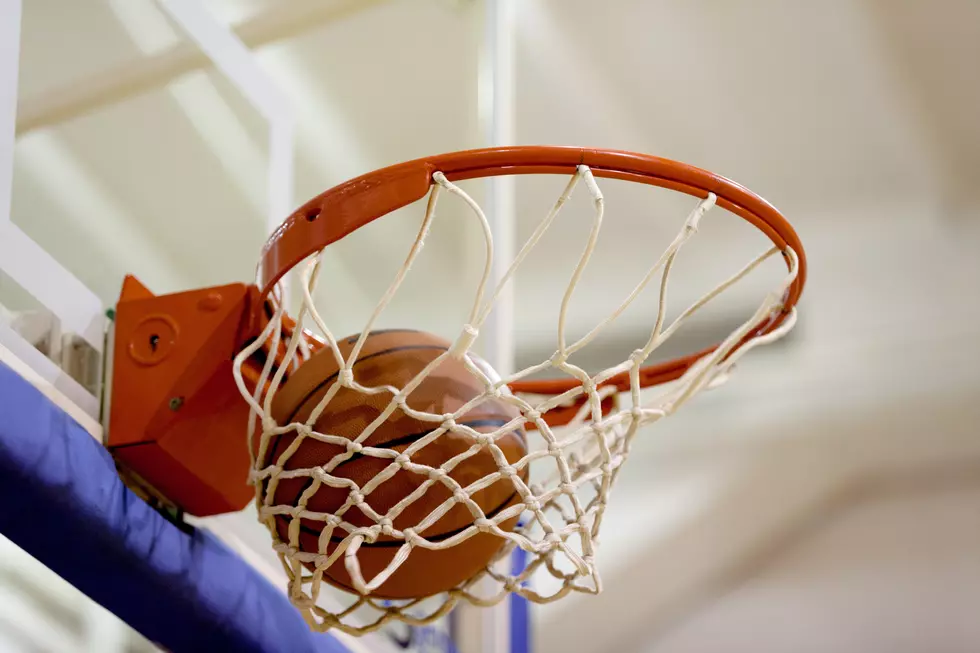 Central Girls Hit Their Free Throws and Beat Foxcroft Academy 57-54 [STATS]
Getty Images/iStockphoto
The Central Girls Basketball Team went 15-17 from the free throw line while Foxcroft Academy went 11-21 and the Red Devils beat the Ponies 57-54 in Dover Foxcroft on Tuesday, December 13th.
Foxcroft Academy led 13-11 at the end of the 1st Quarter but Central outscored the Ponies 25-10 in the 2nd Quarter to lead 36-23 at the end of the 1st Half. The Ponies outscored Central in the 3rd Quarter 18-12 to cut the lead to 7 points 48-41.
Central was led by Izzy Allen who finished with 28 points. Mary Allen had 14 points and Rylee Speed 11 points. The Red Devils were 15-17 from the free throw line. Izzy Allen drained 4 3-pointers and was 8-8 from the free throw line in the 2nd Quarter.
Foxcroft Academy was led by Abby Knapp with 14 points while Halle Page had 13 points. The Ponies were 11-21 from the free throw line. Destiny Weymouth had Foxcroft Academy's lone 3-pointer.
Central is now 2-0 on the season. They play at home against Dexter on Tuesday, December 20th at 6:30 p.m.
Foxcroft Academy is 0-2. They play host to Washington Academy on Saturday, December 17th at 4:30 p.m.
Thanks to Wendy Hager for the stats.
We are looking for reports from all high school basketball games, wrestling matches and swim meets this winter. Please either email results (copies of book) to chris.popper@townsquaremedia.com or text them to 207-469-8660.
You can nominate someone for the 92.9 The Ticket High School Athlete of the Week. Please email chris.popper@townsquaremedia.com by Monday night December 19th for Week 2's nominees. You can vote in the Week 1 Athlete of the Week Poll HERE. Voting ends Thursday, December 15th at 11:59 p.m.
Line Score
| | | | | | |
| --- | --- | --- | --- | --- | --- |
| |    1 |   2 |    3 |   4 |   T |
| Central Girls | 11 | 25 | 12 | 9 | 57 |
| Foxcroft Academy Girls | 13 | 10 | 18 | 13 | 54 |
Box Score
Central
| | | | | | |
| --- | --- | --- | --- | --- | --- |
| Name | PTS | 2PM | 3PM | FTM | FTA |
| Mary Allen | 14 | 5 | - | 4 | 6 |
| Kaitlin McCorrison | 0 | - | - | - | - |
| Bayleigh Irish | 0 | - | - | - | - |
| Sidney Gray | 0 | - | - | - | - |
| Izzy Allen | 28 | 4 | 4 | 8 | 8 |
| Emilee Shaw | 0 | - | - | - | - |
| Madison Pinkham | 0 | - | - | - | - |
| Alexis Whitty | 4 | 2 | - | - | - |
| Rylee Speed | 11 | 4 | - | 3 | 3 |
| TEAM | 0 | - | - | - | - |
| TOTALS | 57 | 15 | 4 | 15 | 17 |
Foxcroft Academy
| | | | | | |
| --- | --- | --- | --- | --- | --- |
| Name | PTS | 2PM | 3PM | FTM | FTA |
| Annie Raynes | 6 | 1 | - | 4 | 5 |
| Addie Day | 0 | - | - | - | - |
| Sam Ossenfort | 6 | 3 | - | - | 1 |
| Madisyon Kimball | 1 | - | - | 1 | 2 |
| Shayli Cirulli | 0 | - | - | - | - |
| Jaiyde True | 0 | - | - | - | - |
| Courtney Barnett | 0 | - | - | - | - |
| Olivia Hill | 0 | - | - | - | - |
| Addie Smith | 6 | 3 | - | - | - |
| Halle Page | 13 | 5 | - | 3 | 9 |
| Destiny Weymouth | 8 | 2 | 1 | 1 | 2 |
| Abby Knapp | 14 | 6 | - | 2 | 2 |
| Kierstyn Nuite | 0 | - | - | - | - |
| TEAM | 0 | - | - | - | - |
| TOTALS | 54 | 20 | 1 | 11 | 21 |
More From 92.9 The Ticket