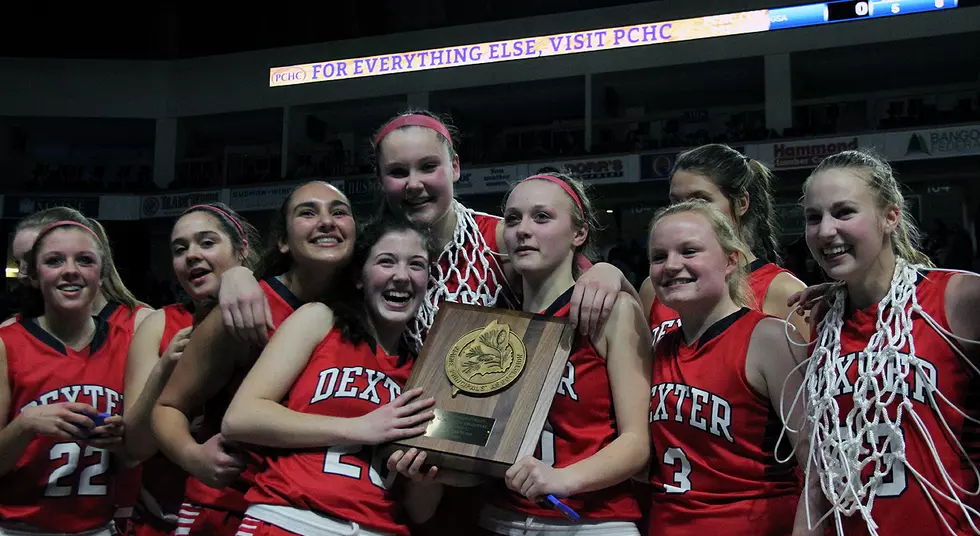 Dexter Upsets George Stevens To Claim C North Crown [GIRLS]
Jeff Tuttle, Townsquare Media
After knocking off the top seed in the semifinals, the underdog Dexter Tigers ousted No. 2 George Stevens Academy Saturday night to claim the Class C North crown at the Cross Insurance Center in Bangor.
George Stevens cut the lead to three points with less than a minute to go in the contest, but the No. 5 Tigers were able to hold on to a 35-32 victory after the Eagles couldn't get a shot off before the final buzzer sounded.
It's the first regional championship for Dexter (16-5) since 2007.
Dexter trailed only once in the game when George Stevens center Morgan Dauk scored the first basket of the game.
The contest was billed as a match-up between Dauk and Dexter standout Megan Peach, and on the offensive end, it was.
Peach finished with 19 points in the win. Dauk led the Eagles with 21 points.
Abi Webber added eight points for the Tigers.
George Stevens ends the season at 18-3.
Dexter will play Monmouth in the state final in 7:05 p.m. on Saturday, March 4 at the Cross Insurance Center in Bangor.
More From 92.9 The Ticket