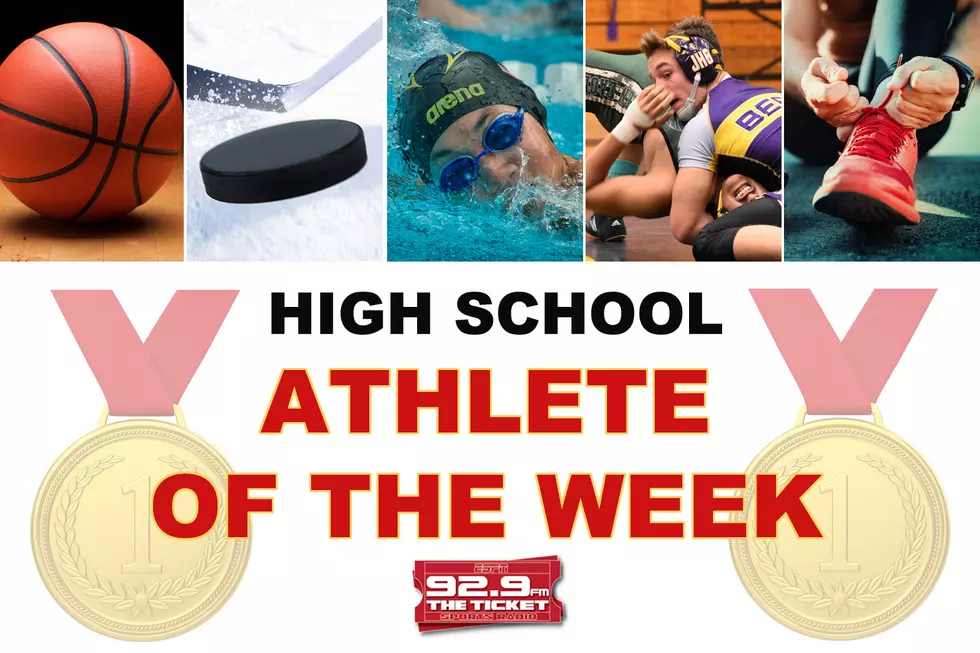 Winter Week 7 High School Athlete of the Week [VOTE]
Photos: Getty, Unsplash
The 92.9 High School Athlete of the Week has returned for another season! But we need your help to not only recognize the Athlete of the Week, but then to select the nominee!
Thanks to those who have nominated high school athletes for Week 7 (January 15-21) of the Winter High School Season. You can vote as often as you wish until Thursday night, January 26th at 11:59 p.m. We will announce the winner Friday morning! Here are the nominees
Izzy Allen - Central High School Girls Basketball - Izzy scored her 1000th point pouring in 35 points for the Red Devils in a win over Foxcroft Academy and followed that with 35 points the next night in a win over Mattanawcook Academy.
Joseph Bowen - Bucksport Wrestling - He won the Skowhegan Wrestling Meet and then won the Bucksport Meet in the 220 weight class
Miles Burr - MDI Indoor Track - Miles Burr tied the New Balance Field House facility record in the 200 meter Dash with a time of 23.11 on January 17th
Malachi Cummings - Presque Isle Boys Basketball - Malachi who scored his 1000th point earlier this year had 31 points including 5 3's in the Wildcat's loss to Orono.
Adam Fitzgerald - Skowhegan Boys Basketball - A freshman, had 4 3's for 12 points in Skowhegan's win over Bangor after pouring in 7 3-pointers in the JV game
Brock Flagg - Brewer Boys Basketball - Brock had 24 points in the Witches win over Nokomis on January 19th.
Breanna Flaherty - Sumner Girls Basketball - Breanna poured in 27 points as the Tigers continued to play on the road, beating Shead on January 17th
Chance Mercier - Ellsworth High School Boys Basketball - Chance, a junior scored his 1000th point on January 17th in a win over Foxcroft Academy
Kiera Springer - Ellsworth Diving - Kiera set a Ellsworth Team record and won the Gary Isherwood Diving Invitational with a score of 227.55 for 6 dives
Skyler Tinker - Machias Girls Basketball - Skyler had a game high 21 points as the Tigers beat Woodland on January 19th.
Brianna Townsend - Nokomis Girls Basketball - She had 17 points and 8 rebounds in a win over Mt. Blue and 29 points and 6 rebounds in a win over Brewer. Prior to the Brewer game she signed to play Field Hockey at Division 1 UMaine.
The winner of Week 7 will join Week's 6 winner, Abby Radel of Ellsworth and also join Week 5's winner, Madelyn Deprey of Caribou ,Raegan King of Nokomis, who was voted Week 4 High School Athlete of the Week, Cal Hodgdon of MDI, who was voted Week 3 High School Athlete of the Week, Camryn King of Nokomis who was voted Week 2 High School Athlete of the Week and Mollie Gray of MDI who was voted Week 1 High School Athlete of the Week
You can nominate someone for the Winter Week 8 High School Athlete of the Week by emailing HERE. Please put High School Athlete of the Week in the subject. Nominations for games January 22-28 need to be received by January 23rd. Then tell us why your nominee is deserving! Let us know specifics! How many goals did she/he score? How many points did she/he score? How fast did they run or throw in the indoor track meet? How fast did they swim in the swim meet? How did they do in the wrestling meet? We also want to know what school they go to! Please send them by Monday night!
Tuesday we will then compile the nominees and it will be your turn to choose the winner! You can then cast your votes, and voting will close Thursday night at 11:59 p.m. We will then announce the winner online and on air on Friday each week!
We are also looking for reports of High School Basketball,  Hockey, Swimming, Indoor Track and Field, and Wrestling results. If you can email them HERE we will write recaps nightly. We need the score, who scored the goal, and any highlights. You can even text the photo of the scoresheets to 207-469-8660
More From 92.9 The Ticket