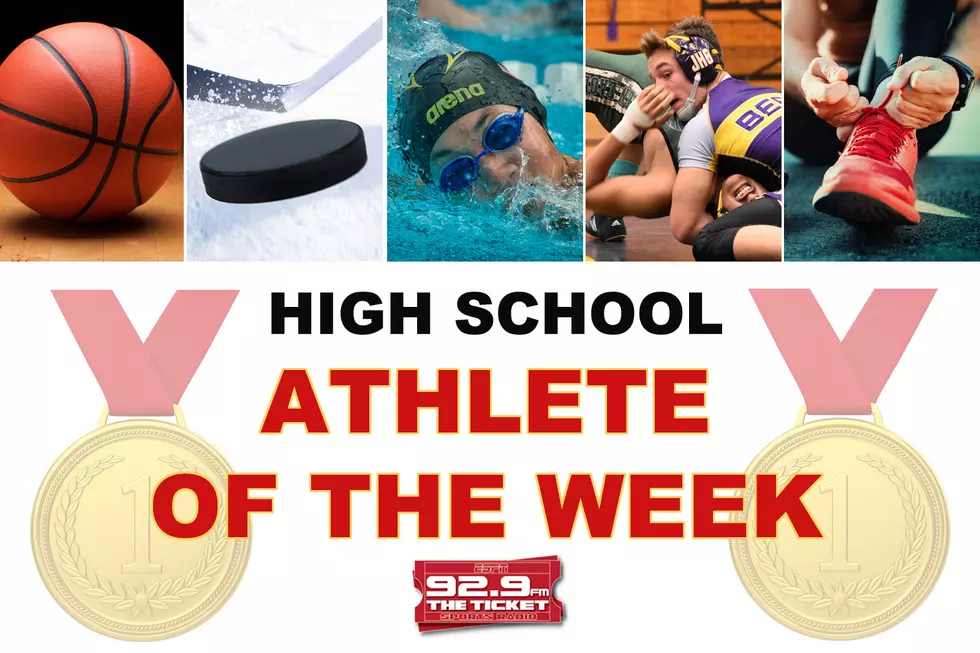 Winter Week 8 High School Athlete of the Week [POLL]
Photos: Getty, Unsplash
The 92.9 High School Athlete of the Week has returned for another season! But we need your help to not only recognize the Athlete of the Week, but then to select the nominee!
Thanks to those who have nominated high school athletes for Week 8 (January 22-28) of the Winter High School Season. You can vote as often as you wish until Thursday night, February 2nd at 11:59 p.m. We will announce the winner Friday morning! Here are the 10 nominees for Week 9
Gavin Bartlett - John Bapst Hockey - A goalie for the Crusaders, he had 2 shutouts over Cony and previously unbeaten Messalonskee turning away 67 shots.
Sophia Brophy - MDI Girl's Basketball - "Broph" had 14 points in a win against Caribou on Friday, and 13 points in a win against Presque Isle on Saturday up in the County. 6 of her points Friday, and 7 points Saturday came in the 4th Quarter.
Thea Crowley - GSA Indoor Track - Came in 1st in the 1 mile and 2 mile run in the Eastern Maine Indoor Track League Meet on January 26th
Grace Jaffray - Ellsworth Girl's Basketball - Grace had 38 points in 2 games, as Ellsworth split the "County" Trip, beating Presque Isle and falling to Caribou.
Spencer Laurendeau - MDI Boy's Basketball - Spencer had 28 points, including 7 3-pointers in the Trojans 60-42 win over Hermon on January 25th.
Chance Mercier - Ellsworth Boy's Basketball - Chance Mercier played 2 games for Ellsworth  up in the "County", scoring 65 points. He had 28 rebounds and 7 assists. He was chosen Big East Boys Player of the Week for the 4th time this season.
Jon Pangburn - John Bapst Boy's Basketball - Jon had 18 points in the Crusaders upset overtime win over Orono and followed it up with 15 points againt Bucksport
Brady Saunders - Brewer Boy's Basketball - Brady had 34 points in 2 games as the Witches remained undefeated
Madden White - Nokomis Boy's Basketball - He shot 71 percent in 3 games, going 20-28 with 6 3-pointers. He averaged 16 points per game and 7 rebounds per game in wins over Cony, Skowhegan and Gardiner.
Billy Wray - Sumner Boy's Basketball - Continuing their season on the road, Billy scored 50 points in 3 games, all victories for the Sumner Tigers.
The winner of Week 8 will join Week 7's winner, Adam Fitzgerald of Skowhegan, who joins Week's 6 winner, Abby Radel of Ellsworth and also join Week 5's winner, Madelyn Deprey of Caribou and Raegan King of Nokomis, who was voted Week 4 High School Athlete of the Week, Cal Hodgdon of MDI, who was voted Week 3 High School Athlete of the Week, Camryn King of Nokomis who was voted Week 2 High School Athlete of the Week and Mollie Gray of MDI who was voted Week 1 High School Athlete of the Week
More From 92.9 The Ticket