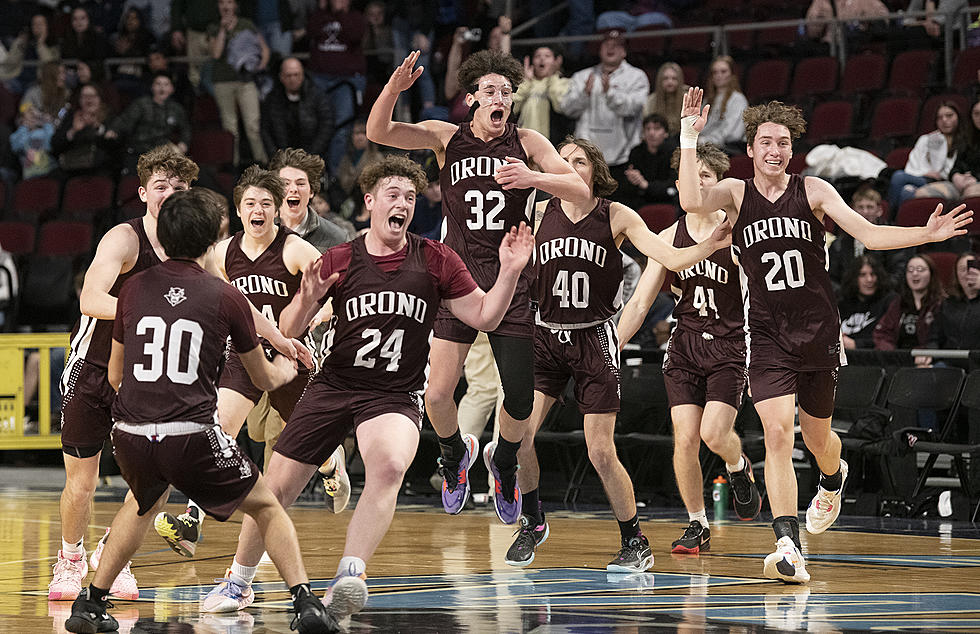 #3 Orono Boys Stun #1 Ellsworth to Win Class B North 64-56 [STATS & PHOTOS]
Kevin Bennett
The #1 seeded Ellsworth came into Championship Saturday riding high.. They were undefeated at 20-0 and had beaten Orono 60-49 in Ellsworth in their lone meeting this season. But Saturday, Orono came out flying, and stunned Ellsworth 64-56 to win the Class B North Regional Final 64-56 and will now play for the Gold Ball on Saturday, March 4th in Portland.
Orono led by as many as 17 in the 1st Half. They were up 18-6 at the end of the 1st Quarter, and 31-16 at the end of the 1st Half. The Eagles started to claw back in the 2nd Half. They cut Orono's lead to 9, 47-38 and were able to get as close as 3 points in the 4th Quarter, but no closer.
Orono was led by Pierce Walston who had 21 points, including a 3-pointer and went 6-8 from the free throw line. Ben Francis had 16 points. Ellis Spaulding had a 3-pointer. The Riots were 14-19 from the free throw line.
Ellsworth was led by Chance Mercier with 27 points including 4 3-pointers. Josiah James-Chin had 8 points with a 3-pointer. Miles Palmer, Eamon MacDonald and Kyle Kenny all had 3's. The Eagles were 4-8 from the free throw line.
Orono, now 18-3 will play #1 Oceanside, the Class B South Regional Champion in Portland on Saturday, March 4th at 3:45 p.m.
Ellsworth season comes to an end with a 20-1 record.
Check out the photos from the game.
Ellsworth vs. Orono Boys, Saturday, Feb. 25, 2023
Here's the Line Score and Box Scor
Line Score
| | | | | | |
| --- | --- | --- | --- | --- | --- |
| | 1 | 2 | 3 | 4 | T |
| Orono Boys | 18 | 13 | 16 | 17 | 64 |
| EHS Boys 2022-23 | 6 | 10 | 22 | 18 | 56 |
Box Score
Orono
| | | | | | |
| --- | --- | --- | --- | --- | --- |
| Pierce Walston | 21 | 6 | 1 | 6 | 8 |
| Brady Hews | 0 | - | - | - | - |
| Caden Gray | 2 | 1 | - | - | - |
| Ellis Spaulding | 8 | 1 | 1 | 3 | 4 |
| Bergen Soderberg | 0 | - | - | - | 2 |
| Ben Francis | 16 | 7 | - | 2 | 2 |
| Luke Soctomah | 0 | - | - | - | - |
| Will Francis | 9 | 4 | - | 1 | 1 |
| Sebastian Vanidestine | 0 | - | - | - | - |
| Adam Sherman | 0 | - | - | - | - |
| Mason Kenney | 4 | 1 | - | 2 | 2 |
| Noah Schaff | 4 | 2 | - | - | - |
| Matt Allen | 0 | - | - | - | - |
| TEAM | 0 | - | - | - | - |
| TOTALS | 64 | 22 | 2 | 14 | 19 |
Ellsworth
| | | | | | |
| --- | --- | --- | --- | --- | --- |
| Name | PTS | 2PM | 3PM | FTM | FTA |
| Chance Mercier | 27 | 6 | 4 | 3 | 4 |
| Miles Palmer | 3 | - | 1 | - | - |
| Michael Harris | 4 | 2 | - | - | - |
| Cruz Coffin | 0 | - | - | - | - |
| Kaleb Connors | 2 | 1 | - | - | - |
| Josiah James-Chin | 8 | 2 | 1 | 1 | 4 |
| Wyatt Bragdon | 0 | - | - | - | - |
| Eamon MacDonald | 3 | - | 1 | - | - |
| Peter Keblinsky | 4 | 2 | - | - | - |
| Kyle Kenney | 3 | - | 1 | - | - |
| Ethan LeClerc | 0 | - | - | - | - |
| Dawson Curtis | 0 | - | - | - | - |
| Brayden King | 0 | - | - | - | - |
| Hollis Grindal | 2 | 1 | - | - | - |
| Isiah Corson | 0 | - | - | - | - |
| TEAM | 0 | - | - | - | - |
| TOTALS | 56 | 14 | 8 | 4 | 8 |
More From 92.9 The Ticket