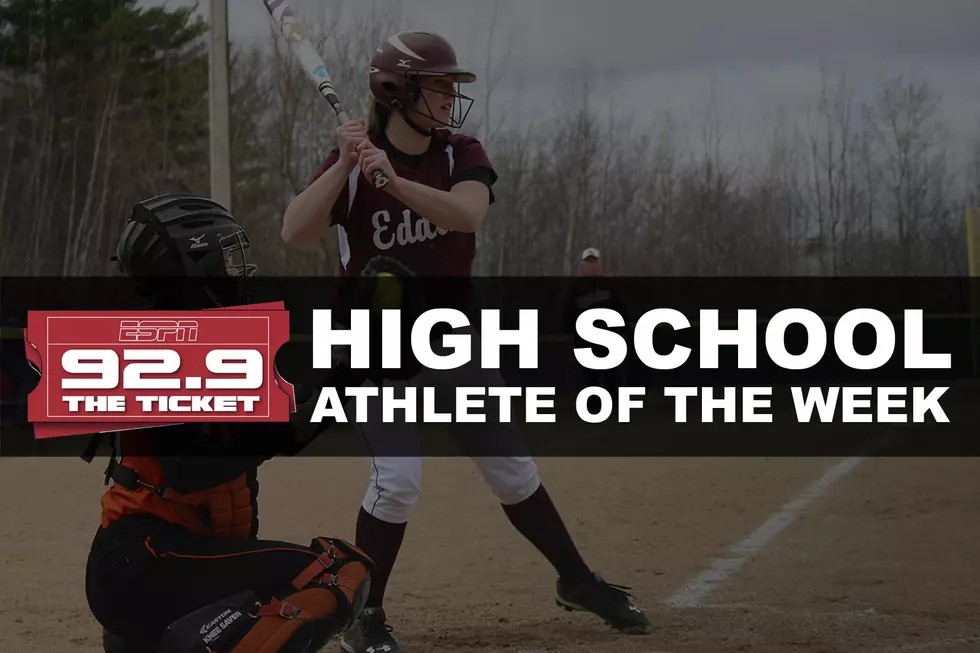 Athlete Of The Week: Baseball, Softball Semifinals Edition
Townsquare Media Bangor
Three local baseball players and a softball pitcher, all of whom took part in Saturday's semifinals, have been nominated for McDonald's High School Athlete of the Week honors.
This week's nominees are Josiah Cyr of Brewer, Bangor's Zach Ireland, Libby Hewes of Brewer and Matt Burnett of Ellsworth.
Here's how each athlete performed over the weekend
Josiah Cyr of Brewer racked up three hits, three RBIs, two runs scored and a pair of stolen bases in the Witches' 11-7 win over Gardiner in the Class B North semifinal. Cyr smacked a pair of RBI singles in the third, part of Brewer's monster six-hit, 10-run inning.
Bangor's Zach Ireland went 4-for-4 at the plate in the Rams' 14-6 triumph over Lewiston in the Class A semifinals. His bases-loaded triple to deep center field capped a seven-run fifth inning for Bangor. Ireland also doubled and hit a pair of singles.
Libby Hewes of Brewer tossed a four-hitter in the Witches' 10-1 win over Foxcroft Academy in the Class B semifinals. The junior righty struck out six and allowed no walks as Brewer improved to 18-0 and advanced to the regional championship in their first season in Class B after dropping from Class A.
Matt Burnett of Ellsworth, the PVC Pitcher and Player of the Year, was dominant in the Eagles' 12-0 win over Oceanside in the Class B semifinals. Burnett, a junior, allowed four hits and no walks while striking out nine in five innings. At the plate, Burnett helped his own cause by adding a double.
Which athlete do you think had the best performance in the semifinals?
More From 92.9 The Ticket