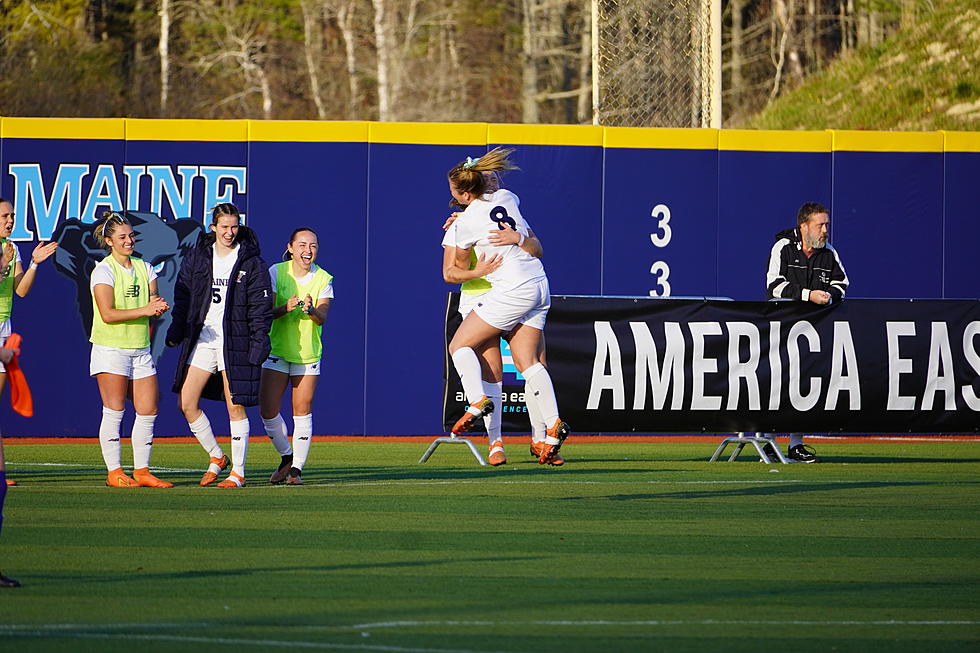 Black Bears Win 1st Ever America East Soccer Championship [PHOTOS]
Maine Soccer November 5, 2023 Photo Chris Popper
Good things are worth waiting for, and the University of Maine Women's Soccer Team needed 90 minutes plus 2 10-minute overtime periods to win their 1st ever America East Soccer Championship Sunday, November 5th. The Black Bears beat the UMass Lowell Riverhawks 3-2 in Double Overtime!
Maine scored 1st with 14:50 gone in the 1st Half, on a goal by Kayla Kraemer, her 4th of the year.
Then with 4:42 left in the 1st Half, Taylor Burgess from UMass Lowell was awarded a yellow card after some discussion among the referees. To the cheers of the UMaine supporters, and jeers of the UMass Lowell fans, Lara Kirkby was awarded a penalty kick and drilled it in. That made the score 2-0 Maine.
With just 13 seconds remaining in the 1st Half, UMass Lowell scored to make the game 2-1. Julia Edholm scored, assisted by Calliste Brookshire.
With just 4:45 left in regulation Brookshire was awarded a penalty kick, and she scored, to tie the game.
The score was 2-2 at the end of regulation and it remained that way through the 1st overtime period.
With 4:32 gone in Double overtime, Lara Kirkby scored her 2nd of the game.
The Black Bears then held on for the final 5:28 and then the celebration started!
Maine outshot UMass Lowell 18-14, and had a 10-5 shot on goal advantage.
Kira Kutzinski had 2 saves in net for the Black Bears while Taylor Burgess had 7 saves for UMass Lowell.
Maine is now 11-1-6 on the season, while UMass Lowell finishes the season at 5-7-7.
Maine now waits to find out where and when they will play in the NCAA Tournament.
More From 92.9 The Ticket