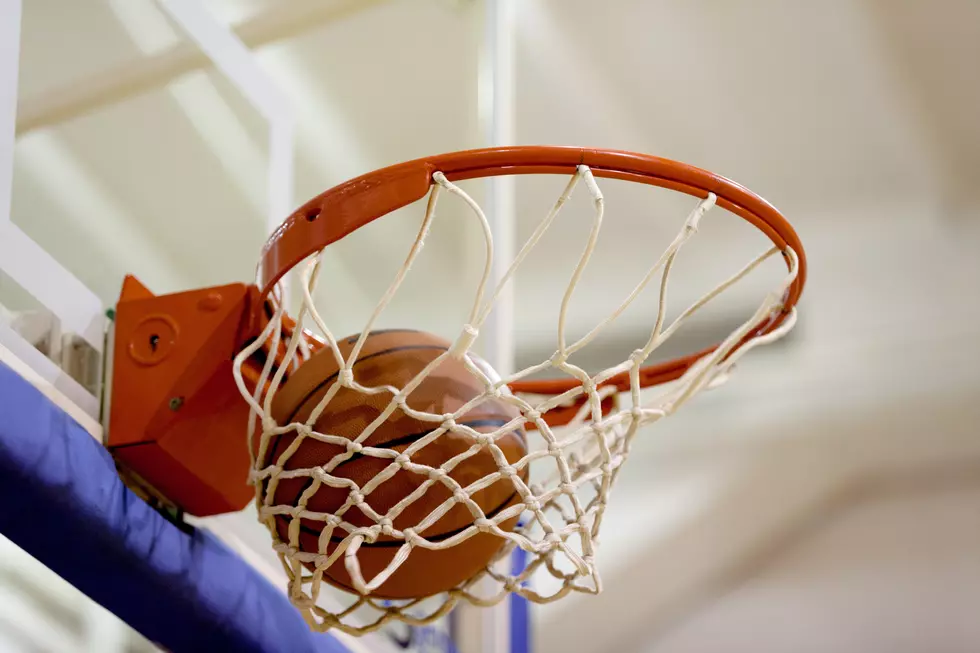 Brewer Girls Fall to Gardiner 81-48 [STATS]
Getty Images/iStockphoto
The Brewer Girls fell to the Gardiner Tigers 81-48 on the road on Friday night, January 7th.
Gardiner led 21-10 at the end of the 1st Quarter and 40-29 at the end of the 1st Half. The Tigers took control in the 3rd Quarter as Megan Gallagher hit 4 3-pointers and led 64-41 after the 3rd Quarter.
Brewer was led by Allie Flagg who finished with 18 points including 1 3-pointer. Mariah Roberts had 9 points with a 3-pointer. The Witches shot 12-14 from the free throw line.
Gardiner was led by Lizzy Gruber who had 19 points while Gallaher had 17 points and Savannah Brown and McKenna Johnson each had 11 points. The Tigers drained 12 3-pointers. Gallagher had 5 3's, with Brown draining 2 3-pointers. Taylor Takatsu, Emilee Brown, McKenna Johnson, Libby Gruber and Brianna Smith each knocked down a 3-pointer. Gardiner was 11-16 from the free throw line.
Brewer is 2-5. The Witches travel to Farmington on Saturday afternoon, January 7th to play Mt. Blue.
Gardiner remains undefeated at 7-0. They travel to Newport on Tuesday, January 10th to play the Nokomis Warriors at 6:30 p.m.
Thanks to Jordan Goodrich for the stats!
You can nominate someone for the Winter Week 5 High School Athlete of the Week by emailing HERE. Please put High School Athlete of the Week in the subject. Nominations for games January 1 - 7 need to be received by January 9th. Then tell us why your nominee is deserving! Let us know specifics! How many goals did she/he score? How many points did she/he score? How fast did they run or throw in the indoor track meet? How fast did they swim in the swim meet? How did they do in the wrestling meet? We also want to know what school they go to! Please send them by Monday night!
Tuesday we will then compile the nominees and it will be your turn to choose the winner! You can then cast your votes, and voting will close Thursday night at 11:59 p.m. We will then announce the winner online and on air on Friday each week!
We are also looking for reports of High School Basketball,  Hockey, Swimming, Indoor Track and Field, and Wrestling results. If you can email them HERE we will write recaps nightly. We need the score, who scored the goal, and any highlights. You can even text the photo of the scoresheets to 207-469-8660
Line Score
| | | | | | |
| --- | --- | --- | --- | --- | --- |
| | 1 | 2 | 3 | 4 | T |
| Brewer Girls | 10 | 19 | 12 | 7 | 48 |
| Gardiner Girls | 21 | 19 | 24 | 17 | 81 |
Box Score
Brewer
| | | | | | |
| --- | --- | --- | --- | --- | --- |
| Name | PTS | 2PM | 3PM | FTM | FTA |
| Gabrielle Roberts | 0 | - | - | - | - |
| Allie Flagg | 18 | 5 | 1 | 5 | 6 |
| Jillian Ford | 5 | 1 | - | 3 | 4 |
| Kaylee Dore | 2 | 1 | - | - | - |
| Kathleen Brydges | 2 | 1 | - | - | - |
| Reece McKenney | 2 | 1 | - | - | - |
| Mariah Roberts | 9 | 2 | 1 | 2 | 2 |
| Aeri Nichols | 0 | - | - | - | - |
| Olivia Melvin | 0 | - | - | - | - |
| Jenna McQuarrie | 4 | 1 | - | 2 | 2 |
| Grace LaBree | 6 | 3 | - | - | - |
| TEAM | 0 | - | - | - | - |
| TOTALS | 48 | 15 | 2 | 12 | 14 |
Gardiner
| | | | | | |
| --- | --- | --- | --- | --- | --- |
| Name | PTS | 2PM | 3PM | FTM | FTA |
| Taylor Hawkins | 0 | - | - | - | - |
| Emilee Brown | 5 | 1 | 1 | - | - |
| Kylee Nichols | 0 | - | - | - | - |
| Taylor Takatsu | 9 | 3 | 1 | - | 1 |
| Brianna Smith | 4 | - | 1 | 1 | 1 |
| Savannah Brown | 11 | 2 | 2 | 1 | 2 |
| McKenna Johnson | 11 | 3 | 1 | 2 | 2 |
| Megan Gallagher | 17 | - | 5 | 2 | 2 |
| Emily Grady | 0 | - | - | - | - |
| Abbie Bailey | 0 | - | - | - | - |
| Megan Carver | 0 | - | - | - | - |
| Taryn Nichols | 5 | 1 | - | 3 | 6 |
| Lizzy Gruber | 19 | 7 | 1 | 2 | 2 |
| TEAM | 0 | - | - | - | - |
| TOTALS | 81 | 17 | 12 | 11 | 16 |
More From 92.9 The Ticket