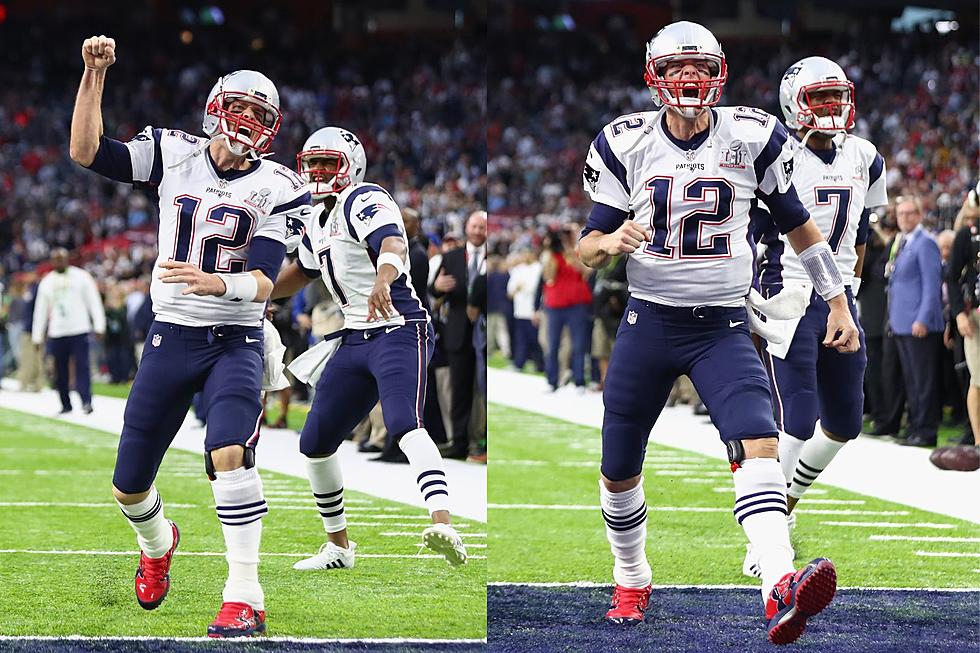 When Tom Brady Gets a Statue, What Should His Pose Be?
Credit: Al Bello / Getty
It's a universal truth - Tom Brady isn't just the greatest football player; there's a strong argument to be made that he's the greatest athlete of all time. Okay, maybe I'm a tad biased when I say that, but come on, they don't call him the GOAT for nothing, right?
During the Patriots' home opener, Tom Brady was showered with honors. He kicked off a new tradition by ringing the new lighthouse bell at Gillette Stadium. Then, he delivered a heartfelt speech reminiscing about his illustrious time as a Patriot. To top it off, the Patriots Hall of Fame announced the date for his induction.
Now, as much as Tom's six Super Bowl banners will adorn Gillette Stadium to remind us of his unparalleled greatness, it's only fitting – and let's be honest, entirely inevitable – that he'll be further immortalized with a statue of some kind. After all, that's what happens to all sporting legends, so why not start considering THE sports legend?
But with a career as distinguished as Tom's, how do you distill it all into just one statue or pose? Let's brainstorm a few ideas that the Kraft family should mull over when they unavoidably put this plan into action.
Although he could have numerous statues solely from Super Bowl 51, the image of Tom raising two fingers to signal a 2-point conversion attempt would be splendidly suited for bronze immortalization. That was the climax of the legendary 28-3 comeback – the moment they needed to seal the deal.
Another iconic Brady trademark is his pregame ritual. Tom running along the field, fists clenched, air-punching, and bellowing his signature "Let's go!" (with the occasional expletive thrown in for good measure).
When you think of Tom Brady, you think: "winning." And what symbolizes NFL victory better than holding the Lombardi Trophy? Tom's done it seven times, six with the Patriots alone. Any statue of him clutching that trophy would epitomize the connection between "winning" and "Tom Brady."
A simple choice, yet a safe one – just a regular snapshot of Tom tossing a football. He's the greatest player to have ever handled a football, so why not celebrate what he did better than anyone?
This one might seem silly, but if we could somehow transform Tom Brady's reaction to the Malcolm Butler interception at Super Bowl 49 into a statue, it would be hilarious.
We could also opt for a classic, celebratory pose. Tom raising his arms in triumph, just as he did against the Carolina Panthers in Super Bowl 38 at Reliant Stadium. The Patriots triumphed 32-29, and the image lives on.
Let's face it, folks, it's not a matter of if, but when Tom will have his statue erected outside Gillette Stadium in Foxborough.
Frankly, one statue wouldn't do him justice. Why not go all out and give him six? After all, he's the GOAT – it's only fitting to go big!
29 Foods That "The Greatest Of All Time" Tom Brady Eats and Does Not Eat
22 Maine Sports Bars & Pubs to Enjoy a Patriots Game
We asked, and you answered. Here are some of the best places to catch the Patriots and the rest of the NFL on football weekends. This list was compiled from crowdsourcing on our social media.
20 Celebrities Who Love the New England Patriots As Much As You
Patriots Nation is strong with or without Tom Brady and these celebrities count themselves among the those who love New England's football team.
More From 92.9 The Ticket