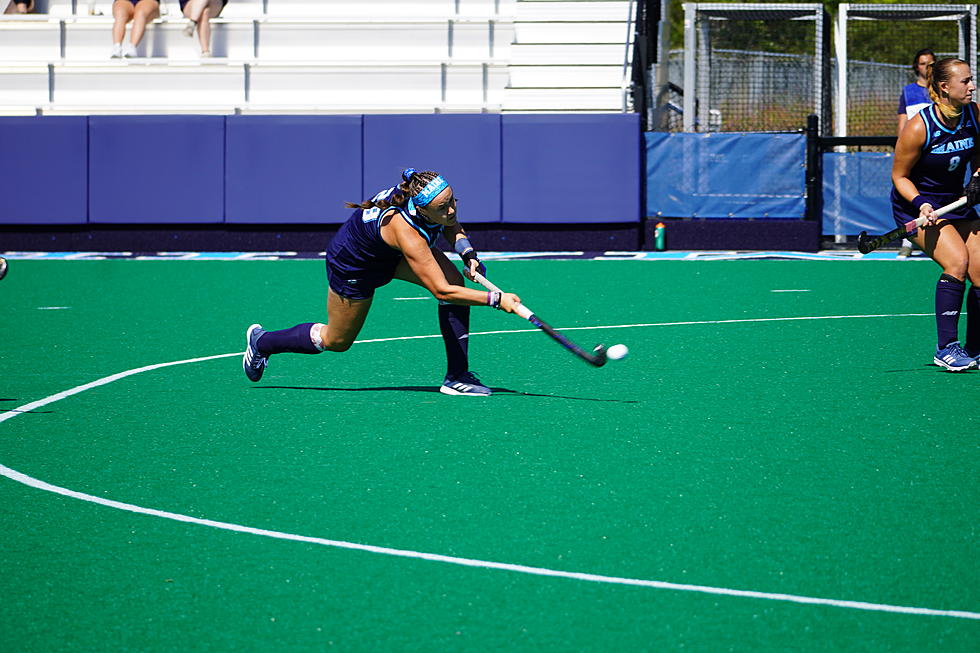 Maine Field Hockey Beats Stanford 5-4 in Double OT
Maine-Stanford Field Hockey September 17, 2023 Photo Chris Popper
The Maine Field Hockey Team defeated Stanford 5-4 in double overtime on a beautiful Sunday afternoon, September 17th at the University of Maine.
Brynn Dzengelewiski scored her 1st goal of the season, 4:44 gone in double overtime. She was assisted by Mallory Mackesy. Dzengelewksi had come on as a substitute 19 seconds earlier.
Maine was leading 4-3 in the waning seconds of regulation, but Scout Butler scored on a penalty stroke to tie the game 4-4 with 15 seconds left in regulation.
Maine had taken a 1-0 lead in the 1st Quarter on Mallory Mackesy's 9th goal of the season, with just 4:43 gone.
It was 2-0 just 39 seconds later, when Saylor Kueffler scored her 3rd goal of the season. She was assisted by Bhreagh Kennedy.
Stanford got on the scoreboard at the 10:22 mark, on a goal by Star Horlock. That made the score 2-1
As the 1st Quarter ended Maine led 2-1.
In the 2nd Quarter, with 7:14 gone, Stanford tied the score at 2-2 on a goal by Scout Butler, assisted by Anna Ghuliani and Star Holock.
The Cardinals took a 3-2 lead with 3:41 remaining in the 1st Half on a goal by Esther Pottebaum, assisted by Haley Mossmer.
The Half ended with Stanford leading 3-2.
In the 3rd Quarter Mallory Mackesy scored her 10th goal of the season, and 2nd of the game, 3 seconds after hitting the post. The goal came at the 34:29 mark
The score was tied 3-3 at the end of the 3rd Quarter. Maine took a 4-3 lead, 4:50 gone in the 4th Quarter when Saylor Kuefler scored her 2nd goal of the game, and 4th of the season. She was assisted by Mallory Mackesy.
Mallory Drayer started in goal for the Black Bears and had 2 saves. Jade Temby played the 2nd Half and overtime, and had 5 saves for Maine.
Daisy Ford played the entire game in goal for Stanford and had 5 saves
Maine improves to 4-4 overall and 2-0 in America East.  The Black Bears will host UMass Lowell in an America East Conference game, Friday, September 22nd at 3 p.m.
Stanford falls to 2-6
More From 92.9 The Ticket