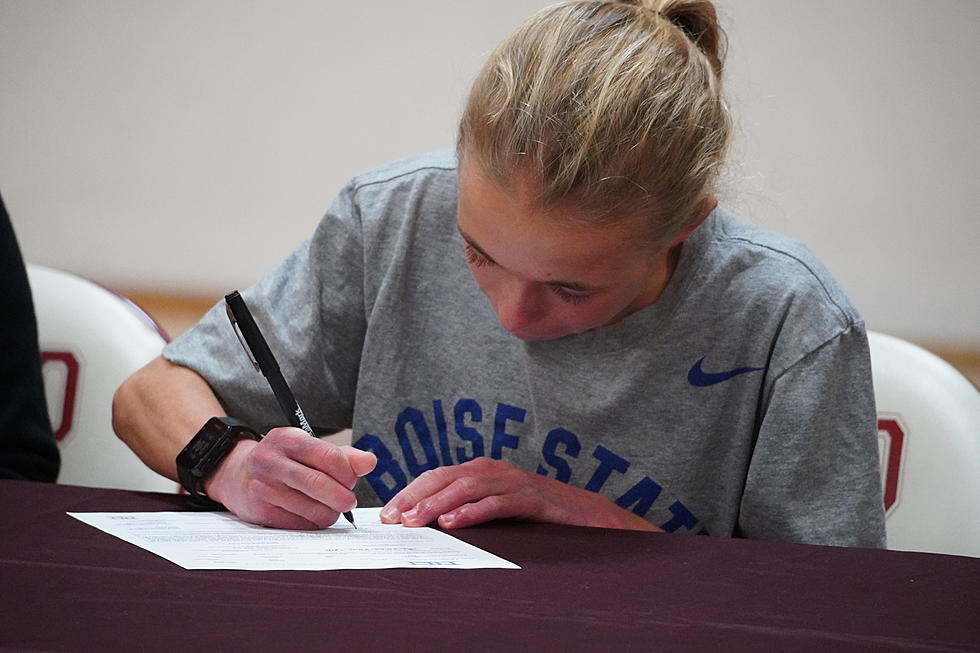 Orono's Ruth White Signs National Letter of Intent to Run at Boise State
Ruth White NLI Signing November 16, 2023 Photo Chris Popper
Thursday afternoon, November 16th was a festive day for the White Family, as well as Orono High School, as Ruth White signed her National Letter of Intent to run Cross Country and Indoor and Outdoor Track at Boise State.
White will eventually study Medical Engineering with an intent to design prosthetics for those in need.
Mike Archer, Orono's Athletic Director offered these comments before the signing
Good afternoon everyone.   It gives me great pleasure to welcome and thank you for joining Ruth and her family on this exciting and important day.   In just a few minutes, Orono High School senior Ruth White, will officially become a Bronco  at Boise State University.

I think it goes without saying that not many people standing in this room know a whole lot about Boise State University.  Let me give you a brief summary of the school that Ruth has chosen to further her education as well as her athletic career.

Boise State is a metropolitan campus the runs along the banks of the Boise River and is a quick walk to the center of Idaho's largest city.  Boise State is the home to over 26,000 students representing every state as well as over sixty foreign countries.     It offers high culture and arts as well as many outdoor sporting and recreational opportunities.    In reading about this university, I found a few imteresting facts.   It is the only university in the country that has a master's program in Raptor Biology and they also have a NASA astronaut on staff as a professor.   There are 103 programs of study for bachelor degrees and over fifty in the masters program.

Ruth will be studying mechanical engineering and then shifting that focus to biomedical engineering with a future goal of designing and building prosthetics.

She will also be joining the women's cross country, indoor and outdoor tracks teams under the guidance of Corey Ihmels.   The women's cross country team just recently finished second at the Mountain West Conference Championships which earned them a trip to California for the NCAA West Regionals.

To say that Ruth has had a decorated high school career would be an understatement.   She has achieved every accolade that an athlete could achieve at the conference, state, and regional level.   She is simply the best high school female distance runner our school, our state, and arguably New England has ever witnessed.   One doesn't have to be in the  running community to know who Ruth White is in the State of Maine.  She has captured the attention of people both near and far.   Most importantly, she is a winner in life.  The most kind, humble, genuine and thoughtful person you could ever meet.   When praise comes her way, she is the first to give it away.   She has such high respect for every opponent she competes against and displays that by waiting at the finish line to encourage and congratulate each and every one of them.

There is no question that Boise State has just improved their roster in so many ways .    I think I can speak for all of us here today, that we wish Ruth nothing but the very best in this next chapter of her life and we look forward to following her progress throughout her collegiate career.  It has been an absolute honor to watch you these past three plus years at Orono High School.
Ruth is one of the most accomplished female runners in Maine's history. Check out some of the honors and accolades she has won
More From 92.9 The Ticket