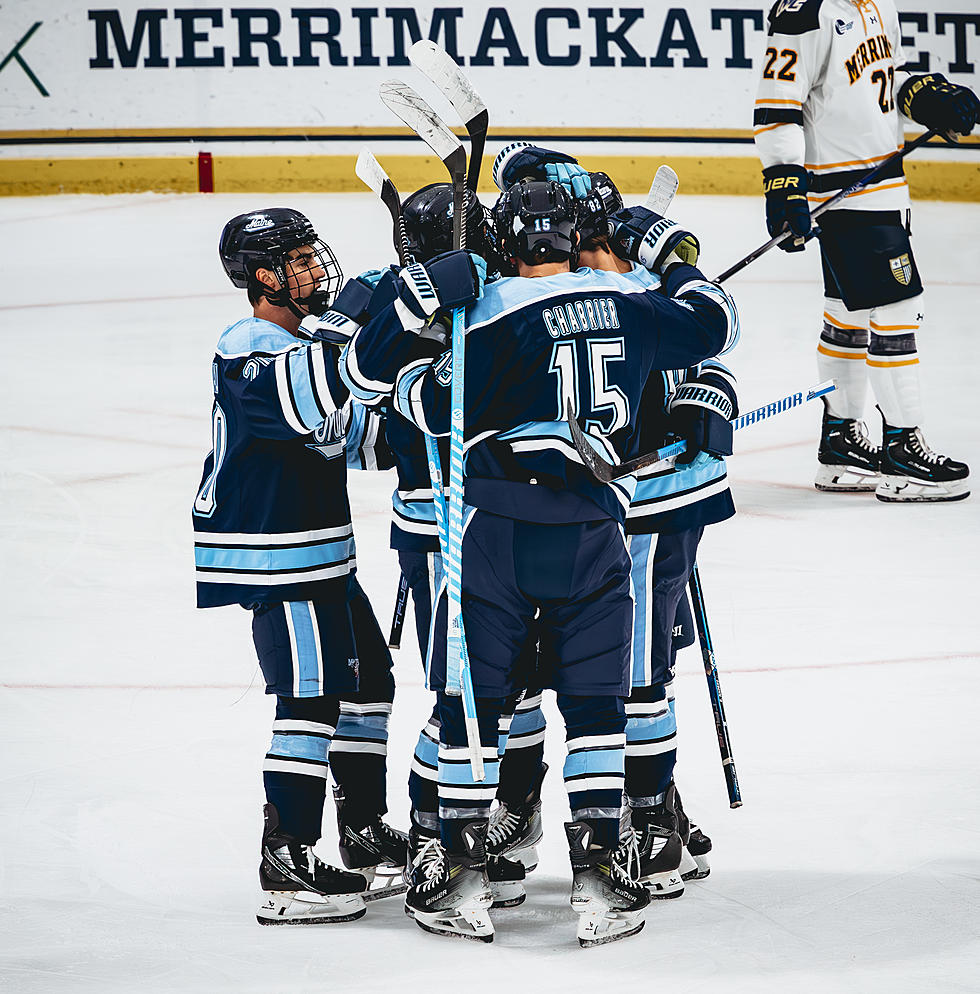 #20 Maine Hangs on to Beat Merrimack 5-4 for Weekend Sweep
Maine-Merrimack November 4, 2023 Photo Maine Athletics
The #20 Maine Black Bears skated out to a 5-1 lead over the Merrimack Warriors in the 2nd Period and hung on for the 5-4 win on the road for the Hockey East weekend sweep.
Maine started fast, scoring the 1st goal with just 37 second gone. Brandon Chabrier scored, assisted by Donavan Villeneuve-Houle and Harrison Scott.
It was 2-0 with 8:18 gone, as Bradly Nadeau scored the 1st of his 2 goals of the night. This was assisted by Lynden Breen.
The Black Bears led 2-0 at the end of the 1st Period.
Fans weren't even back in their seats after the intermission before the Black Bears struck again in the 2nd Period. It was Bradly Nadeau scoring at the 1:15 mark, assisted by Lynden Breen and Luke Antonacci to make it 3-0.
Merrimack got a goal back with 5:41 gone, when Mac Welsher scored unassisted to make the score 3-1. But, Maine made it a 3-goal lead, 4-1 when Ben Poisson scored, assisted by Cole Hanson and Grayson Arnott with 8:57 left in the 2nd Period.
Maine made it 5-1 with 1:02 left in the 2nd Period, and looked like they were going to rout Merrimack when Sully Scholle scored his 1st goal as a Black Bear assisted by the Nadeau Brothers, Bradly and Josh.
Merrimack didn't give up. They scored 3 goals in the 3rd Period. Alex Jeffries scored at the 3:48 mark, assisted by Matt Copponi and Ben Brar. Then with 9:31 left in the game Michael Citara scored, assisted by Liam Dennison. Finally with 3:34 left in the game Jeffries scored his 2nd of the night, assisted by Zack Bookman and Michael Citrara.
Mine was 0-1 on the powerplay, while Merrimack was 0-2.
Maine outshot Merrimack 36-23. Victor Ostman was in goal for Maine and had 19 saves, while Zachary Borgiel was in net for the 1st 2 periods for Merrimack and had 23 saves. Hugo Ollas played the 3rd Period and turned away 8 shots.
Maine is now 5-1-0 on the season and 2-0-0 in Hockey East. Merrimack is 3-4-0 overall and 1-2-0 in Hockey East.
The Alfond should be rocking and sold-out this weekend, as Maine will host #1 Boston College Friday and Saturday nights, November 10th and 11th. The puck drops each night at 7 p.m. If you can't be there, you can listen to the games on 92.9 The Ticket with the pregames starting each night at 6:30 p.m.
Thanks to Dale Jellison for the updates and photos from Massachusetts.
More From 92.9 The Ticket