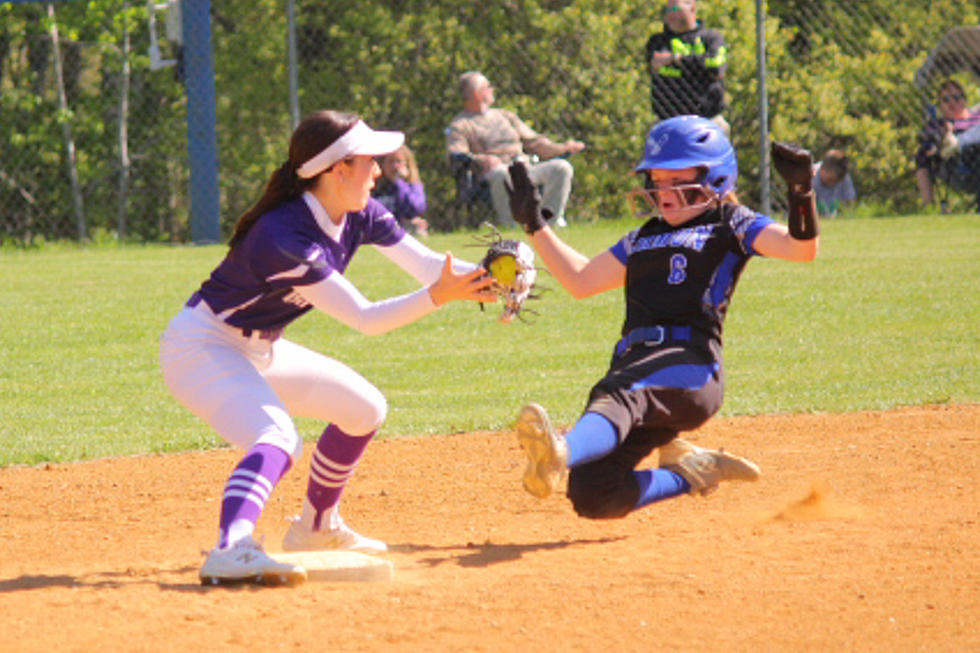 Hawks Tame Broncos 7-4 [PHOTOS]
Hermon-Hampden Softball May 18, 2023 Photo Carla Sherrard
The Hermon Hawks tamed the Hampden Broncos 7-4 on Thursday, May 18th at Hermon. Hermon led 4-0 before the Broncos scored 4 runs in the top of the 4th inning to tie the game, before the Hawks scored 1 run in the bottom of the 4th and 2 runs in the 5th to come away with the win.
Mikelle Verrill started in the circle for the Hawks. She went 3.1 innings, allowing 5 hits and 4 runs, walking 1. Lyndsee Reed pitched the final 3.2 innings picking up the win and holding Hampden Academy scoreless, allowing 2 hits and striking out 3 and walking 2.
Norra Idano, batting leadoff was 2-4 with a single and triple. Reed had 2 hits. Verrill had a double. Molly Simcox had a single.
Charlee Chute went 5.0 innings for the Broncos. She allowed 6 hits and 7 runs, although just 2 were earned. She struck out 3 and walked 5. Catarina Facchini pitched the 6th inning and struck out 2 and walked 1.
Laurali Parker hit a home run for the Broncos and drove in 3 runs. Callie Small had a double. Chute, Maddie Steigert, Facchini, Megan Delehanty and Kacey Gardner each singled.
Hermon is now 8-2 and has a huge game with unbeaten Nokomis in Newport on Monday, May 22th at 4 p.m.
The Broncos are 7-5. They play at Mt. Blue on Monday, May 22nd at 4:30 p.m.
You can vote for the Week 4 High School Athlete of the Week HERE. Voting ends on Thursday, May 18th at 11:59 p.m.
You can nominate a player for the High School Athlete of the Week 5 HERE, for the week May 15-20. Nominations must be received by Sunday, May 21st at 11:59 p.m.
More From 92.9 The Ticket