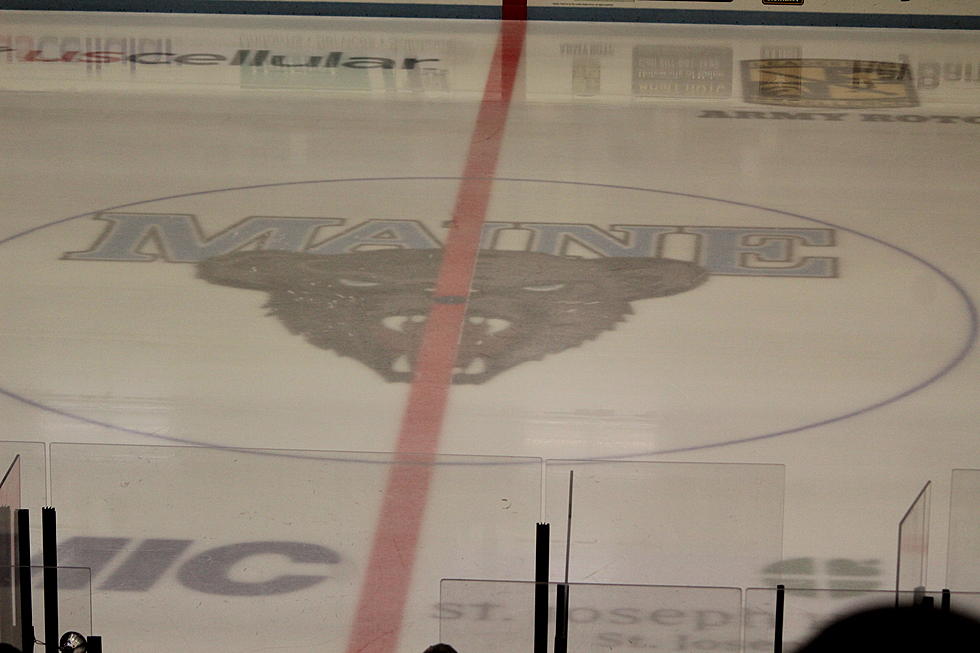 Maine Men's Hockey Sweeps BC Tied for 6th in Hockey East
Photo Chris Popper
The Maine Men's Hockey Team picked up 6 points this weekend, sweeping Boston College, winning 2-1 on Saturday and 6-3 on Friday. They are now tied for 6th place in Hockey East with Providence with 2 games left in the regular season.
Saturday night Victor Ostman stopped 31 shots, including 19 in the 2nd period!
Maine scored 1st, on a power play with 4:10 left in the 1st period. Nolan Renwick scored, assisted by Grayson Arnott and Jakub Sirota.
The Black Bears scored again a little over midway in the 2nd period  (8:20 remaining) to make it 2-0. Arnott scored, assisted by Lynden Breen and Donavan Villenueve-Houle.
Boston College then scored on a power play with 6:22 left in the period, on a goal by Cutter Gauthier, assisted by Eamon Powell and Mitch Benson.
Maine was 1-5 on the power play, while BC was 1-3
Friday night Maine took an early 2 goal lead, scoring twice in the 1st period.
Aidan Carney scored the 1st goal, with just 5:15 gone. He was assisted by Reid Pabich and David Breazeale.
With just 1:38 left in the 1st period Donavan Villeneuve-Houle scored, assisted by Lyden Breen and Thomas Freel.
Maine made it 3-0 with 7:52 gone in the 2nd period on a power play goal by Luke Antonacci, assisted by David Breazeale and Lynden Breen.
Boston College scored less than 2 minutes later (9:21) scoring a power play goal. Andre Gasseau scored assisted by Cutter Gauthier and Nikita Nesterenko.
The Eagles then drew within 1 goal (3-2) on another power play goal. This one coming with 8:23 left in the 2nd period.  Cutter Gauthier scored, assisted by Nesterenko and Trevor Kuntar.
Maine answered with their 2nd power play goal of the night, with 1:55 left in the 2nd period. Jakub Sirota scored, assisted by Grayson Arnot and Nolan Renwick. That made the score 4-2 Maine
With 6:33 gone in the 3rd period the Black Bears made it 5-2. Felix Trudeau scored, assisted by Michael Mancinelli
BC wasn't done, as they scored their 3rd power play goal, to make the score 5-3. Nikita Nesterenko scored, assisted by Cutter Gauthier, and Trevor Kuntar.
Maine scored an empty-netter for the last goal of the game. Lyndon Breen's goal, came with just 2:57 left, and was assisted by Dawson Bruneski.
Maine was 2-3 for the power play, while BC was 3-6.
Victor Ostman had 31 saves, including 16 in the 3rd period, while Mitch Benson had 23 saves for Boston College.
Maine closed out the regular season at home against UMass Friday March 3rd and Saturday, March 4th with the puck dropping at 7 p.m. each night.
More From 92.9 The Ticket