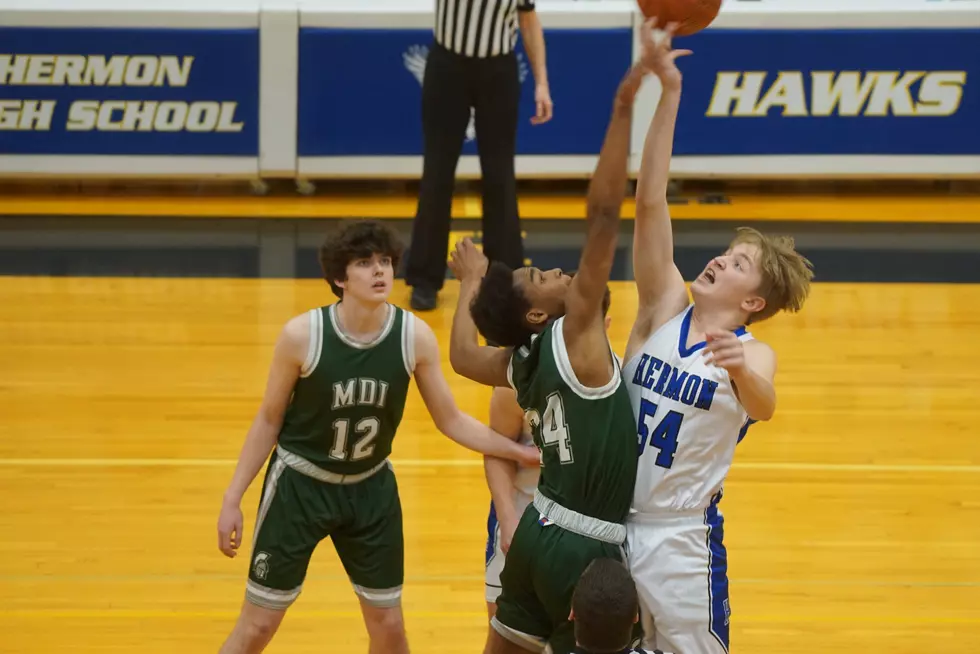 MDI Boys Rain Down 12 3's and Beats Hermon 60-42 [STATS]
MDI-Hermon Boys Basketball January 25, 2022 Photo Chris Popper
The MDI Boys Basketball Team jumped out to a 13-0 lead and never looked back, raining down 12 3-pointers and beat the Hermon Hawks in Hermon on Wednesday night, January 25th.
MDI led 17-8 at the end of the 1st Quarter and 30-19 at the end of the 1st Half. The Trojans led 44-27 at the end of the 3rd Quarter
MDI was led by Spencer Laurendeau who had 28 points including 7 3-pointers. Kadin Reed had 11 points with 3 3-pointer. Cal Hodgdon, Brandon Marsh and Evan Ankrom all tossed in a 3-pointer. MDI was 5-7 from the free throw line.
Hermon was led by Brody Hurd with 12 points .Owen Wyman had 11 points. The Hawks drained 8 3-pointers. Wyman had 3 3-pointers and Colvin Hamm had 2 3's while Greyson Hanlon, Jacob Glidden and Brody Hurd each drained a 3-pointer. Hermon was 2-4 from the free throw line.,
MDI is now 5-7. They travel up to Aroostook County to play the Caribou Vikings on Friday, January 27th at 7:30 p.m. Hear the pregame starting at 7:15 on AM 1370 WDEA, on WDEA Internet Radio, on our free downloadable APP and on any Alexa enabled device.
Hermon is now 3-10 and will host Ellsworth on Wednesday, February 1st at 7 p.m.
You can vote for the Week 7 High School Athlete of the Week as many times as you wish before Thursday, January 26th at 11:59 pm. HERE
You can nominate someone for the Winter Week 8 High School Athlete of the Week by emailing HERE. Please put High School Athlete of the Week in the subject. Nominations for games January 22-28 need to be received by January 23rd. Then tell us why your nominee is deserving! Let us know specifics! How many goals did she/he score? How many points did she/he score? How fast did they run or throw in the indoor track meet? How fast did they swim in the swim meet? How did they do in the wrestling meet? We also want to know what school they go to! Please send them by Monday night!
Tuesday we will then compile the nominees and it will be your turn to choose the winner! You can then cast your votes, and voting will close Thursday night at 11:59 p.m. We will then announce the winner online and on air on Friday each week!
We are also looking for reports of High School Basketball,  Hockey, Swimming, Indoor Track and Field, and Wrestling results. If you can email them HERE we will write recaps nightly. We need the score, who scored the goal, and any highlights. You can even text the photo of the scoresheets to 207-469-8660
Line Score
| | | | | | |
| --- | --- | --- | --- | --- | --- |
| | 1 | 2 | 3 | 4 | T |
| MDI Boys | 17 | 13 | 14 | 16 | 60 |
| Hermon  Boys | 8 | 11 | 8 | 15 | 42 |
Box Score
MDI
| | | | | | |
| --- | --- | --- | --- | --- | --- |
| Name | PTS | 2PM | 3PM | FTM | FTA |
| Spencer Laurendau | 28 | 3 | 7 | 1 | 1 |
| Kadin Reed | 11 | 1 | 3 | - | 2 |
| Joey Wellman-Clouse | 0 | - | - | - | - |
| Cal Hodgdon | 5 | - | 1 | 2 | 2 |
| Jay Haney | 0 | - | - | - | - |
| Brandon Marsh | 7 | 1 | 1 | 2 | 2 |
| Ethan Sosa | 0 | - | - | - | - |
| Evan Ankrom | 5 | 1 | 1 | - | - |
| Alex Gray | 0 | - | - | - | - |
| Jarron Beikert | 0 | - | - | - | - |
| Jameson Weir | 4 | 2 | - | - | - |
| TEAM | 0 | - | - | - | - |
| TOTALS | 60 | 8 | 13 | 5 | 7 |
Hermon
| | | | | | |
| --- | --- | --- | --- | --- | --- |
| Name | PTS | 2PM | 3PM | FTM | FTA |
| Carter Wiggin | 0 | - | - | - | - |
| Charles Whitehouse | 0 | - | - | - | - |
| Jacob Glidden | 5 | 1 | 1 | - | - |
| Colvin Hamm | 6 | - | 2 | - | - |
| Greyson Hanlon | 3 | - | 1 | - | - |
| Bryce Edwards | 2 | 1 | - | - | 1 |
| Madden Henderson | 0 | - | - | - | - |
| Caleb Doughty | 0 | - | - | - | - |
| Carter Brocato | 0 | - | - | - | - |
| Bryan White | 0 | - | - | - | - |
| Owen Wyman | 11 | 1 | 3 | - | 1 |
| Brody Hurd | 12 | 4 | 1 | 1 | 1 |
| Maddox Kinney | 3 | 1 | - | 1 | 1 |
| TEAM | 0 | - | - | - | - |
| TOTALS | 42 | 8 | 8 | 2 | 4 |
More From 92.9 The Ticket