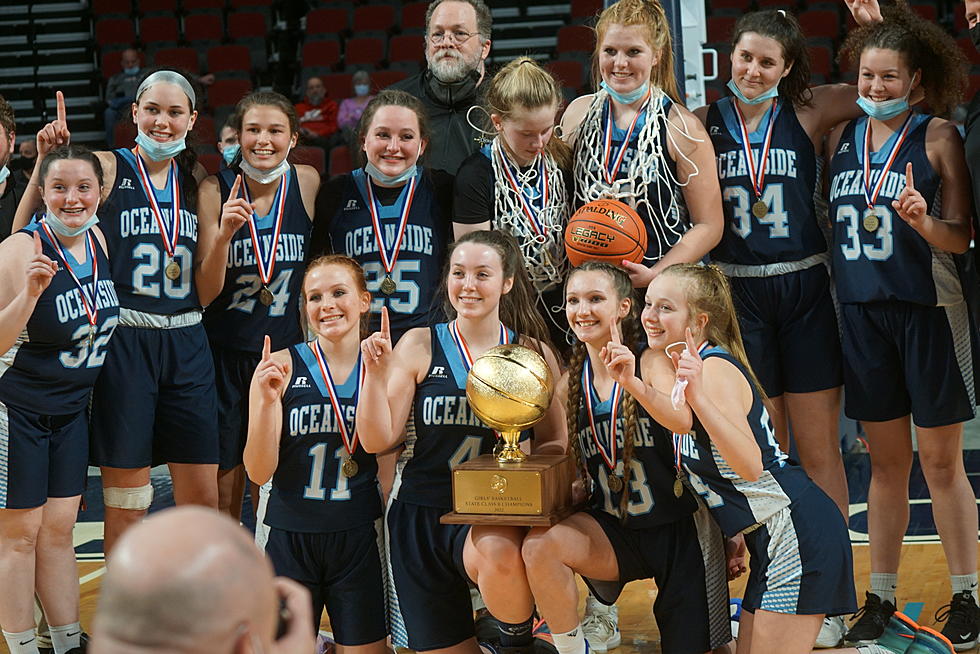 Oceanside Beats Hermon 31-28 for Class B Girl's Gold Ball [STATS/PHOTOS]
March 4, 2022 Photo Chris Popper
The Oceanside Mariners defeated the Hermon Hawks 31-28 in the Class B Girl's State Championship at the Cross Insurance Center in Bangor on Friday night, March 4th to win the Gold Ball.
The Hermon Girls came out in warmups with a purple ribbon on the back with the words Plissey Strong. The shirts were worn in honor of Wendy Plissey, the Aunt of Brooke and Sydney Gallop. Plissey has just been diagnosed with pancreatic cancer and we join the Hermon Hawks in wishing her the best in her battle fighting cancer.
Hermon led 11-5 at the end of the 1st Quarter and 17-10 at the end of the 1st Half. The Hawks clung to a 24-23 lead at the end of the 3rd Quarter.
Hermon was led by Maddie Lebel with 13 points. Elizabeth Wyman had 6 points. The Hawks were 5-9 from the free throw line and had 3 3-pointers, 2 by Lebel and 1 by Faith Coombs.
Oceanside was led by Bailey Breen who had 12 points. Audrey Mackie had 8 points. The Mariners were 10-11 from the free throw line, and had 3 3-pointers. Mackie had 2 3's and Emily Sykes had 1 3-pointer.
Oceanside finishes the season unbeaten with a 20-0 record and the Gold Ball.
Hermon finishes the season 19-3 with the Class B runner-up plaque.
Line Score
| | | | | | |
| --- | --- | --- | --- | --- | --- |
| | 1 | 2 | 3 | 4 | T |
| Oceanside Girls | 5 | 5 | 13 | 8 | 31 |
| Hermon Hawks Girls | 11 | 6 | 7 | 4 | 28 |
Box Score
Oceanside
| | | | | | | | |
| --- | --- | --- | --- | --- | --- | --- | --- |
| # | Name | PTS | FGM | 2PM | 3PM | FTM | FTA |
| 4 | Anna Kingsbury | 0 | 0 | 0 | 0 | 0 | 0 |
| 11 | Aubrianna Hoose | 0 | 0 | 0 | 0 | 0 | 0 |
| 12 | Audrey Mackie | 8 | 3 | 1 | 2 | 0 | 0 |
| 13 | Ahlivia Morris | 2 | 1 | 1 | 0 | 0 | 0 |
| 14 | Natalie Hiltz | 0 | 0 | 0 | 0 | 0 | 0 |
| 20 | Abby Waterman | 4 | 1 | 1 | 0 | 2 | 2 |
| 23 | Karen Skarka | 0 | 0 | 0 | 0 | 0 | 0 |
| 24 | Searra Hansen | 0 | 0 | 0 | 0 | 0 | 0 |
| 25 | Emily Sykes | 5 | 1 | 0 | 1 | 2 | 2 |
| 31 | Bailey Breen | 12 | 3 | 3 | 0 | 6 | 7 |
| 32 | Alydia Hatch | 0 | 0 | 0 | 0 | 0 | 0 |
| 33 | Caitlyn Lamb | 0 | 0 | 0 | 0 | 0 | 0 |
| 34 | Sophia Daggett | 0 | 0 | 0 | 0 | 0 | 0 |
| | TOTALS | 31 | 9 | 6 | 3 | 10 | 11 |
Hermon
| | | | | | | | |
| --- | --- | --- | --- | --- | --- | --- | --- |
| # | Name | PTS | FGM | 2PM | 3PM | FTM | FTA |
| 2 | Faith Coombs | 3 | 1 | 0 | 1 | 0 | 0 |
| 3 | Allie Cameron | 0 | 0 | 0 | 0 | 0 | 0 |
| 4 | Brooke Gallop | 0 | 0 | 0 | 0 | 0 | 0 |
| 5 | Rachel Wickett | 0 | 0 | 0 | 0 | 0 | 0 |
| 10 | Izzy Byram | 0 | 0 | 0 | 0 | 0 | 0 |
| 11 | Maddie Lebel | 13 | 3 | 1 | 2 | 5 | 7 |
| 12 | Sydney Gallop | 0 | 0 | 0 | 0 | 0 | 0 |
| 13 | Charlotte Caron | 4 | 2 | 2 | 0 | 0 | 0 |
| 14 | Ashley Cote | 0 | 0 | 0 | 0 | 0 | 0 |
| 15 | Veronica Chichetto | 0 | 0 | 0 | 0 | 0 | 0 |
| 23 | Megan Tracy | 0 | 0 | 0 | 0 | 0 | 0 |
| 32 | Elizabeth Wyman | 8 | 4 | 4 | 0 | 0 | 2 |
| 34 | Bella Bowden | 0 | 0 | 0 | 0 | 0 | 0 |
| | TOTALS | 28 | 10 | 7 | 3 | 5 | 9 |
Oceanside-Hermon Girls Class B State Championship
The Hermon Hawks and Oceanside Mariners played Friday night, March 4th at the Cross Insurance Center in Bangor for the State Class B Girl's Championship
More From 92.9 The Ticket